Description
Be sure to join us for a genuine life-changing experience called, Root of the Matter. Many times in life we suffer adverse experiences that we fail to deal with. Broken relationships, abuse, loss, low self-esteem, underachievement and so much more. When we sweep pain under our invisible rug, it takes deep root in our lives and leads to deeper issues and repated negative behavior.

On October 6th at 4:30 PM, Seasons of Grace Women's Ministry is offering an amazing dramatic arts persentation along with the breakthrough teaching known as the 8R's of Wholeness and Freedom including: Recognize, Responsiblity, Restore and more...All designed to bring you to a fresh place with God and yourself.
Also, be prepared to pay it forward as we share ways to bring hundreds of underprivileged girls in Uganda, Africa to a place of wholeness and freedom in life. GET EXCITED!!! ALL ARE WELCOME OVER THE AGE OF 12. YOU WILL NOT BE THE SAME!!!
REGISTER TODAY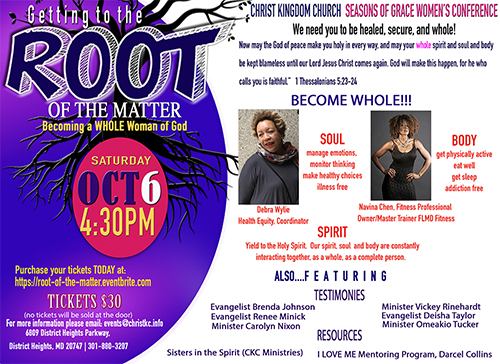 Event Location: Christ Kingdom Church - 6809 District Heights Parkway, District Heights, MD 20747 // 301-880-3207.

For more information please email: events@christkc.info