Description
For those who love to rock out to cool vibes and hot bands there is no better place than the Roosterpalooza Fall Music Festival. Perpetually back by increasingly popular demand, this one day music festival is hosted by JAMusic. Visitors, feel free to bring your lawn chair or pitch a tent, because the Roosterpalooza Fall Music Festival is all good. It is also an open air music celebration where all ages are welcome.

Roosterpalooza Fall Music Festival encompasses a lineup of some of the hottest bands around. About two dozen acts take either the main stage or the acoustic stage in what is a full day of music and fun. By late morning the sound checks are done and the music is in full swing late through the night until 11pm. Genres are eclectic and encompass alternative rock, country, blues and classic rock! Everything from the California vibe, to rock covers, outlaw country with heavy bass, and trendy indie bands are represented.

In addition to the kickin' tunes there are some vendors selling merchandise to help you party out. This is an open air music celebration for everyone to enjoy with Music, Craft and Food Vendor's, Tattoo Artist, Horse Shoe Pits, Play Ground, Face Painting, Pet friendly and much much more! 12 and under Free while accompanied by an adult! Bring yourlawn chairs and enjoy a great day of music!

Admission cost is extremely reasonable and parking is free.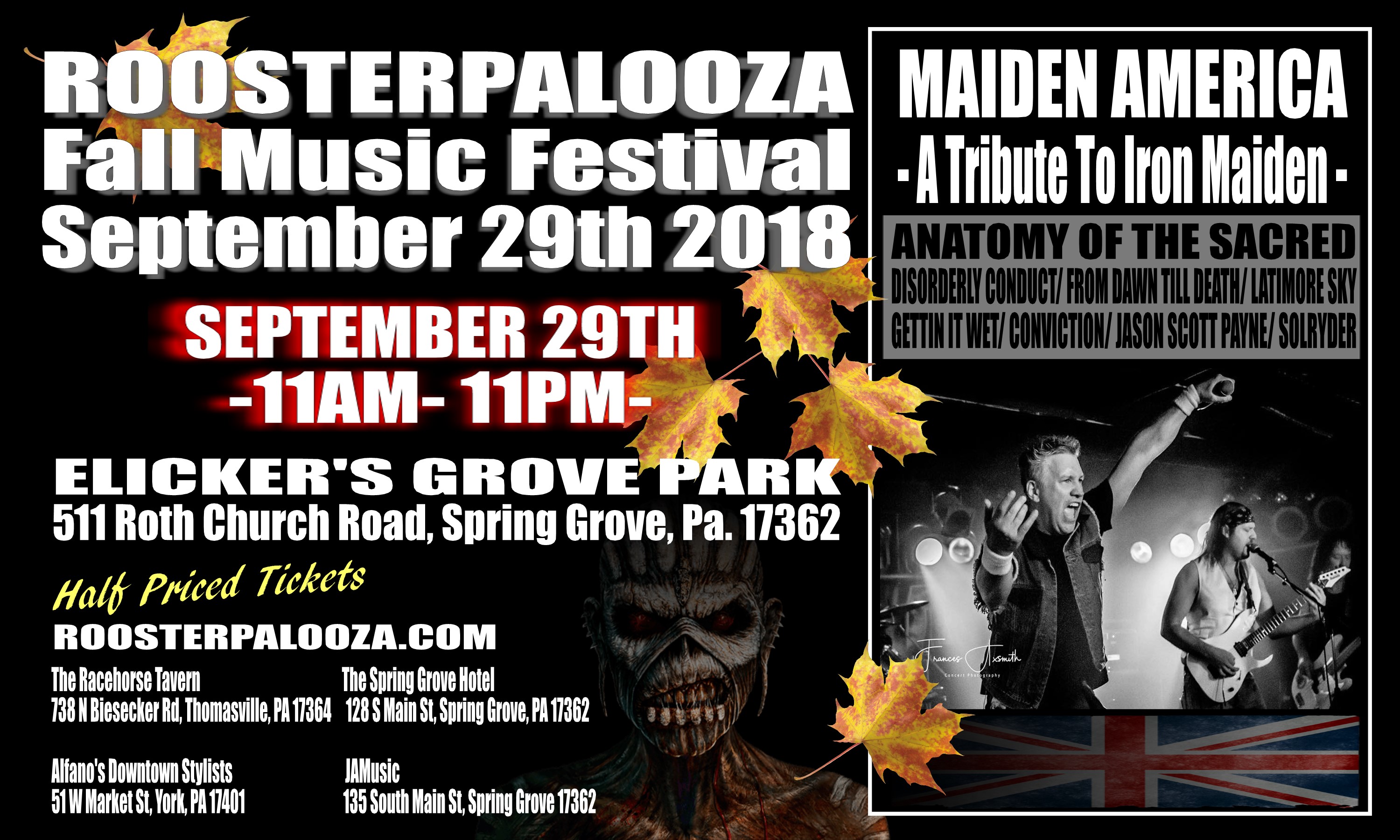 THE LINEUP
9:00- 10:00
DISORDERLY CONDUCT
8:00- 8:50 MAIDEN AMERICA
7:00- 7:50 ANATOMY OF THE SACRED
6:00- 6:50 WILLIE DIKKER
5:00- 5:50 FROM DAWN TILL DEATH
4:00- 4:50 SIDE PIECE
3:00- 3:50 CONVICTION
2:00- 2:50 LATIMORE SKY
1:00- 1:50 JASON SCOTT PAYNE
12:00- 12:50 SOLRYDER
RULES
RAIN OR SHINE
The Roosterpalooza Fall Music Festival is an outdoor festival and all acts will perform rain or shine unless the safety of the performers or audience is endangered.

YOU ARE SUBJECT TO SEARCH
You, your vehicle, and your belongings may be searched upon entry to the festival. You consent to such searches and waive any related claims that may arise. If you elect not to consent to such searches, you may be denied entry to the festival without refund or other compensation.
The following items may not be brought into the premises, including without limitation, alcohol, illegal drugs, firearms and other controlled substances.
No fireworks or fire arms permitted on campground property. (Use of fireworks and/or firearms will cause you to be removed from the event and be banned from future Rooaterpalooza events.

LIMITATION OF LIABILITY
You assume all risks incidental an outdoor musical festival for which this ticket is issued, whether before, during or after play or performance, and you waive any claims for personal injury or death against Elicker's Grove Park or JAMusic on behalf of yourself and any accompanying minor.

PARKING
Free day parking is available on site for ticket holders and band members only.

ACKNOWLEDGEMENT
By purchasing your tickets through JAMusic and the Roosterpalooza Fall Music Festival website you are acknowledging that you have read, understand, and agree to the festival disclaimers.

TICKETS CAN BE PURCHASED
1. ONLINE: here at the Roosterpalooza Fall Music Festival Website, OUR RECOMMENDED METHOD OF PURCHASE.
2. ON LOCATION AT: JAMusic 135 South Main Street, Spring Grove, Pa. 17362, The Racehorse Tavern 738 North Biesecker Rd, Thomasville, PA 17364, The Spring Grove Hotel 128 South Main Street, Spring Grove, PA 17362
3. AT THE GATE: Our gate operations are at the entrence to the event and do not have credit card services for those purchasing tickets at the gate.
PLEASE REMEMBER THAT IF YOU WAIT TO BUY YOUR TICKETS AT THE GATE – WE ACCEPT CASH ONLY AT THE GATE – PLEASE BRING CASH. TO USE A CREDIT CARD PLEASE PURCHASE YOUR TICKETS IN ADVANCE PRIOR TO ARRIVAL