Description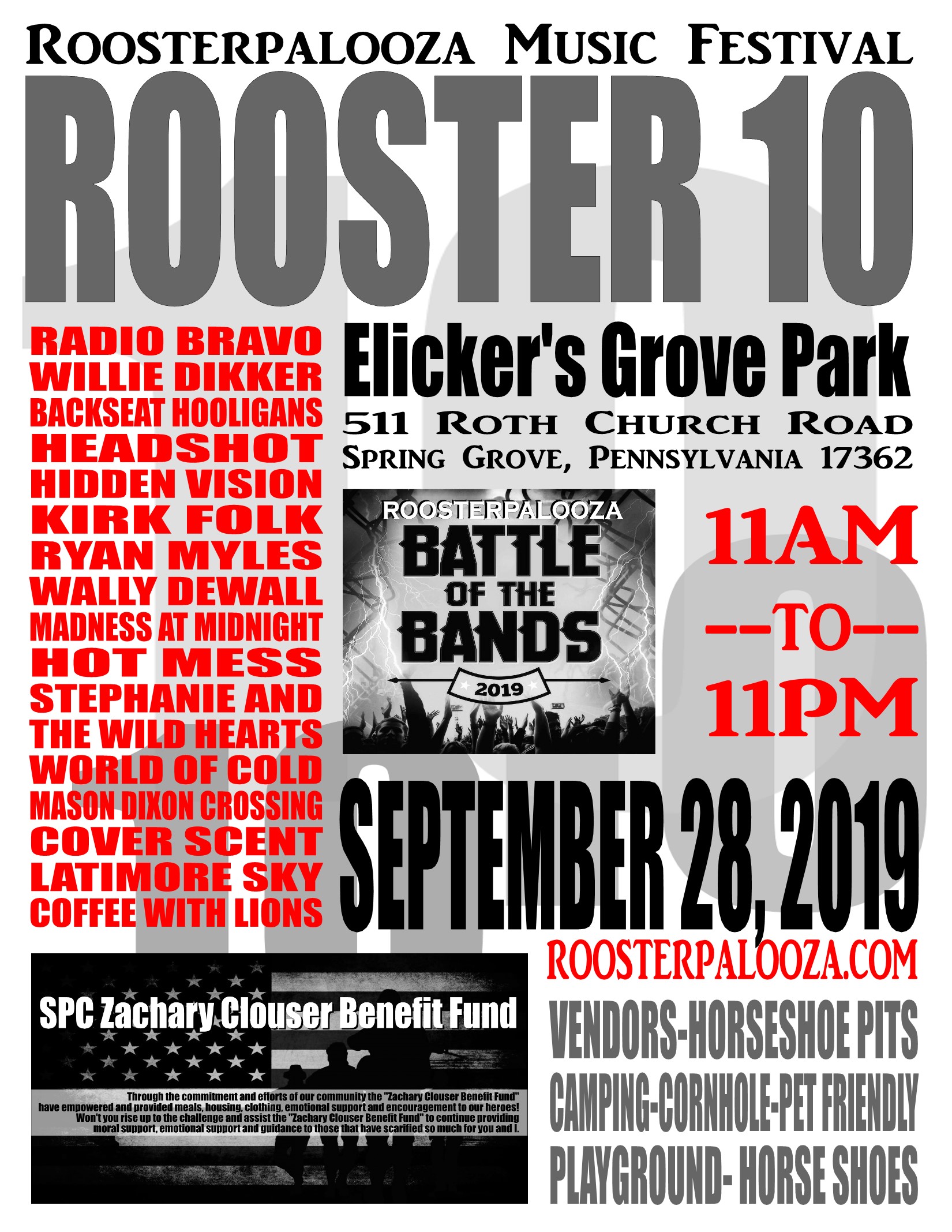 For those who love to rock out to cool vibes and hot bands there is no better place than the Fall Roosterpalooza Music Festival! Back by popular demand, and in it's tenth year, this one day music festival is sure to have you dancing the night away and celebrating music with friends and family!

This is an open air music celebration for everyone to enjoy with Music, Craft and Food Vendor's, Horse Shoe Pits, Play Ground, Pet friendly and much much more! 12 and under Free while accompanied by an adult! Bring your lawn chairs and enjoy a great day of music!
Roosterpalooza Fall Music Festival encompasses a lineup of some of the hottest bands around. About two dozen acts take either the main stage or the acoustic stage in what is a full day of music and fun. By late morning the sound checks are done and the music is in full swing late through the night until 11pm. Genres are eclectic and encompass alternative rock, country, blues and classic rock! Everything from the California vibe, to rock covers, outlaw country with heavy bass, and trendy indie bands are represented. In addition to the kickin' tunes there are vendors selling merchandise to help you party out.
Admission cost is extremely reasonable and parking is free!
MAIN STAGE
8:00PM RADIO BRAVO
7:30PM A.J. MITCHELL
6:00PM WILLIE DIKKER
5:30PM RYAN MYLES
4:00PM BACKSEAT HOOLIGANS
3:30PM WALLY DEWALL
2:00PM HEADSHOT
1:30PM KIRK FOLK
12:00PM HIDDEN VISION
BATTLE OF THE BANDS
7:30PM MADNESS AT MIDNIGHT

6:30PM HOT MESS

5:30PM STEPHANIE AND THE WILD HEARTS

430PM WORLD OF COLD
3:30PM COFFEE WITH LIONS
2:30PM LATIMORE SKY
1:30PM COVER SCENT
12:30PM MASON DIXON CROSSING