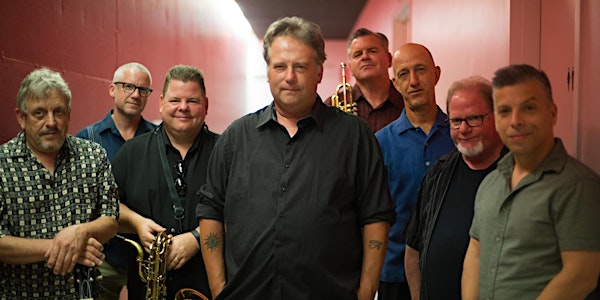 Roomful of Blues at The Stationery Factory
When and where
Location
The Stationery Factory 63 Flansburg Avenue Dalton, MA 01226
Description
With an opening by Peter Newland's RadioX

Show: 7:30 pm ( Doors 7:00 pm )

7:30 pm RadioX
8:30 pm Roomful of Blues

Roomful of Blues

For nearly half a century, Roomful of Blues has been delivering its signature blend of swing, rock 'n' roll, jump, blues and R&B to euphoric audiences all over the world. In celebration of their 45th anniversary, Roomful of Blues is touring to support the release of their new live CD, 45 Live. For the recording, the band hosted a three-day party in March of 2013 at one of their favorite haunts, The Ocean Mist, in Matunuck, Rhode Island. They packed the club to capacity, playing to roaring ovations each night. The resulting album, 45 Live, is among Roomful of Blues' crowning achievements.

"Doing a live record is a natural for us. The best qualities of this band come out in a live setting. The audience reacts, people dance, and it gives us energy to play at our best," says Rich Lataille, the senior member of Roomful of Blues.

45 Live, produced by bandleader/guitarist Chris Vachon, features fourteen songs (over an hour of music) spanning the entirety of the band's history. The tracks were carefully chosen by Vachon, who included some of the group's best known originals, like Dressed Up To Get Messed Up, Turn It On, Turn It Up, and That's Right!, as well as tunes the band had previously recorded or performed with blues giants Joe Turner (Crawdad Hole), Eddie "Cleanhead" Vinson (Somebody's Got To Go) and Earl King (It All Went Down The Drain)

Peter J. Newland and RadioX

Peter J. Newland and RadioX is a band built on the original music of Peter J. Newland. They move with a
powerful and fluid manner in and between the blues, rock, alt country and r&b idioms. Peter (lead vocals, guitar, blues harmonica) began writing when he was 16. He wrote and co-wrote all the songs in the extensive repertoire of the band FAT. Based on the strength of his songs Peter was signed to the RCA record label and [by Jerry Wexler and Ahmet Ertegun] the Atlantic Record Label.

Band Members: Mark Pappas: Guitar; Tim Smith: Drums, John O'Boyle: Bass, Ralph Whittle: Keyboards

Peter's multi-decade musical journey has taken him to all the American Music Meccas: New York, Nashville,
New Orleans, Memphis and Los Angeles. His songs have been produced by Felix Pappalardi (Cream, Mountain), Adrian Barber (Aerosmith, The Allman Brothers), Mick Ronson (David Bowie, Bob Dylan), Barry Beckett (Paul Simon, Rod Stewart, Lynyrd Skynyrd, and Phish) and James Stroud (Clint Black, Willie Nelson, Tim McGraw, The Neville Brothers) and been recorded by Hank Williams Jr., Alan Jackson, Tracy Lawrence, Tracy Byrd, Colin Raye and others.
Peter and the band do not cover songs, they do not mimic and they do not imitate other artists. They do interpret and adapt works by some of their favorite artists including: Miles Davis, Bob Dylan, Muddy Waters, James Brown, Paul Young, The Allman Brothers, Van Morrison and the Rolling Stones.