Roomful of Blues at Ipswich Performing Arts Center

Friday, March 18, 2011 at 7:30 PM (EDT)
Event Details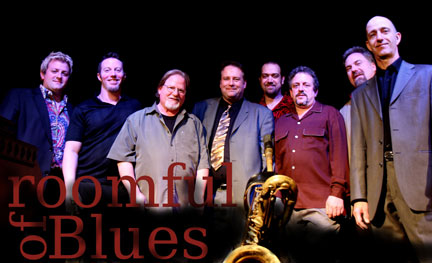 Roomful of Blues & Northshore Jazz Project
           
 Roomful has a new CD! Join them and the Northshore Jazz Project  with with IPAC in this concert  benefiting the IHS Music  Student's UK Concert 
The North Shore Jazz Project is thrilled

 

to be bringing Grammy winning artists Roomful of Blues to the Ipswich Performing Arts Center on March 18th. They will also be providing the students of Ipswich with a musical clinic before the show. Roomful of Blues features Ipswich resident Mark Earley. This show comes with the launch of a CD that has gotten international and national acclaim and will likely be headed for another Grammy.




USA TODAY just printed this review:
Roomful of Blues,Hook, Line & Sinker

* * * CATCH THIS JUMPIN' RELEASE
"New England's favorite party animals, now celebrating their 43rd year, give new vocalist Phil Pemberton ample space to showcase his flexible, multi-octave tenor on this collection of swingin' jump blues and R&B covers from the likes of Little Richard, Clarence "Gatemouth" Brown, Dave Bartholomew, Amos Milburn and Floyd Dixon. The eight-piece group's studio albums, now nearing 20, are    usually high-voltage yet classy affairs that revive the past but aren't enslaved to it, and it's no different this time thanks to the tough, focused approaches of veteran guitarist Chris Vachon and horn-section leader Rich Lataille, particularly on Gates Walks To Board and Just a Little Love.— Jerry Shriver"     
Here are some other quotes about Roomful:
 
"Excellent, marvelous wall-to-wall grooves…between the wicked guitar work and the brassy horn section, things never stop swinging."
–USA Today
"Roomful Of Blues plays an inspired, lively and heated brand of rippling, up-tempo, horn-dominated R&B."
–Rolling Stone
"Few bands swing the blues more exuberantly than Roomful of Blues…boisterous and relentlessly upbeat."
–Entertainment Weekly
Organizer
Keeping the Tradition Alive....
In an initiative to revive the North Shore of Boston as a jazz mecca, recalling the days when world class artists performed at Sandy's Jazz Revival in Beverly, the North Shore Jazz Project plans to infuse the region with music.
In our first year, we have had four fundraisers at Chianti, bringing top quality talent to the community and have reasied money for the NSJP as well as raising money for Haiti after the earthquake. Combined with corporate grants and contributions, we have sponsored educational programs, bringing the Berklee Outreach Band to local high schools. www.northshorejazzproject.org