Description
an M.O. Project Production
by Marina Fukushima + Olivia Ting
"Room in a Pinhole"
multi-disciplinary dance performance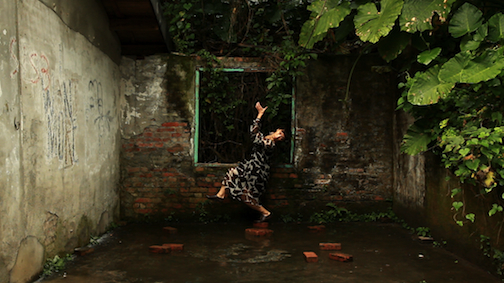 September 5th | 6th 2014
8:00 PM at the Joe Goode Annex
401 Alabama st. (at 17th and Alabama) San Francisco, CA 94110
The waking have one world in common; sleepers have each a private world of their own. —Heraclitus c.535 – 475 BC
Through a site-specific performance and video installation, "Room in a Pinhole" explores the camera obscura of one's memories, acting as peek hole into a collapse of time, geography, and daily identity. Here, the work looks for the truth about the human condition within absurd and fantastic realities, crossing, blurring, and uniting the boundaries of a landscape's sense of time to arrive at a moment of recognition.
This performance continues the creative journey embarked on by Marina and Olivia's Jan – March 2014 joint art residency at Treasure Hill Artist Village in Taipei, Taiwan. All footage is shot at this unique location that was once an illegal squatter community begun in the 1950s, now a symbiotic intertwining of original architecture in the midst of a modern city.
The work will utilize the physical presence of performer, audience and real/projected spaces to build new images and create unique experiences. Overall, the work acts as a physical portal, transformed by the video installation into an enclosure of memories, movement, and as an aperture to an unfolding future.
Video preview: http://youtu.be/9n80Ui9r7JM
Artistic Direction: Marina Fukushima | Olivia Ting
Video: Olivia Ting
Choreography, Dance: Marina Fukushima
Dance: Peiling Kao
Sound Design: Joshua Roberts
Lighting Design: William Brinkert
Supported in part by:
Asian Pacific Islander Cultural Center, Theatre Bay Area CA$H grant, Joe Goode Annex, ODC theater, Treasure Hill Artist Village, Zellerbach Family Foundation
About M.O. Project Production (Marina + Olivia):
Marina Fukushima has been a professional dancer and choreographer for the past 15 years. She has performed nationally as well as internationally with several renowned companies including ODC Dance Company, Mark Foehringer Dance Project, and KUNST-STOFF. Olivia Ting has been a visual communicator for 14 years; during the past five years she has been creating and developing films and videos for projection purposes. Olivia and Marina have been working together on numerous artistic projects since 2009. In 2012 they developed a concept to produce a series of multimedia dance experiences exploring "the place between dream and reality." Their first performance, "Wrinkle in the Horizon," was presented at The Garage as part of the Resident Artist Workshop in August 2013. This quest continued with their artist residency from January to March 2014 at the Treasure Hill Artist Village in Taipei, Taiwan, where they developed extensive video footage and choreographic work for the installation performance "Room in a Pinhole".
About Treasure Hill Artist Village (THAV)
(from a writing by Marco Casagrande, Cross-over architecture and the third generation city):
"Treasure Hill is the attic of Taipei carrying the memories, stories and traditions of the past generations. In some way it is a reflection of the Taipei mind that the industrial city is not able to reflect. For the stories to surface the industrial city must be turned over: the city must be a compost."
THAV - website: http://www.artistvillage.org/?page_id=225〈=e
Article on THAV: http://untappedcities.com/2014/04/01/treasure-hill-artist-village-in-taipei-where-past-and-present-coalesce/
Collaborating Artist Bios:
Marina Fukushima (dancer, choreographer) Marina Fukushima, born in Tokyo, Japan, is a dancer and choreographer based in San Francisco, US. She received her BFA in Dance from Butler University and MFA inDance from the University of Iowa. Her ensemble choreography was presented at the American College Dance Festival, KUNST-STOFF arts fest, West Wave Dance Festival at Theater Artaud, and Resident Artist Workshop at The Garage. Her solo work Half Baked Lipstick was presented at CounterPULSE, 418 Dance Project, and ODC Theater/Pilot 51. In 2012, she choreographed in a motion picture, Brujo, directed by Glen Mack and performed as an actress and dancer. In collaboration with visual designer Olivia Ting, she created the video work Wrinkle in the Horizon in 2013. For a following series, she was an Artist in Resident at Treasure Hill Artist Village in Taipei. She has danced with Lenora Lee Dance, KUNSTSTOFF, Catherine Galasso, Mark Foehringer Dance Project, Christine Bonansea, Epiphany Productions, ODC, project agora, Isak Immanuel/Tableau Stations, and toured across the US and internationally in Germany, Greece, Japan, and Peru.
Olivia Ting (visual design) was formerly a pre-med science major at Pomona College, and went on to a second degree in graphic design at Art Center College of Design. Her most recent work was a collaboration with Lenora Lee Dance, who was an Artist in Residence at San Francisco deYoung Museum. Olivia has been nominated two times for Isadora Duncan Awards for Visual Design. In addition to theater work, Olivia continues to work as a graphic and video media designer. She was commissioned to design a permanent exhibit video projection for part of Oakland Museum of California's Natural History Gallery which re-opened their doors after extensive remodeling in June 2013. www.olivetinge.com
William Brinkert (lighting designer) was the Lighting and Video Supervisor at Blue Man Group Boston where he worked for 15 years, taking breaks to go on tour with Blue Man Group's Complex Tour in 2003, and work with the SFX department of their show aboard the Norwegian Cruise Lines Epic. Currently he is one of the console programmers and designers at the brand new, state-of-the-art SFJazz Center. William does freelance design around the Bay Area for productions large and small.
Joshua Roberts (composer) makes music, writes, and builds things in and around his San Francisco studio. His work investigates the ambiguous line that defines virtual and actual classifications through electro-acoustic music, stories of fiction, and handmade objects. bladesofgrass.net
Peiling Kao (dancer) graduated from Taipei National University of the Arts with a BFA in Dance and finished her MFA in Choreography and Performance at Mills College. She is a recipient of Isadora Duncan Dance Awards for Outstanding Achievement in Performance for Terra Incognita: Revisited. She has worked with Shinichi Iova-Koga, Katie Faulkner and Hwai-Min Lin (Founder of Cloud Gate Dance Theater).