Houston Professional Singles Mixer at FUSE Workspace
About this event
A Multicultural Event!
"Sexy Rooftop Social"
It's time to slow things down! Instead of speed dating, we are inviting all singles to Houston's prime entertainment district for the sexiest singles mixer in Htown's history. Slowly make your way around the rooftop patio to meet your "special someone." This sexy October night will be one of our most memorable events. The only thing that is missing is you!
**Please Note: A photographer will be present to capture special moments of this exciting event. Attendance will confirm acceptance of terms and conditions of being filmed on behalf of Ginger Me Events LLC. **
F.A.Q.'s
1. What is speed dating?
Speed dating is a formal matchmaking process to encourage eligible singles to meet new potential partners in a very short period of time. Men and women are rotated to meet each other during a series of short "dates" lasting six minutes.
At the end of each interval, a bell rings to signal the participants to move on to the next date.
At the end of the event, participants submit a list of who they would like to see on a date using their electronic device. If there is a match, we will send contact information to both parties. Contact information cannot be traded during the initial meeting, in order to reduce pressure to accept or reject a suitor.
Ginger Me Events LLC hosts specialized speed dating events with culture in mind.
2. Why do I need to book in advance?
We require advance bookings to ensure that we have an even balance of males and females at each event. You can pay with a credit/debit card.
3. How will I know if I get any matches?
After attending an event, you will be contacted via email within a 48 hour period. If you do not see an email within a 48 hour time frame, be sure to check your spam / junk folder.
4. What if I do not receive a match?
The beauty of choosing to speed date with Ginger Me Events is that events are hosted frequently in various regions! If you did not have a match, be sure to attend another event and meet new singles.
5. How long does speed dating last?
We do our best to keep the event running to schedule. Events typically last approximately one and half or two hours. Events begin with a small social hour during the first 30 minutes. Speed dating begins promptly after 30 minutes of event start.
6. How should I dress for speed dating?
We like to support "Sexy Casual" dress at our events. You may leave the event and have drinks with a special someone or hang out with other singles. Look your best but above all – be yourself! Wear what you feel comfortable in but don't forget that first impressions count!
7. I am not African American, can I attend?
Absolutely! This event is aimed for our brothers and sisters of all ethnicities and cultures. This special space is reserved for all of singles. Come and mingle with a diverse group of singles from the Houston region.
Ginger Me Events LLC prides itself on inclusivity. Allies, supporters, abolitionists, co-conspirators and individuals from all cultures & ethnicities are welcome to attend. Our speed dating events emphasize representation of African American professionals due to the lack of diversity in some places of employment. This can make dating in an urban city quite difficult. Please note that singles from all backgrounds are invited and will be treated with respect.
8. What are the average age range for attendees?
The age range from previous events consisted of 25 - 55 years old. But all ages are welcome to attend. 21& up is required.
9. If I can no longer attend, can I receive a refund?
We do not give refunds. Detailed effort is put into planning each event to ensure quality and proportionate male / female attendance. Please ensure that you can attend before purchasing your ticket.
Note: Occasions sponsored by Ginger Me Events are designed to foster love, healing and culture. Bring positive energy, offer kind words and practice inclusivity. Negative energy, condescending attitudes and belittling comments will not be tolerated.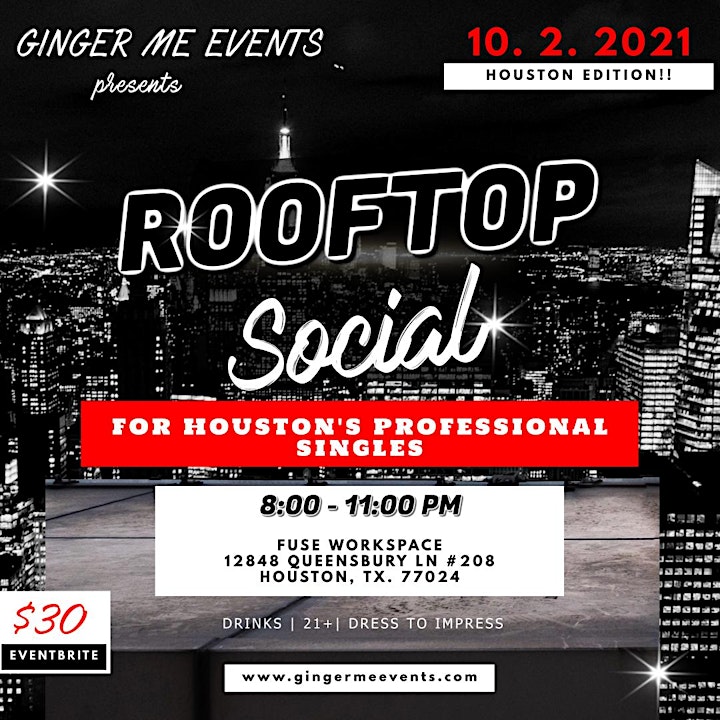 Organizer of Rooftop Social for Houston's Professional Singles