ROOFTOP BIRTHDAY BASH & BOOK RELEASE PARTY FOR VEENA KONDAPALLI!

Friday, July 24, 2015 at 10:00 PM

-

Saturday, July 25, 2015 at 4:00 AM (EDT)
Event Details
RSVP at https://www.facebook.com/events/1673192776244993/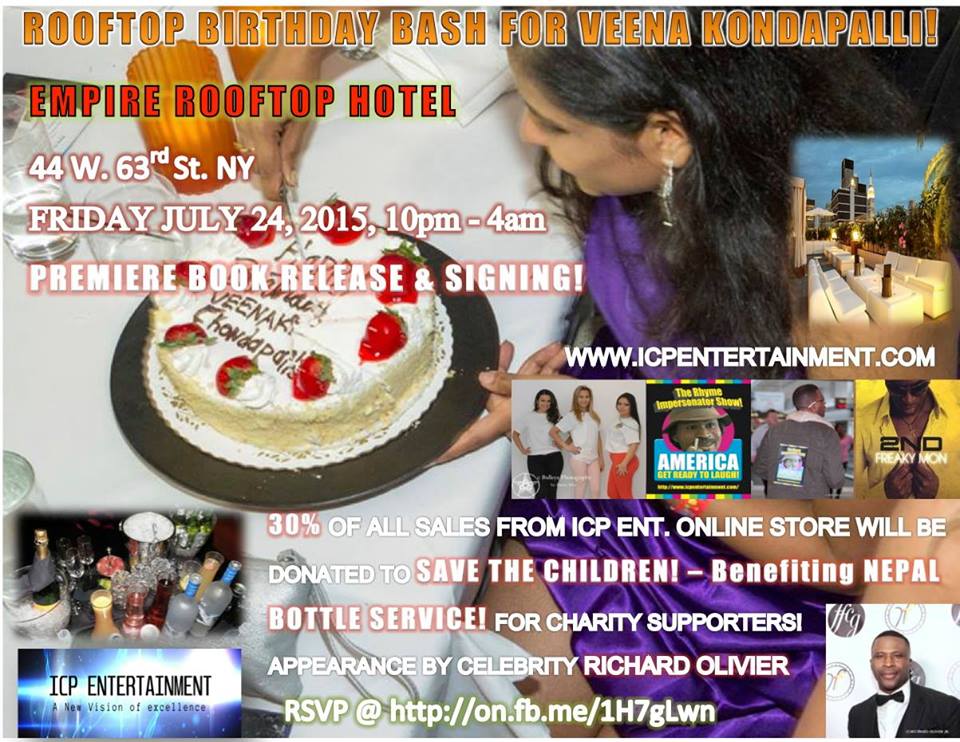 ICP Entertainment cordially invites you to attend A Rooftop Birthday Bash & Book Release Premiere Party for "Veena Kondapalli" (CFO of ICP Ent. and Associate Producer of a NYC Grassroots Sketch comedy show Pilot Project entitled:
The Rhyme Impersonator Show (IMDb www.imdb.me/therhymeimpersonatorshow)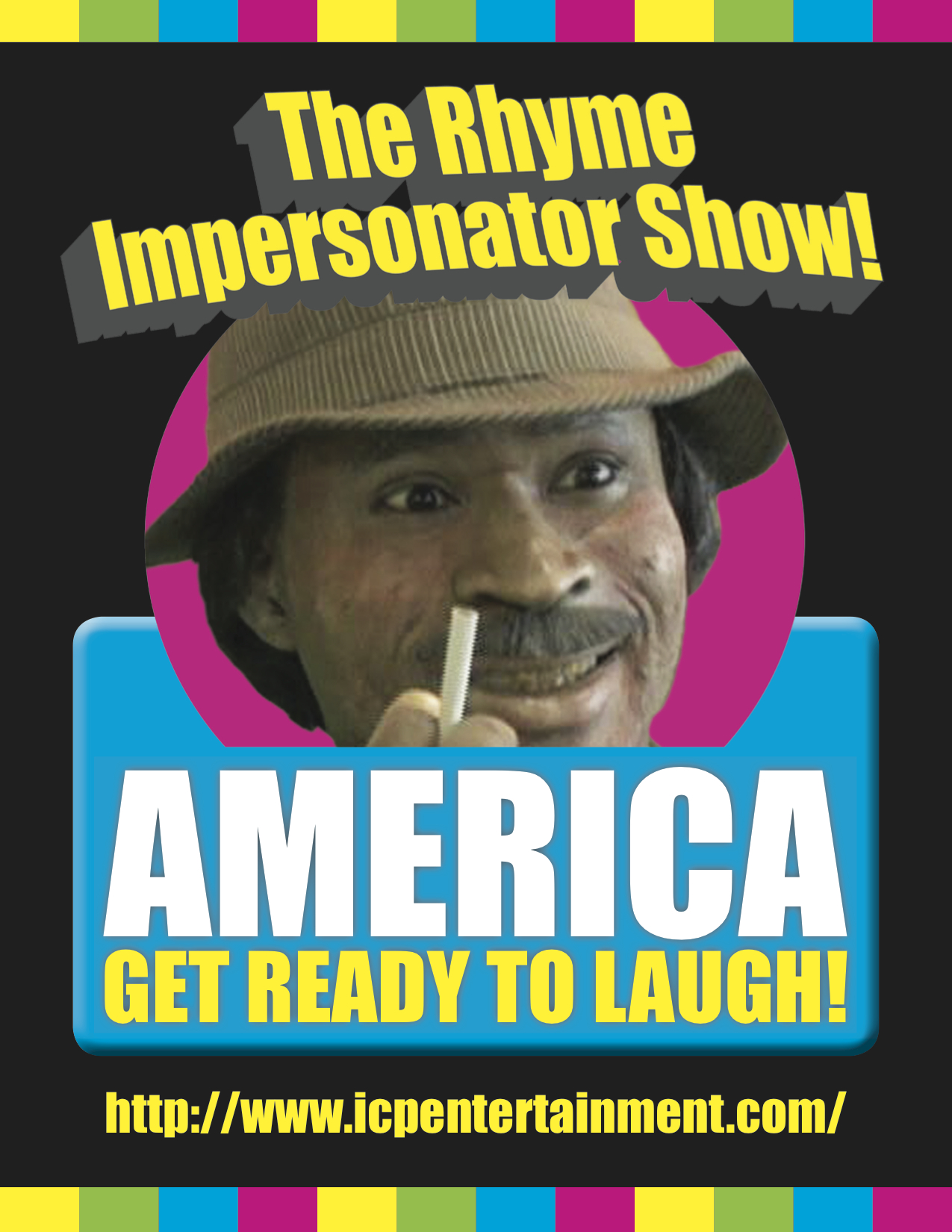 FRIDAY JULY 24, 2015
10:00pm - 4:00am at the famed:
EMPIRE ROOFTOP HOTEL
44 W 63rd St, New York, NY 10023
http://www.empirehotelnyc.com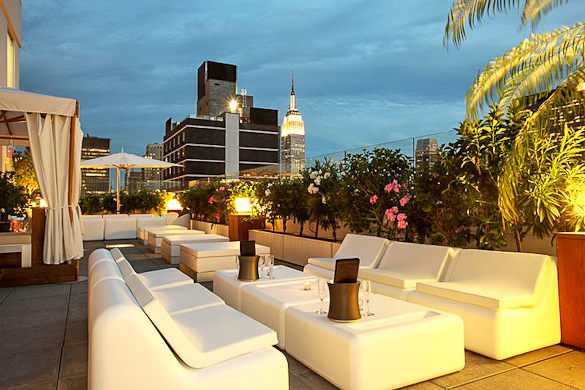 Veena Birthday celebration will also feature a Premiere Book Signing of Veena's very 1st Book of Poetry entitled: "Wandering Thoughts"
AVAILABLE SOON ON THE ONINE STORE OF http://www.icpentertainment.com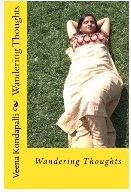 Her event is also in support of her charity: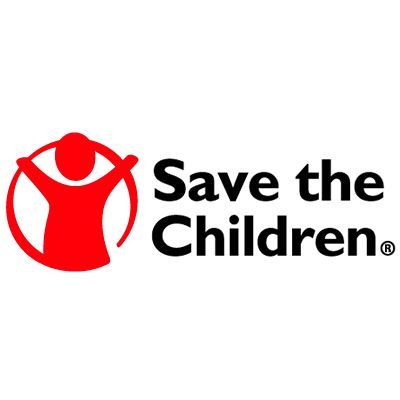 30% of every item sold on her ICP Entertainments online store at (http://www.icpentertainment.com) will be donated to SAVE THE CHILDREN http://www.savethechildren.org to help aid in their continued relief efforts for the children and families of Nepal.
ADDITIONAL BIRTHDAY BASH HIGHLIGHTS!
(COMPLIMENTARY BOTTLE SERVICE for all of veena's Exclusive VIP guests, sponsors and fans who purchase either an online advanced copy of her book, or a Rhyme Show T-shirt or Jean Jacket at: www.icpentertainment.com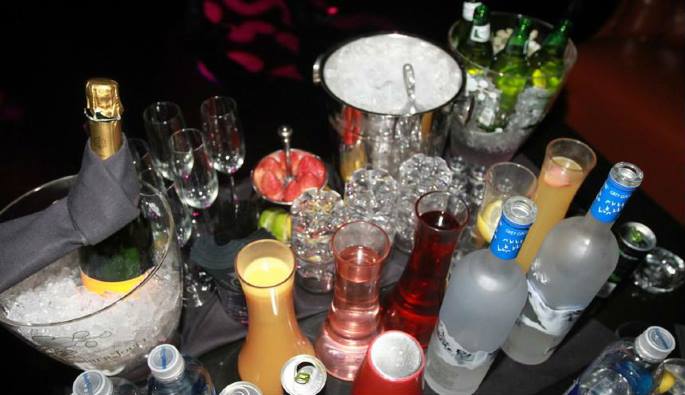 Delicious Jamaican Fruit Rum Cake! (Black Cake)
Catered exclusively for the birthday girl
(Topped with rum sauce and delicious cream cheese frosting.)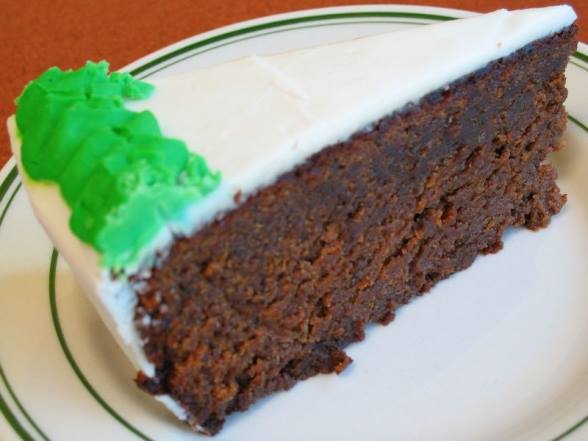 PROFESSIONAL PHOTOS!
By various NYC Photographers!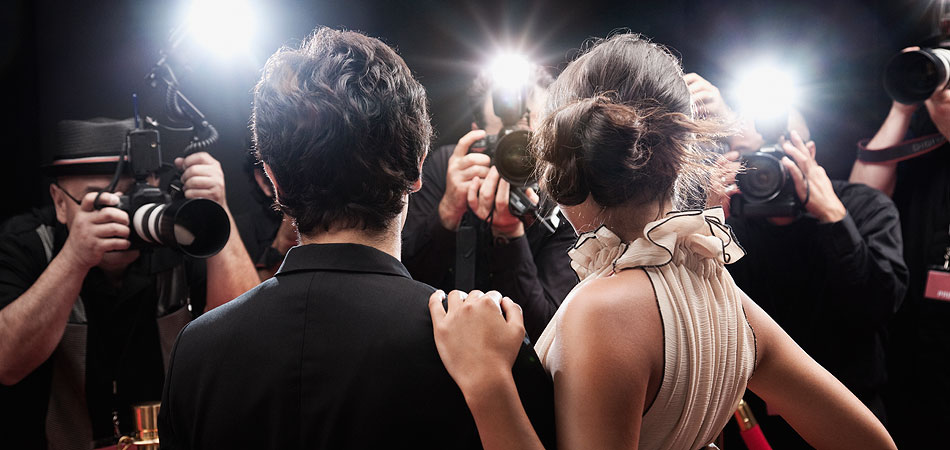 A Special Guest Appearance and HAPPY BIRTHDAY SERENADE 
by Jazz & R&B singer: Richard Olivier 
IMDb Page: http://www.imdb.me/richardolivier
(CEO of ICP Ent. Celebrity Host, and Executive Producer, Actor, Writer and Director of "The Rhyme Impersonator Show! IMDb: http://www.imdb.me/therhymeimpersonatorshow)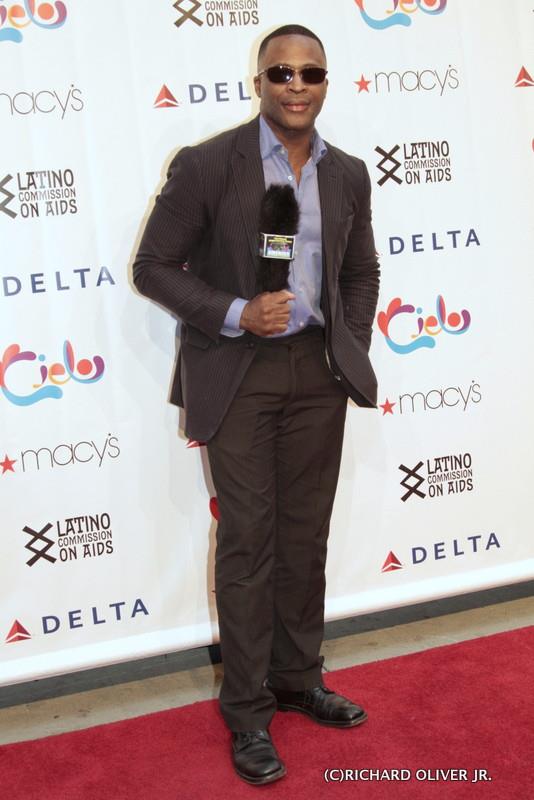 Richard was recently featured in a 1 page full spread article in page #30 of Pompano Today! (February 2015 publication http://bit.ly/1N3mxT7) Which dubbed the rising star as entertainments next "RENAISSANCE MAN".
He was also featured in a online press article in "LOOK TO THE STARS!". (https://www.looktothestars.org/news/13517-richard-oliver-jr-talks-charity) where he had an opportunity to sit down with the magazine and talk about his humble climb to fame, and his personal and deep connection to the many charities that he supports.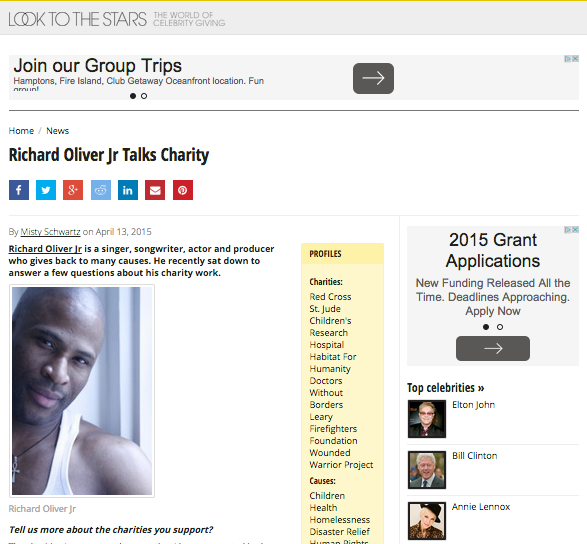 Richard has interviewed both independent artists on his show, and A List celebrities such as Hollywood Actress: "Nikki Reed" (https://www.facebook.com/nikkireedtr) from the Twilight Series, Empire State, Lords of Dogtown etc… "Ghostface Killah" (http://youtu.be/7gaDUlvgHuo?t=4s) from the legendary Rap Group: Wu-Tang Clan and comedian "Aasif Mandvi (http://youtu.be/vGpA31qSEX0) featured on the Daily Show with John Stewart),
Richard has also interviewed celebrity Bollywood stars such as Actress: "Neelkanti Patekar" wife of the legendary Bollywood actor "Nana Patekar", Arshad Warsi, Jean Sean, Pooja Kumar, Rohit Roy, Pooja Batra, Vikas Khanna, Abhay Deol, Ajay Banga, Bibhu Mohapatra and Celebrity fashion Designers "Betty Holland", and "Jason Christopher Peters", (from this years NYC Fashion Week 2015). PLUS accomplished international artists from Japan such as "Tomoyuki Ono" President of JCAA () and Asahiko Hiramatsu", the son of of the famed Japanese contemporary artist: "Teruko Hiramatsu".
NETWORKING OPPORTUNITIES!
(Bring your business cards and mix and mingle at Veena's Bash with both the corporate and entertainment circle.
After her huge success of not one but two Crowd funding campaigns, Veena knows first hand that in NYC its not what you know, but who you know)
Event Produced by ICP Entertainment
http://www.icpentertainment.com
"LIKE US" on Facebook at: https://www.facebook.com/pages/ICP-Entertainment/324465737675376?ref=hl
(212) 470-0871
When & Where
Friday, July 24, 2015 at 10:00 PM

-

Saturday, July 25, 2015 at 4:00 AM (EDT)
Add to my calendar
Organizer
ICP ENTERTAINMENT
ICP Entertainment is a Multi-faceted film production company based in New York City, providing both the corporate, commercial, and entertainment genres with hi-end event coverage, hosting and production services along with ingenious digital and branded content to help grow and expand their business.
We hope you enjoy our Monthly NYC events! And we look forward to a long-lasting and working relationship with you in 2018.
We take great pride in providing creative platforms and opportunities for artists to step out of their comfort zone and nourish their inner talents" Brainstorming, formulating and implementing new and ingenious marketing, promotion and advertising ideas, methods and strategies to help established brand names or independent companies expand their business is what we strive for. We are working very closely with a creative team of professionals to also aid in your film production needs.
Our goal is to Promote, Market and Advertise our clients brand by using various unique and creative methods, to insure its ultimate success. Bringing your brand exposure up to speed with the current trends of today that will further establish and enhance your brand name and increase its exposure to much wider and global audience.
We pride ourselves as supreme innovators, always learning, evolving and changing with the times, our team of professionals will be 100% committed to your dream and your project, bringing you and your brand, screenplay or up and coming event, - "A New Vision of Excellence"
For more information on our up and coming events and services please visit our website at: www.icpentertainment.org

Email: icpentnyc@gmail.com
Website: http://www.icpentertainment.org
ROOFTOP BIRTHDAY BASH & BOOK RELEASE PARTY FOR VEENA KONDAPALLI!