Description
ROOF PRESENTS: A FUNHOUSE HALLOWEEN PARTY at ROOF on theWit
Saturday, October 26
Doors Open at 9pm
ROOF, set 27 stories above it all, will be transformed for the evening into an electrifying funhouse circus. Inside this Big Top, you'll find a world of intoxicating illusions, surreal dancers, spontaneous circus performances and chilling food + cocktails. Escape with sounds curated by DJ Romeo and hypnotic illusions on the digital artisan wall.
COSTUMES ARE ENCOURAGED
Standard dress code or Halloween costume presentation is strictly enforced and Eventbrite ticket does not guarantee admission. Anyone not dressed to impress will be refused entry and fed to the lions.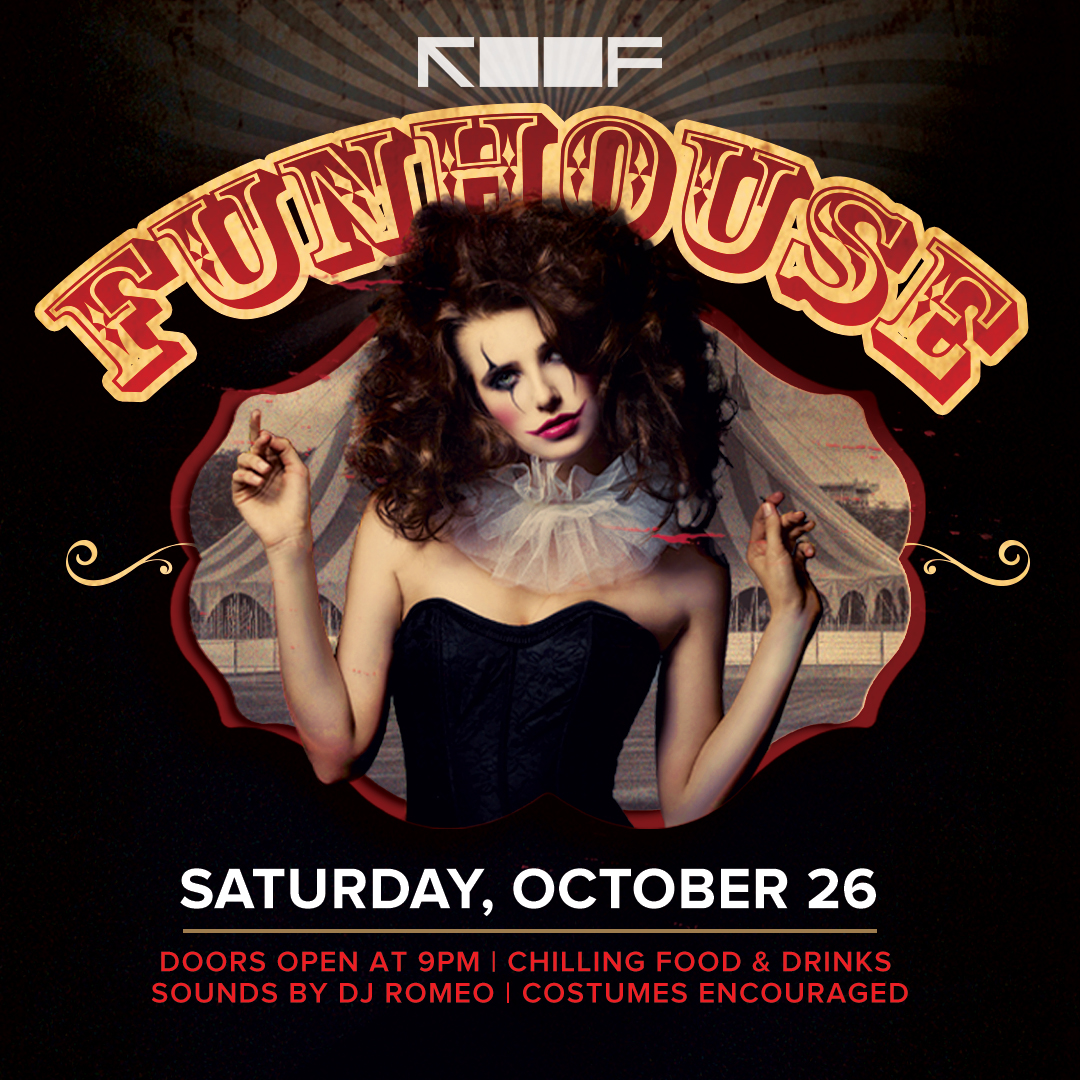 RESERVE A TABLE WITH BOTTLE SERVICE
Book bottle service so we have a table ready for your arrival. For table reservations,visit www.roofonthewit.com/reservations/nightlife/.
HOUSE RULES
Must be 21 to enter. Please have valid I.D. with you. Tickets are non-refundable and non-transferable. Please bring a printed copy of your ticket or have it ready on your phone in order to be scanned. ROOF is not responsible for any lost or stolen items.
VENUE INFO
ROOF on theWit - 201 North State Street, Chicago, IL
Visit HALLOWEENONROOF.com for more details.
DRESS TO IMPRESS
ROOF is an upscale establishment, located within a contemporary 4-star hotel, and we love when our guests dress for the occasion and appear in fashionable attire to reinforce the upscale environment. Sport jackets and dresses are always welcome! Please refrain from wearing hats, beach attire, worn out shoes, workout attire, sweats, sleeveless shirts for men, offensive wording or depiction on any clothing, ripped or torn jeans, exposed undergarments, bandannas, and any other attire ROOF Management determines to be inappropriate. ROOF Management has final approval on any guest entry into the venue, and reserves the right to turn away guests who are determined to be inappropriately dressed regardless of the reservation status. Safety is the foundation of our dress code. Therefore, ROOF Management also reserves the right to refuse entry to any guest who appears to be impaired by alcohol or drugs, or is acting in a manner determined by ROOF Management to be threatening, combative, aggressive or disrespectful toward other guests, or any ROOF, Hotel, Security employees or other personnel. Any exercise of discretion under this presentation code shall be applied in a gender-neutral, nondiscriminatory manner, in accordance with all applicable laws.