Join Ronn Moss & Devin DeVasquez Moss
About this event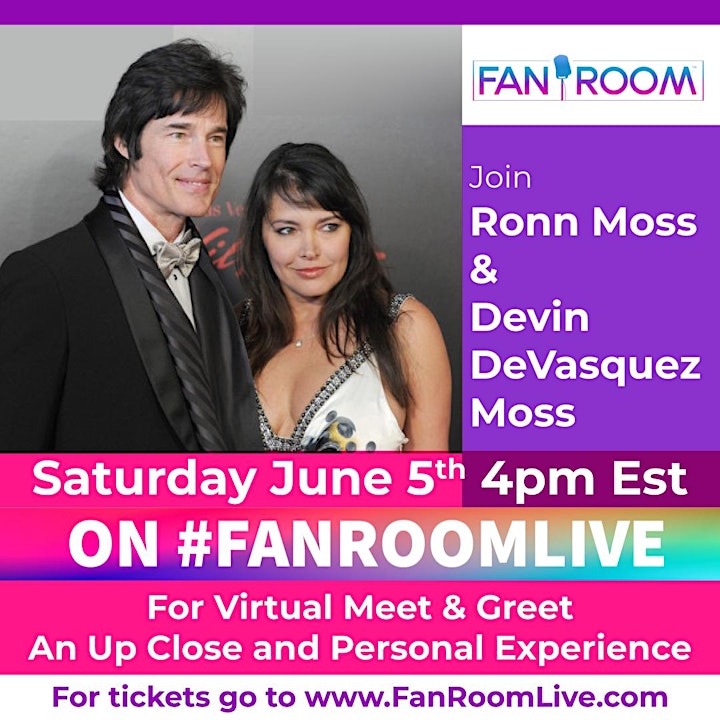 Join Ronn Moss & Devin DeVasquez Moss
Saturday June 5th 4pm EST
For a Virtual Meet & Greet
An Up Close & Personal Experience
on #FanRoomLive !
About FanRoom™ - What is FanRoom Live?
FanRoom Live is a new interactive virtual event series online, where Fans get to meet their favorite actors, comedians, athletes and musicians in a group town hall style meet and greet with Q&As. FanRoom Live is bringing something special and unique to the online world for Fans worldwide!
FanRoom Live - where WE get YOU (the fans), up-close, personal and one-on-one with your favorite influencers and celebrities. During our events you will be personally introduced to your favorite celebrity one-on-one and able to ask questions while other fans watch, listen and enjoy in our town-hall style virtual meet-n-greet. If this wasn't enough you have an ability to meet with your favorite celebrities post show PRIVATELY and ask MORE questions in our VIP backstage for an additional price.
Ticketing Options:
$5 Join the party - Be In The Audience
$10 Join the raffle to win a Meet & Greet in the future on FanRoom Live! 1 lucky fan will be announced during the event!
$25 Meet N Greet
- Meet Ronn & Devon face-to-face during the FanRoom Live Meet N Greet session with a 1on1 video chat!
- With this ticket 1 lucky Fan will win a raffle of 1 signed autographed item from Ronn & Devon and 1 ticket to a future FanRoom Live Event
$50 VIP Backstage All Access Pass with Meet N Greet
- Includes everything offered with the Meet N Greet ticket and more!
- Enjoy ultra-exclusive access to a private one-on-one hangout & video chat with Ronn & Devon after the event for an even more personal experience !
This option also comes with a recording of your session and a selfie photo opp!