Description
TICKETS ON-SALE NOW AT: MACC BOX OFFICE ● ONLINE ● BY PHONE: (808) 242-7469
RESERVED SEATING - BUY NOW FOR BEST SEATS!!


MACC Debut at McCoy Studio Theater!
Local Up-and-Coming Artists to Showcase Roots Music, Golden Voices and Moving Songwriting
Praised by Booker T. Jones, Jack Johnson, John Cruz, Paula Fuga

'Unplugged' Duo Performance with Acoustic Guitar, Cajon and Harmonica

"I was bowled over the first time hearing the Artis brothers! Apart from their exemplary musicianship, the duo's voices are silky smooth, their lyrics are uplifting, and they have a gift for composing catchy, soulful songs that are instantly memorable." Jon Woodhouse, -The Maui News

Two full sets of music by Ron and Thunder at this Saturday's show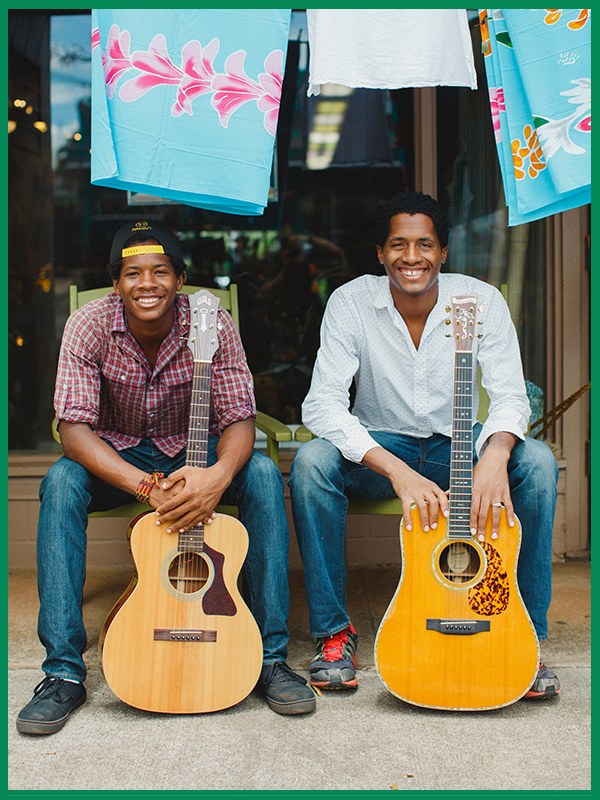 VIDEOS:

RON ARTIS II AND THUNDERSTORM'S MACC DEBUT!
Over the past year, brothers Ron Artis II and Thunderstorm have skyrocketed into the upper ranks of the Oahu music scene and in the process earned high praise from everyone ranging from Booker T. Jones to Jack Johnson to John Cruz and Paula Fuga. On Saturday, April 9, 2016, the Artis brothers make their Maui Arts and Cultural Center (MACC) debut at 7:30pm at McCoy Studio Theater.
With heavenly harmonies, standout musicianship and a treasure trove of moving, original songs, the Artis brothers prove that roots music is alive and well in contemporary culture. Their talents will be showcased in ideal fashion in the warm, acoustically rich confines of McCoy Studio Theater. Ron and Thunderstorm will perform as a duo, with no accompaniment other than their golden voices, acoustic guitar, cajon and harmonica. This format allows the natural beauty of their instruments and singing to shine big and bright.
Both Ron and Thunderstorm were immersed in music growing up - literally with instruments in their hands since the time they could walk. Their father, Ron Artis - an accomplished musician who performed with Michael Jackson, Van Halen, Stevie Wonder and Rose Royce, moved the family from Los Angeles to Oahu in the 1990's eventually settling in Haleiwa. The family (Ron Artis, wife Victoria, sons Ron Artis II and Thunderstorm and nine additional children) became well known for musical performances at "Resurrection City," the family's home. With the children homeschooled, multiple members of the family performed together for the public daily.
"My brother Thunderstorm and I are excited to share our music with Maui at McCoy Studio Theater," states Ron Artis II. "When I opened for G. Love in Paia in December, the response from the audience was fantastic. The north shore of Maui immediately felt like a second home with my music and message fitting right in."
ACCOLADES:
Booker T. Jones: in October of last year, Ron Artis II and Thunderstorm shared the stage with Grammy Lifetime Achievement Award Winner, Booker T. Jones. After hearing one of the brothers' recordings a few weeks earlier, Booker T. requested that they join his upcoming Honolulu performance in special fashion - with Booker T's band leaving the stage and Booker T and the brothers performing an Artis' composition alone. When Booker T heard the Artis brothers play live at soundcheck, he was taken aback and immediately asked if it were possible to record with them during his Hawaii visit. Their Oahu performance was a hit and discussions of future collaborations are on-going.

Communion Music: earlier this year, Ron Artis II and Thunderstorm were invited by Communion Music to perform at Communion's New York City artist showcase at Rockwood Music Hall in Manhattan. Founded in 2006, Communion Music is headed by Ben Lovett (Mumford & Sons) and other music luminaries. The organization focuses on showcasing up-and-coming acts across all genres and building supportive communities throughout America and the United Kingdom. Communion Music has released music by Gotye, Ben Howard, Michael Kiwanuka, Willy Mason and others. Ron and Thunder performed on March 1st to great acclaim. "Prior to their set, no one from Communion had seen Ron Artis II and Thunderstorm perform. They exceeded all expectations. Everyone from the Communion team who saw them loved their performance." -Tyler Bates, Communion Music Director of Operations. Ron and Thunder are in discussions with Communion Music about performing at Communion showcases throughout the east coast this fall.

G. Love Opening Set: on Dec. 26, 2015, Ron Artis II opened for G. Love at Charley's Restaurant & Saloon. Alone on-stage with only his guitar, Ron electrified the audience generating much post-show buzz with people glowing about their new musical 'discovery.'


Mana'o Hana Hou Radio - Record Breaking Set at 'Upcountry Sundays': on Feb 14, 2016, Ron Artis II & Thunderstorm performed at 'Upcountry Sundays' at Casanova in Makawao presented by Mana'o Radio. Half-way through their first song, the room went dead silent - the audience captivated by the brothers' music. At the conclusion of the joyous set, the audience purchased literally every piece of merchandise Ron and Thunderstorm brought with them - setting a record for the most CD's ever sold at 'Upcountry Sundays,' all from a crowd who, for the most part, had never heard of Ron and Thunderstorm before their set.