Description
● PRE-SALE1 - SOLD OUT - $15 (includes EP)
● PRE-SALE2 - SOLD OUT - $15
● PRE-SALE3 - SOLD OUT - $20
● PRE-SALE4 - $25 (limited # available)

Electrified Funk & Soul by One of Hawaii's Great Talents

Praised by Booker T. Jones, Jack Johnson, John Cruz, Paula Fuga
Knock-Out Singing and Irresistible Grooves - A Joyous Ride You'll Never Forget


"Surpassed my high expectations."
"I was blown away."
"Best live show I've seen in ages...incredible performance."
"Great night of music and love."
"Absolutely loved the Ron Artis II & Thunderstorm show last night at the MACC. Such amazing voices and beautiful positive lyrics. Truly an uplifting experience!"
Above feedback received after Ron Artis II's acoustic show at the MACC this past April with his brother Thunderstorm.
Come see what happens when Ron goes electric at Charley's Restaurant & Saloon!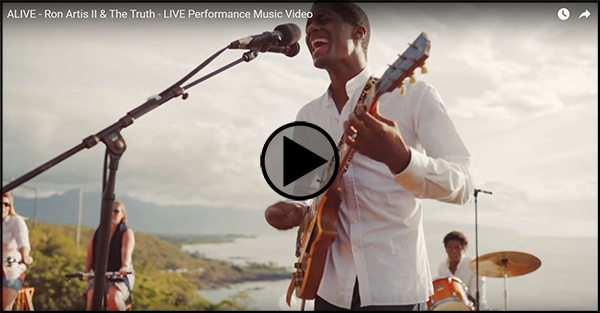 DEBUT EP - 'LITTLE PEOPLE'
"Putting the Truth back in the Funk."
On August 29th, Ron Artis II & The Truth releases its debut EP, 'Little People.' Featuring all original songs written by Ron, 'Little People' sees the band (Ron Artis II - guitar & vocals, Stevon Artis - drums, Riley Pa'akaula - bass) stretch out into soulful melodies anchored in the groove. Ron unveils one of his true loves, a Fender Stratocaster, and he and band revel in the opportunity to play as big and bold as the music warrants while embracing a wide range of musical styles - funk, soul, rock and everything in between. Witness the smile on Ron's face when he tears into the first riff on his electric, feel your spirit embrace the beat and hold on. It's music straight from the heart from a trio fully locked-in - live performance as it was meant to be. A great night ahead.
Ron Artis II
BLOSSOMING CAREER
Building Bridges Across the Sea

"The level of talent from this frontman is undeniable - we can't wait to hear more."
-Communion Music


"Mixing the blues of Jimi Hendrix with the soul of Bill Withers." -Hawaii Public Radio


July 28 – August 1 - Wanderlust Whistler performances
August 29 - Sept 3 - EP release concerts (Oahu, Maui, Kauai)

Sept. 6 - 10 - Opening for Jake Shimabukuro (Portland, OR / Bend, OR / Saratoga, CA / San Diego, CA)
Sept. 12 - 13 - Booker T. Jones songwriting sessions (Reno, CA)

Sept. 16 - Opening for The Mick Fleetwood Blues Band feat. Rick Vito (Aspen, CO)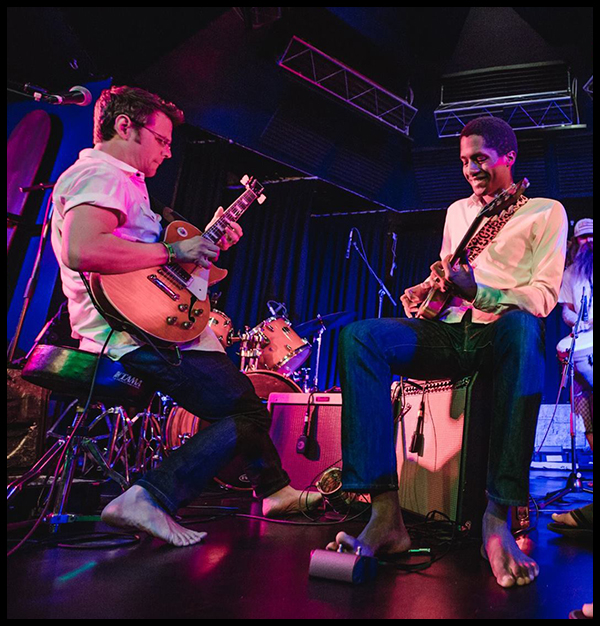 Ron Artis II and Luther Dickinson - June 5, 2016 Honolulu, HI
PAST PERFORMANCES


Booker T. Jones: in October of last year, Ron Artis II and Thunderstorm shared the stage with Grammy Lifetime Achievement Award Winner, Booker T. Jones. After hearing one of the brothers' recordings a few weeks earlier, Booker T. requested that they join his upcoming Honolulu performance in special fashion - with Booker T's band leaving the stage and Booker T and the brothers performing an Artis' composition alone on-stage. When Booker T heard the Artis brothers play live at soundcheck, he was taken aback and immediately asked if it were possible to record with them during his Hawaii visit. Their Oahu performance was a hit, and a September visit to Booker T's home and nearby studio is on the calendar with Ron and Booker T planning to write songs and share thoughts on music and the ties that bind.


Communion Music: earlier this year, Ron Artis II and Thunderstorm were invited by Communion Music to perform at Communion's New York City artist showcase at Rockwood Music Hall in Manhattan. Founded in 2006, Communion Music is headed by Ben Lovett (Mumford & Sons) and other music luminaries. The organization focuses on showcasing up-and-coming acts across all genres and building supportive communities throughout America and the United Kingdom. Communion Music has released music by Gotye, Ben Howard, Michael Kiwanuka, Willy Mason and others. Ron and Thunder performed on March 1st to great acclaim. "Prior to their set, no one from Communion had seen Ron Artis II and Thunderstorm perform. They exceeded all expectations. Everyone from the Communion team who saw them loved their performance." -Tyler Bates, Communion Music Director of Operations. Ron is in discussions with Communion Music about performing at Communion showcases throughout the east coast this fall.


Maui Headline Debut by Ron and Thunder at the MACC April 9, 2016 - Nearly Sold-Out Crowd Gushes with Praise: Feedback received from attendees after the show includes (all of the following comments were unsolicited; people proactively posted these statements after the show): i) "Surpassed my high expectations;" ii) "Best live show I've seen in ages...incredible performance;" iii) "Their commitment to positivity is overwhelming. In every sense of the word. They are "GOOD;" iv) "Great night of music and love;" v) "I was blown away;" vi) "Absolutely loved the Ron Artis II & Thunderstorm show last night at the MACC. Such amazing voices and beautiful positive lyrics. Truly an uplifting experience!" vii) "Amazing show! I feel blessed to get to enjoy such talent."

Mana'o Hana Hou Radio - Record Breaking Set at 'Upcountry Sundays': on Feb 14, 2016, Ron Artis II & Thunderstorm performed on Maui for the first time at 'Upcountry Sundays' at Casanova in Makawao presented by Mana'o Radio. This was an unannounced, 'surprise' show, and virtually no one in the audience had ever heard of Ron or Thunder when they stepped on-stage. Half-way through their first song, the room went dead silent - the audience captivated by the music. At the conclusion of the joyous set, attendees purchased literally every piece of merchandise Ron and Thunderstorm brought with them - setting a record for the most CD's ever sold at 'Upcountry Sundays' - all from a crowd who had never heard of Ron and Thunderstorm before their set. 'Upcountry Sundays' has been held monthly for nearly 15 years and in the past, has featured national acts including Papa Mali with Bill Kreutzmann.


G. Love Opening Set: on Dec. 26, 2015, Ron Artis II opened for G. Love at Charley's Restaurant & Saloon. Alone on-stage with only his guitar, Ron electrified the audience generating much post-show buzz with people glowing about their new musical 'discovery.'