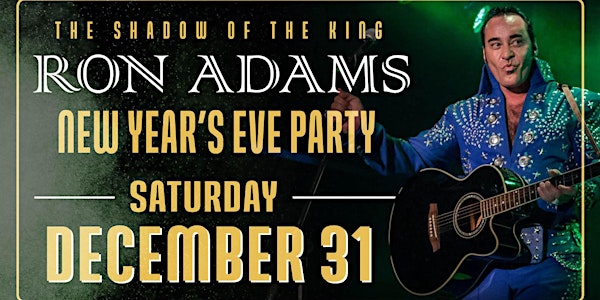 Ron Adams | New Year's Eve Celebration!
Ron Adam's is bringing in The New Year with all of the Las Vegas Legends - Join us on December 31st and celebrate 2023!!
When and where
Location
Lucille's Music Hall 60 Seascape Drive Destin, FL 32550
About this event
At Lucille's Music Hall (Formerly The Village Door Music Hall)
Doors open @ 7:30 pm
The band starts @ 9 pm
Prix Fixe Menu:
YOUR CHOICE OF A SALAD
YOUR CHOICE OF A MAIN COURSE
YOUR CHOICE OF TWO SIDES
Mashed Potatoes
Green Beans
French Fries
*Place your order at checkout when you purchase tickets that include dinner*
Ronald Dale Adams was born in rural Jefferson County Alabama from humble roots. He began singing in church as a young child and anyone that heard him sing knew that he had a special gift. As Ron reached adulthood and began searching for the right path in life, in his early 20's he turned his career focus to law enforcement and became a police officer in Birmingham Alabama.
After pulling a man out of a burning house and saving his life along with two fellow officers, Officer Adams received the high honor of "Police Officer of the Year". He was promoted and moved to the vice and narcotic unit where he grew his hair out, dyed it black and went undercover. While attempting to make a drug deal in a club, Ron's attention was pulled to the stage where the lead singer of the band butchered an Elvis tune. The singer caught Ron's smirky smile reaction and challenged him to do better!!! The rest is history! That night changed Ron's life forever. He has co-starred in 2 movies "Southern Heart" and "Elvis' Grave". Ron's show is a tribute from his heart to yours and you can bet that he believes in the authenticity, all the way to the studded and spangled suits which were built by B&K Industries, and cut from the same pattern as Elvis' suits!
Whether Ron Adams is doing his world-famous Elvis show or one of his many other shows, one thing is sure, there is no other entertainer that captures your heart and soul and has you standing in your chair clapping, singing and cheering!
Within 6 months, Ron was traveling all over the Southeast performing his Elvis Tribute show and was quickly becoming very popular. Ron has had one of the leading Elvis Tribute shows since 1987. He has written, produced, and directed, as well as starred in, many shows which include "The Life of the King", "Ron Adams and Friends Country legends Show", Ron Adams "Rat Pack" Tribute Show, and "Ron Adams and Friends "Reflections" (A journey through America's Musical History).