Rome Slow Art Day - Chiesa di Santa Maria Sopra Minerva - April 12, 2014
When and where
Location
St Maria Sopra Minerva Basilica 42 Piazza della Minerva 00186 Rome Italy
Description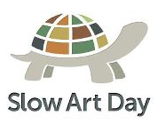 Chiesa di Santa Maria Sopra Minerva
Art viewing: 11:00 - 12:00
Lunch: 12:00 - 13:00
In un locale di piazza della Rotonda
Host: ARTROM Network
Email: info@artromnetwork.com
La Chiesa di Santa Maria Sopra Minerva ricca di storia e di suggestioni spesso ignorate rivela, a chi saprà concederle il giusto tempo, il fascino di opere di valore racchiuse in secoli di storia e di arte.
Dopo l'esperienza di Slow Art la guida e artista Mirella Rossomando accompagnerà gli osservatori in un approfondimento storico e artistico dell'importante chiesa romana, per poi concludere con un momento di condivisione presso un locale in piazza della Rotonda.
Slow Art è una nuova modalità di approccio all'esperienza artistica riconosciuta e promossa a livello internazionale.

Negli incontri di Slow Art viene chiesto agli osservatori di scegliere un'opera e fermarcisi di fronte per 5 minuti. Il tempo, valore vissuto spesso con frettolosa superficialità, diventa garante di un rapporto di intimità che permette all'osservatore di andare oltre la superficie materiale dell'opera e di comprenderla in modo profondo e diretto.

ARTROM Network è la sede italiana del Movimento Internazionale e dal 2010 cura e conduce incontri di Slow Art per promuovere un nuovo approccio all'esperienza artistica, nel quale l'osservatore diventa coscientemente partecipe del potere comunicativo delle opere d'arte. Si occupa inoltre di organizzare le annuali Giornate Internazionali promosse dalla sede centrale di New York.

Il Movimento si basa sul lavoro di volontari: amanti d'arte che vedono in Slow Art la possibilità di avvicinare un pubblico ampio ed eterogeneo, non accademicamente formato, all'esperienza artistica.
Slow Art Day is a worldwide celebration of art that encourages people to look at art SLOWLY – and thereby experience art in a new way. You can see more about Slow Art Day and the mission behind it on our website: http://SlowArtDay.com.
As Slow Art Day approaches, you'll hear from your host with more information, as well as instructions about what to do when you arrive for Slow Art Day.
More info about Slow Art Day movement: facebook | twitter | tumblr