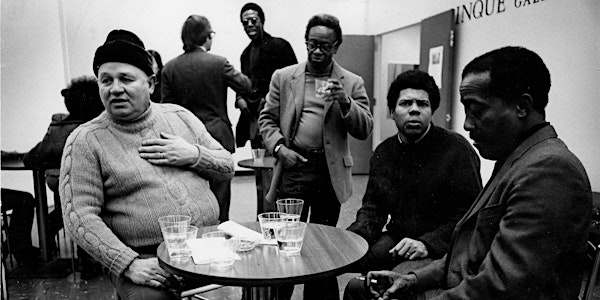 Romare Bearden Cinque Artist Series at HSA presents The Legacy of Cinque Gallery
When and where
Location
Harlem School of the Arts 645 St Nicholas Ave New York, NY 10030
Description
The Legacy of Cinque Gallery
The Bearden Foundation's Cinque Artists Program, is named for the Cinque Gallery founded by Bearden, Norman Lewis and Ernest Crichlow in the late 60's. The gallery served as a catalyst for artist and curators of color to exhibit, but also as a place for networking and building community.
It's the 50 anniversary of Cinque Gallery's inaugural exhibition in 1969. In celebration we will present the first in a series of talks with artists that participated in exhibitions, supporters and others writing about its origins.
The Legacy of Cinque Gallery
With
Nanette Carter, artist
Ademola Olugebefola, artist
Michael Kenny, former Cinque board member
Susan Stedman, writer Arts Administrator


Tuesday February 26, 2019
6:00 pm-8:00 pm
HSA Gallery

Free and open to the public. Seating is limited.
About the participants:
Nanette Carter studied Studio Art and Art History at Oberlin College, and received a Masters in Fine Arts from Pratt Institute of Art in Brooklyn. Presently Nanette is a tenured Associate Adjunct Professor of art at Pratt Institute. Nanette's work was featured in the ground-breaking 2017 exhibition "Magnetic Fields: Expanding American Abstraction, 1960's to Today" that showed at the Kemper Museum of Contemporary Art, Kansas City, Missouri, the National Museum of Women in the Arts in Washington, D.C., and the Museum of Fine Arts, St. Petersburg. Nanette's work can be found in the collections of the Studio Museum in Harlem; Museo Nacional de Bellas Artes, Havana, Cuba; The Newark Museum; The Pennsylvania Academy of the Fine Arts; Columbus Museum of Art, Ohio, and many others. She exhibited at Cinque Gallery in 1989.

Ademola Olugebefola is a renowned contemporary artist whose work has set standards of innovative excellence. Born in the US Virgin Islands and raised in New York City, Ademola is widely collected and published in hundreds of books, catalogs, magazines and newspapers, his work has also been featured in major museums, universities, galleries and on television in the USA, the Caribbean, Africa, Europe and Japan. His work was featured in "Witness: Art and Civil Rights in the Sixties", organized by the Brooklyn Museum and travelled to the Hood Museum in New Hampshire. Ademola also has worked in theatre scenic and graphic design, and is one of the founders of the Dwyer Cultural Center in Harlem.


Michael Kenny is a lawyer with Citigroup, and former board member of Cinque Gallery. He has been involved in the arts for over 30 years. Michael was on the Cinque Gallery board in the later years of operation and worked with the long time director Ruth Jett.


Susan Stedman Susan Stedman is an Arts administrator; grant maker and advisor to museums, arts, social justice and other nonprofit organizations. Susan is also an independent curator and manager for artists estates, artists and their collections. She contributed to the catalog for the 2015 exhibition "Progression: The Art of Norman Lewis" at the Pennsylvania Academy of Fine Arts. Susan will present her recent research on the history of Cinque Gallery.


ABOUT ROMARE BEARDEN FOUNDATION
The Romare Bearden Foundation is a non-profit organization, and one of the oldest of its kind established for an African American visual artist. The Foundation promotes Bearden's legacy by serving as a catalyst to encourage creative expression and innovation, high quality exhibitions, scholarly publications and forums, as well as opportunities for artists to develop their craft. For over twenty-five years its mission has been to preserve and perpetuate the artist's rich legacy for future generations. www.beardenfoundation.org

*This program is part of the "Harlem Renaissance 100"- A cultural collaborative, city wide celebration #HarlemRen100