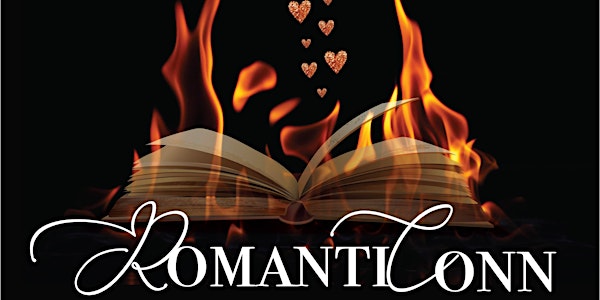 RomantiConn 2023: A Romance Author Signing Event
RomantiConn is a fun-filled romance author signing event. Come share your love for romance and reading!
By Kitty Berry Books, LLC
Date and time
Saturday, July 8 · 12 - 4pm EDT
Location
Trumbull Marriott Shelton 180 Hawley Lane Trumbull, CT 06611
About this event
Kitty Berry Books, LLC. is excited to announce the 4th annual RomantiConn romance author signing event. It's a fun-filled event where authors and readers share their love of fangirling, book-boyfriends, and all things related to books and romance.
RomantiConn is committed to bringing attendees a variety of sub-genres to fully explore the vast array of Romance. RomantiConn supports all authors—best-selling, international authors, independently published authors, and self-published authors.
Authors, Narrators, Models, and Vendors *Subject to Change*
Kitty Berry: Host and Signing Author
A.C. James
A.E. Via
Alexandra Hale
Amanda Siegrist
Andrew McQuinn
Annabella Michaels
Arell Rivers
Ariel Dawn
Artemis Crow
Ashleigh Stevens
Autumn Marie
Ava Olsen
Blair Babylon
Cassandra Medcalf
Cecile Tellier
Cheri Allan
Clair Brett
Clara Fox
Connie Lafortune
Crea Reitan
Dakota Willink
Danica Flynn
Davidson King
E.S. McMillan
Eliza Carter
Elizabella Baker
Elle Greco
Emilia Rose
Emmanuelle Snow
Erin Lynne
Erin Mallon
Finn Dixon
Golden Angel
Gracie Guy
Heather Lyn
Holly Caste
Ines Johnson
J.L. Stray
J.M. Davies
Jamie K. Schmidt
Janine Infante Bosco
Jennifer Field
Jennifer Wilck
Jessica Lynch/Sarah Spade
Jill Marie Denton
Jillian Liota
Jodi Payne
Judith Paolercio
Judy Kentrus
Karen Coulters
Kaylene Winter
Kitty Berry
Kristen Strassel
L.M. Carr
L.R. Jackson
Laurel Ostiguy
Lesley Clark
Linzi Basset
Lori DiAnni
Lucia Catherine
Lucinda Race
Luna David
Lynessa Layne
Lynn Burke
Lynn Montagano
M. Jayne/Melanie Jayne
M.L. Pennock
Megan Ryder/Sabrina Silver
Mel Walker
Michele Ryan
Michelle Iannarelli
Miski Harris
Morgan Malone
Nichole Greene
Paris Wynters
Peggy Jaeger
Quell T. Fox
Raquel Riley
Rebecca Paula
RJ Peterson
Robbie Cox/R.C. Wynne
S. Courtney
Santana Blair
Sara R Stewart
Sarabeth Pollock
Sarah Zane
Shannon Nikole
Siera London
Sierra Christenson
Skye McNeil
Stacey Komosinski
Stephanie Kay
Stephanie Rose
Suanne Laqueur
Sue Langford
Taylor Delong
Yolanda Olson
Narrators:
David Black
Dom Jonson
Laura English-Boogaert
Meg Price
Monica King
Rose Dioro
Teena Scott
Vendors:
Captive Creations
Color Street
Crocheted Scarves & More by Vanessa
Pure Romance
With Love, Donte
About the organizer
RomantiConn is an Author Signing Event brought to you by Kitty Berry Books, LLC.
Kitty Berry is an author of Contemporary Romance with dirty words, sexy alpha-males, and sex! Lots and lots of sex! She writes love stories that never end and loves to fangirl over her favorite authors.
She hopes that you'll join her for her first journey into fangirling, book-boyfriends, and love for all things BOOKS!