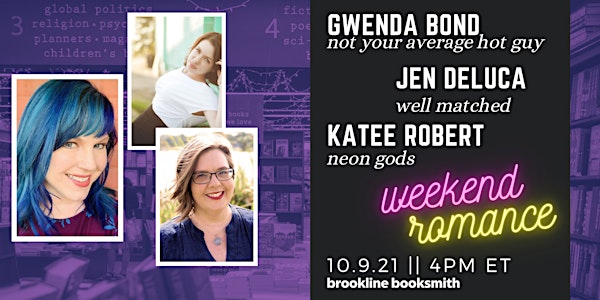 ROMANCE with Gwenda Bond, Jen DeLuca and Katee Robert
Read on for important registration and book order details!
Refund Policy
Contact the organizer to request a refund.
Eventbrite's fee is nonrefundable.
About this event
It's time for some ROMANCE! Join us for a conversation with Gwenda Bond (Not Your Average Hot Guy), Jen DeLuca (Well Matched), and Katee Robert (Neon Gods).
Support our event series & the authors by buying your copies here! Books will include signed bookplates while supplies last.
How to Register
Register on this page to receive a Zoom link
Register free, pay what you like, or buy the book to enter the event
If you don't receive a confirmation email after registering, contact us right away
Get Your Books
Books are held at the store for pickup by default. Select "USPS PRIORITY SHIPPING" as well as your book(s) of choice at checkout to have them shipped to you!
Books are held for pickup or shipped after ticket sales have closed.
STORE PICKUP- Pick up your book in person at Brookline Booksmith (Click here for directions). You will receive an email alert when your book is ready.
SHIPPING - Have your book shipped via USPS priority mail. Shipping is only available in the United States.
If you have trouble checking out, check the Eventbrite FAQ located here.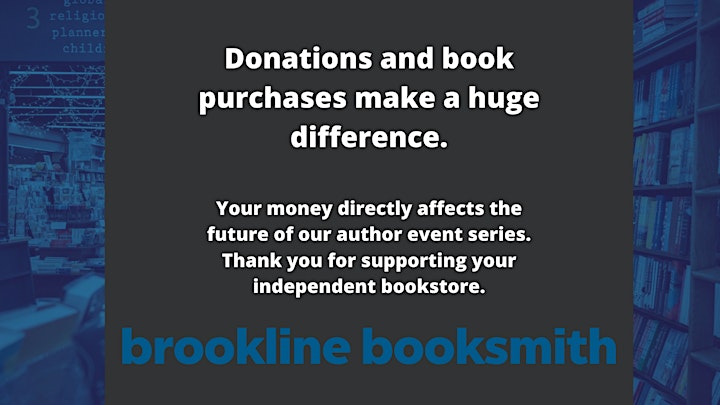 Not Your Average Hot Guy
All Callie wanted was a quiet weekend with her best friend. She promised her mom she could handle running her family's escape room business while her mom is out of town. Instead a Satanic cult shows up, claiming that the prop spell book in one of the rooms is the real deal, and they need it to summon the right hand of the devil. Naturally they take Callie and her friend, Mag, along with them. But when the summoning reveals a handsome demon in a leather jacket named Luke who offers to help Callie stop the cult from destroying the world, her night goes from weird to completely strange. But what Callie doesn't know is that Luke is none other than Luke Morningstar, Prince of Hell and son of the Devil himself. Callie never had time for love, and with the apocalypse coming closer, is there room for romance when all hell's about to break loose?
Gwenda Bond is the New York Times bestselling author of many novels, including the Lois Lane and Cirque American trilogies. She wrote the first official Stranger Things novel, Suspicious Minds. She also created Dead Air, a serialized mystery and scripted podcast written with Carrie Ryan and Rachel Caine. Not Your Average Hot Guy is her first romantic comedy for adults.
Well Matched
Single mother April Parker has lived in Willow Creek for twelve years with a wall around her heart. On the verge of being an empty nester, she's decided to move on from her quaint little town, and asks her friend Mitch for his help with some home improvement projects to get her house ready to sell.
Mitch Malone is known for being the life of every party, but mostly for the attire he wears to the local Renaissance Faire--a kilt (and not much else) that shows off his muscled form to perfection. While he agrees to help April, he needs a favor too: she'll pretend to be his girlfriend at an upcoming family dinner, so that he can avoid the lectures about settling down and having a more "serious" career than high school coach and gym teacher. April reluctantly agrees, but when dinner turns into a weekend trip, it becomes hard to tell what's real and what's been just for show.
As summer begins, Faire returns to Willow Creek, and April volunteers for the first time. When Mitch's family shows up unexpectedly, April pretends to be Mitch's girlfriend again...something that doesn't feel so fake anymore.
Jen DeLuca was born and raised near Richmond, Virginia, but now lives in Arizona with her husband and a houseful of rescue pets. She loves latte-flavored lattes, Hokies football, and the Oxford comma. Her novels, Well Met, Well Played, and Well Matched, were inspired by her time volunteering as a pub wench with her local Renaissance Faire.
Neon Gods
He was supposed to be a myth. But from the moment I crossed the River Styx and fell under his dark spell...he was, quite simply, mine.
Society darling Persephone Dimitriou plans to flee the ultra-modern city of Olympus and start over far from the backstabbing politics of the Thirteen Houses. But all that's ripped away when her mother ambushes her with an engagement to Zeus, the dangerous power behind their glittering city's dark facade.
With no options left, Persephone flees to the forbidden undercity and makes a devil's bargain with a man she once believed a myth...a man who awakens her to a world she never knew existed.
Hades has spent his life in the shadows, and he has no intention of stepping into the light. But when he finds that Persephone can offer a little slice of the revenge he's spent years craving, it's all the excuse he needs to help her--for a price. Yet every breathless night spent tangled together has given Hades a taste for Persephone, and he'll go to war with Olympus itself to keep her close...
Katee Robert is a New York Times and USA Today bestselling author of contemporary romance and romantic suspense. Entertainment Weekly calls her writing "unspeakably hot." Her books have sold over a million copies. She lives in the Pacific Northwest with her husband, children, a cat who thinks he's a dog, and two Great Danes who think they're lap dogs.
About Brookline Booksmith
We are one of New England's premier independent bookstores, family-owned and locally run since 1961. We offer an extensive selection of new, used, and bargain books; unique, beautiful gifts; award-winning events series; and specialty foods. Every day, we strive to foster community through the written word, represent a diverse range of voices and histories, and inspire conversations that enrich our lives. Find more at brooklinebooksmith.com!
EVENT ACCESSIBILITY
Barring technical difficulty, auto-transcription is enabled on all Brookline Booksmith Zoom Webinar events.