Event Information
Performers
Location
Troubadour
9081 Santa Monica Blvd
Los Angeles, CA 90069
Romance & Rebellion with Evaride, Animal Sun, and Fames appearing at Troubadour in Los Angeles, CA
About this Event
10:20pm---ROMANCE & REBELLION
9:25---Evaride
8:35---Animal Sun
7:45pm---Fames
Doors---7pm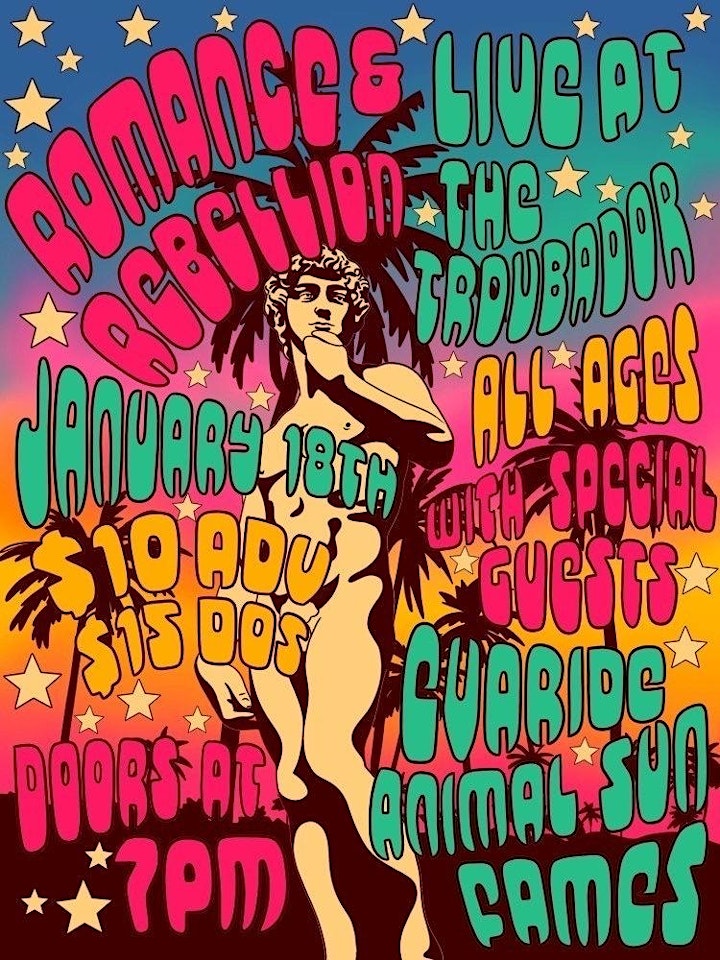 Romance & Rebellion was formed in late 2015 to serve as a vehicle for the songwriting of frontman David LaViola. Originally from New York, LaViola relocated to Los Angeles in 2014. Not interested in pursuing the classic singer/songwriter career, David began writing songs for what would one day turn into Romance and Rebellion. LaViola found his initial bandmates when Aaron Medina (bassist) and Kyle Jordan Mueller (drums) responded to a post on Craigslist. Along with auxiliary guitarist Aleks Landsberger, the band began to perform around Los Angeles, becoming regulars on the Sunset Strip. The band's first self-titled EP earned them immediate attention, landing them a spot on Van's Warped Tour, Emo Night LA, and multiple unofficial SXSW showcases. Along with enthusiastic press from a plethora of indie blogs, R&R had made an instant impact and the stage was set for their next release.
'Amps & Anthems' (R&R's second EP) saw the band expanding into new musical territories. Inspired by rock bands such as 5 Seconds to Summer, the band developed a more live, rock-influenced sound. 'Amps & Anthems' was produced by Lennon Leppert and mixed by Zach Cervini (5 SOS, Blink 182, Halsey, Youngblood). The EP continued to build on Romance & Rebellion's reputation, gaining them an opening slot for Story of the Year and leading to a sold-out performance at the legendary Troubadour in Los Angeles. The EP was featured in the Huffington Post, Alt Press, and Ones to Watch. As an unexpected highlight, the band was invited to China perform a string of shows, including a performance at the Sound of Phoenix Grand Opera Theater.
The success of the first two EPs left the band questioning their next step forward. Following a conversation with Richard Reigns (Drive-Thru Records), LaViola felt newly inspired to rediscover his voice as a songwriter; to feel free to be himself. The band withdrew from performing and refocused their energies on developing their new sound. Romance & Rebellion is now finally back with a new string of singles. Sonically, tapping into their love for the 90's pop and bands like the 1975, with songs focused on LaViola's infectious melody writing.
Evaride consists of Sean Michael Murray on vocals and Hayden Maringer on guitar. Both members have had very successful individual stories in the music industry. Each of their stellar accolades ultimately led them to one another.
You might recognize Hayden from FOX's "Glee," or from the multitude of performances on national television programs including the "American Country Music Awards," "Billboard Music Awards," "Ellen," and "American Idol," just to name a few. Sean started his pop/rock roots from Billie Joe Armstrong of Green Day discovering him and putting him in the starring role of Johnny in his hit Broadway show "American Idiot". He also won VH1's reality show "Make a Band Famous." landing his first record deal with Republic Records.
The duo most recently landed a feature placement with their single "Warrior" and "Wanted" on NBC's "The Titan Games", NBC "World of Dance", Major League Baseball's "MLB RBI 2019", and more. With the perfect combination of talent, drive, soaring vocals and rhythmic guitar riffs, it's natural that Evaride has already garnered attention from some of the music industry's top press such as Billboard, iHeart, and J-14 and worked with leading producers including Gregg Wattenberg, Captain Cuts and Colin Brittain.
With multiple successful singles already under their belts, there's no doubt that this band will be skyrocketing up charts nationally and internationally for years to come! Evaride's highly anticipated debut EP "Vol. 1" was released on November 1st 2019 and features their latest single "Limbo."
Animal Sun was formed in 2015 and is led by two brothers; lead singer/songwriter, Steven Blake and drummer/back-up vocalist, Will Alton. Born and raised in Charlottesville, Virginia, the brothers chose to name their band, Animal Sun, as a dedication to their late childhood friend, James Sun, whose life was tragically cut short in 2011. Since then band has been featured on and placed #5 on Los Angeles' KROQ Locals Only, idobi Radio, and many other stations across the U.S. As well as performing at famous venues including: The Viper Room, The Peppermint Club, The Mint LA and the Troubadour in 2020. They have also made their way to the first round on the Official Ballot for this year's Grammy Awards by The Recording Academy. Animal Sun's alternative/indie rock, studio-recorded, EP, Beginnings was released in July 2019, along with their hit single, "Girl in Blue," which has reached over 19,600+ streams on Spotify
FAMES is the project of Ian Johnson, Wesley Chandler and Blair Heumann. They met outside of a bar in Nashville TN in typical music fashion and immediately hit it off. They started getting in the studio frequently and quickly realized that they had a special musical synergy. To capitalize on that creative collaboration they packed up and moved from Nashville to Los Angeles and FAMES was born. The band draws influence from everyone from Eddie Money and When in Rome, Tears For Fears, to current stars like Bruno Mars and The 1975.
Performers
Date and Time
Location
Troubadour
9081 Santa Monica Blvd
Los Angeles, CA 90069
Refund Policy