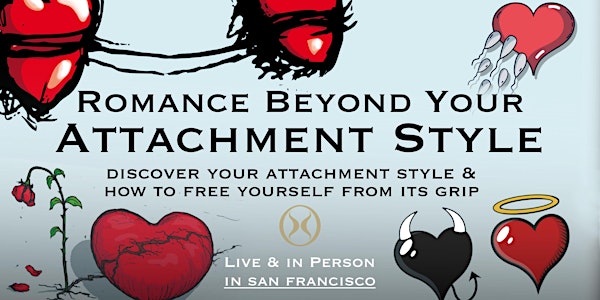 Romance Beyond Your Attachment Style - in-person event 4 singles & couples!
Join us for this in person evening workshop for singles & couples and learn your attachment style, & how to release yourself from its grip!
When and where
Location
The Davon Method Loft Space 2501 Harrison Street San Francisco, CA 94110
About this event
Whether you're single or in a relationship you may have noticed some "strange" behavior on your part on your romantic interests or partner's part.
Maybe you find yourself attracting "unavailable" partners and spend much of your time in relationship feeling anxious. Maybe you wind up feeling suffocated in relationship and find yourself trying to "get away". Maybe you find yourself feeling reactive and confused in relationship, ambivalent about which direction to take it in any given moment. For many of us, it is a combination! One thing we know is, we would love it if relationship would flow more easily. Can you relate?
Fortunately, or unfortunately, how we currently relate romantically has a lot to do with our family of origin!
While the relationship blueprint (conditioning) we inherit from childhood has an infinite number of varieties, there are four general types. They reflect how we feel about ourselves and how we feel about the other.
On November 4th in San Francisco, Erwan & Alicia will present the 4 main attachment styles and how to unwind the automatic reactivity associated with each style. Discover yours and free yourself from its grip!
Knowing the filter through which you are perceiving yourself and others can make all the difference in your romantic life.
The first half of the presentation by Erwan and Alicia will be dedicated to you discovering your type. The second half will be dedicated to what you can do to free yourself from the confines of your type.
Freeing ourselves from our patterns requires addressing it from multiple directions. Erwan and Alicia have been supporting both singles & couples in their love lives for the last 25 years, and both have advanced degrees in psychology, but they also have extensive training in yoga meditation and Zen Buddhism. On November 4th, they'll teach you the practices that are required to live outside of your preprogramming and really be yourself. From there, the world is your oyster and there's no limit to where your love and sex life can go.
At Romance Beyond Your Attachment Style you'll learn...
What your attachment style is and where it came from
How to free yourself from your attachment style and really be yourself
How to be the most attractive and attracted to a partner
Don't miss this free life altering opportunity to escape preset romantic patterns in your love life and have a relationship life that reaches greater and greater intimacy and sexual attraction. Drinks (alc and non) and socializing will follow the event~
Things to keep in mind:
Leave plenty of time for travel and parking (we recommend planning for traffic and ~15 minutes for finding a parking space. There are lots of great cafes and restaurants around the Loft so coming early and grabbing a bite is a good idea!)
Our Loft building does not have an elevator; you will be walking up a few flights of stairs to get to our unit.
Doors open at 6:45pm
Event starts at 7:00pm
Doors close by 7:15pm
This event is a great way to find out more about The Davon Method, Erwan & Alicia's 5 keys to a successful relationship life. Their programs will be presented and you will have an opportunity to learn more about how you can sign up for them and take your love life to the next level.
See you there!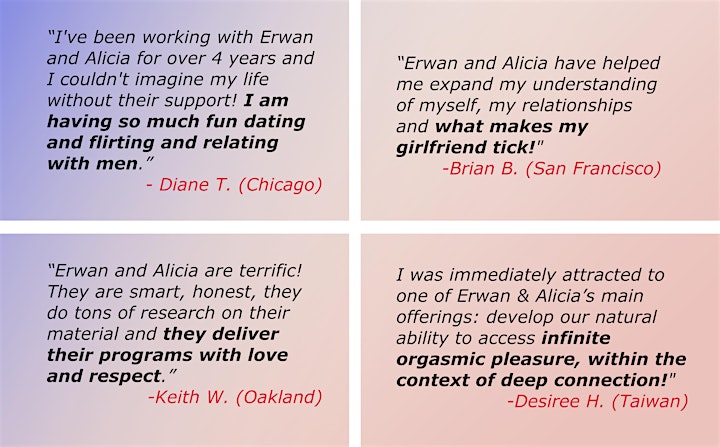 About Erwan & Alicia Davon- Your Facilitators
Erwan and Alicia Davon are long time teachers based in the San Francisco Bay Area that developed their signature process, the Davon Method, and have taught it to thousands of students to help them reach their relationship goals. As a married couple, they have been teaching singles to get into relationship and couples to thrive in relationship for the last 25 years. They have become the go-to place in the SF Bay Area for all things romantic and s*xual and are quickly becoming that worldwide.
Erwan and Alicia have a unique approach to relationship coaching that combines their educational backgrounds in psychology and s*xuality and aspects of Zen Buddhism to provide a holistic method to effectively improve connection with the self and others.
Erwan studied psychology and graduated with honors Phi Beta Kappa after a difficult childhood and an early introduction to therapeutic work. He went on to live and study in a Zen Monastery, direct a yoga ashram, and began teaching personal development at one of the world's largest personal grown organizations. Erwan's passion for helping and teaching people led him to found The Davon Method in 1995, specifically to help people improve their relationships.
Alicia Davon holds a Master's degree in Integral Psychology with a focus on women's romantic and sen*ual expression. She trained as a therapist before meeting Erwan and led numerous women's groups devoted to female pleasure and life fulfillment from career to relationship. She met Erwan 20 years ago and started teaching with him soon after.
Together, Erwan and Alicia developed Mastery of Relationship and several other programs, which have helped thousands achieve their ideal love lives. They provide a safe place to explore psychological inquiry, pleasure, and s*xuality.
They have spent years perfecting their curriculum and techniques and are excited to share their expertise with newcomers so they can help improve chemistry, connection, communication, and passion in others' lives!
For more events, follow us here on Eventbrite, and on Instagram /TikTok(@davonmethod)