Description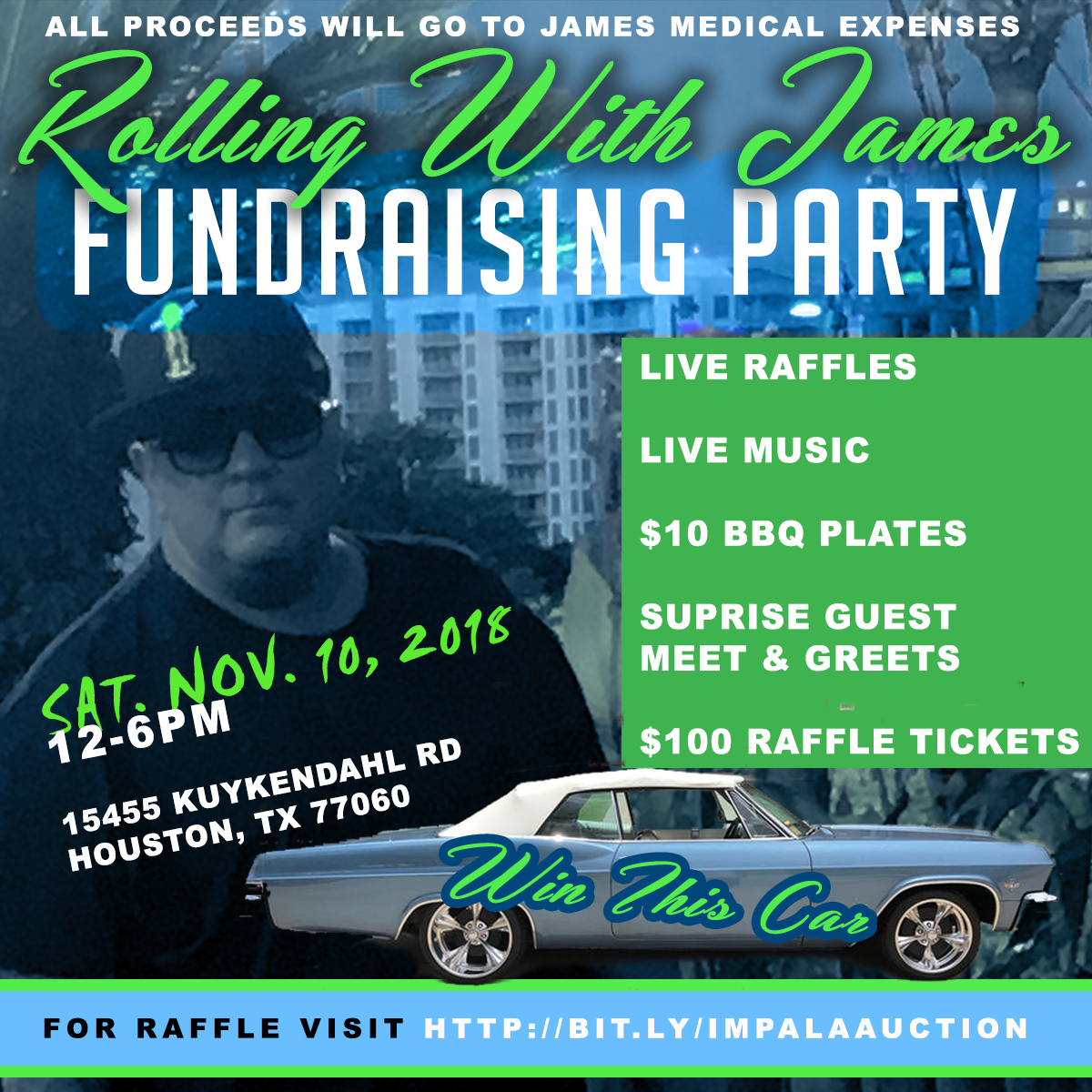 Dear Friends/Family,
I want to thank each and every one of you for your love and support, we REALLY APPRECIATE YOU! As you may or may not already know, my loving husband James Osuna has been battling "Liver Disease" for 5 years now. It's been really tough on our whole family and we've had many trips to the hospital but thank God he's doing better now! Funds aren't the same for us and he needs a few more procedures, including surgery to get through this battle. Unfortunately, we do not have enough money to pay for these procedures. So I came up with this idea to raise money and raffle off James's 1965 Impala SS Converible! We really hope that you can come out, eat some delicious BBq, listen to music from live Djs, meet and greet with famous model Jessica Kylie and have fun with us this Saturday Nov. 10th! Bring all of your friends, family and kids! Party for a good cause! Thank you again and I Love You Guys!
~Angela Osuna
WIN: We are raffling off James's 1965 Impala SS Convertible the day of the event for Only $100 per ticket, Plus you will receive 5 extra raffle tickets to enter and win multiple other BIG PRIZES! The Impala is in great shape, runs perfectly, has a clear blue title and IT COULD BE YOURS! Our goal is to sell atleast 200 of these raffle tickets.
***Get your tickets here online or in person at the event***
***Winning Ticket will be drawn infront of everyone at 6:00 p.m. at the event***
WIN: We will also have multiple other Big Prize raffles going on that you can choose from! (You can also purchase those tickets online or in person.)
Call or Text Angela with any questions about the event, other methods of payment or if you'd like more info/pics of the car. 832-206-4546
Note: If the ticket quota of 200 ($100) raffle tickets is not sold we will not be raffling off the Impala. Please team up with us and share this event on all of your social media. #love #support #health #kindness
FAQs
How can I contact the organizer with any questions?
Angela Aguilar 832-206-4546
Email: