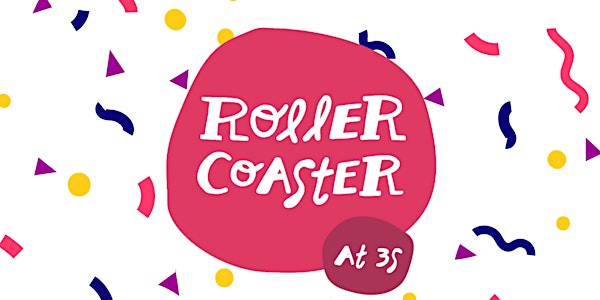 Rollercoaster: A Family Friendly Dance Party
Now on sale!
When and where
Location
3S Artspace 319 Vaughan Street Portsmouth, NH 03801
About this event

Rollercoaster: A Family Friendly Dance Party
Sunday, March 12
2pm - 4pm
FREE for parents & tots under 2
$10 1st child / $5 each additional sibling
Rollercoaster is back in 2023! This is a dance party for parents and their kids featuring music you listened to before the Encanto soundtrack invaded your speakers. Sounds good, right? Ahh, sweet relief. Know what sounds even better? We'll have a full bar, plus healthy snacks for the kiddos.
Get ready for some Run DMC, Beastie Boys, Salt-n-Pepa, The Go-Go's right alongside music the whole family can rock out to, including ABBA, Bowie, Taylor Swift, Lady Gaga, New Order, Prince, Justin Timberlake, OneRepublic and more!
Who: Parents and their kids (babies through 10 year olds).
What: A dance party that's as fun for you as it is for the kiddos! Healthy snacks for all and a full bar for the adults. Dance floor, picnic area, activities, and irresistible music.
Where: 3S Artspace
When: 2 – 4pm (post-nap, pre-dinner, and exactly the right time for an afternoon cocktail)
Why: It's winter. It's cold out. They're bouncing off the walls. Now you can bring 'em here and join them or kick back and watch them bop and boogie from afar.
A dedicated nursing area will also be available.
----
Click here to learn about our Health & Safety policies and measures.
Masks are strongly encouraged but not required during your visit to 3S Artspace.
By purchasing a ticket and/or visiting 3S, you are agreeing to follow 3S Artspace's health & safety requirements as they are on the date of your visit (not at the time of purchase). There may be exceptions or changes to our requirements for upcoming events, based on factors such as artist requirements and public health mandates.
Attendee Promise & Health Acknowledgement
All attendees agree to follow 3S Artspace policies and posted instructions during their visit. All attendees should evaluate their risk in determining whether to visit 3S. By entering the building, attendees voluntarily assume all risks related to exposure to COVID-19 and confirm they will adhere to both local and CDC quarantine requirements.
COVID-19 Warning
There is risk of exposure to COVID-19 in public spaces and there is no guarantee those attending an event will not be exposed to COVID-19.