Cre8 The Change & Center In Presents: Roller Skating Giveback (Postponed Till November 20th)
About this event
We regret to inform everyone who is excited to come to this event that we will be postponing it to November 20th.
With the cases on the rise, no matter what side you are on; we want everyone to remain safe. And we didn't feel confident that will be achieved tomorrow.
There are still a few options if you choose:
https://losangeles.cbslocal.com/2021/07/28/covid-19-outbreaks-increasing-in-la-county-as-cases-keep-rising/
So we created the Roller Skating Giveback where all ticket sales go to providing backpacks for kids when they start the new year.
It can work in 3 ways:
1. Purchase a ticket & roller skate ( Price of ticket goes to Cre8 The Change) and you will have your ticket for the November Event and still help the kids
2. Don't want to roller skate or will be busy that day? (Purchase a ticket and money goes to Cre8 The Change)
3. Want to donate more than the ticket? Click this link :https://gofund.me/cf843fe8
Here is some more information on Cre8 The Change .
Cre8 the Change is a 501(c)(3) organization that aims to empower communities and channel passion towards practical ways to effect positive social change.
Here is some info on Center In Co
Center In Company produces all natural, vegan, homemade skin, hair and candle products with a carribbean flare. It's where lux meets zen.
Want to try some of our products? Use code: SKATE to get 35% off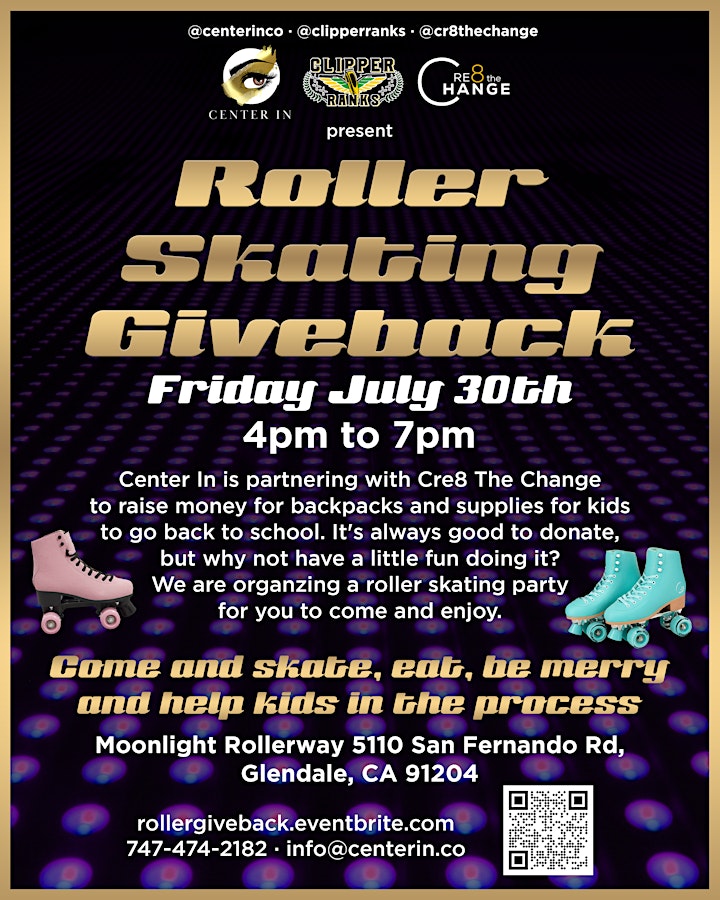 FQA:
If my friends are skating, do I need to pay if I'm not skating?
Everyone must pay admission and skate rental to enter. The only exception is a non-skating parent accompanying a paid child to a daytime session, they pay a $5 spectator fee.
Can I bring my own skates or blades?
You may bring your own roller skates or inline skates. We do not rent inline skates. No glass, micro or mini small wheels. Skates must have Toe Stops if there is a place for them.
Can I bring in food?
No. We do not allow any food or beverage to be brought into the facility, this includes bottled water. If you are having a birthday party and have a reserved party package, you may bring a cake or cupcakes but no other food or beverage, this includes bottled water. During private events, exceptions may be made only with prior approval by management.
What size skates do you rent?
We rent roller skates from a toddler size 8 up to an adult women size 11 and men's 16. We do not rent inline skates.
Do you sell skates?
Yes, we offer skates and equipment for indoor and outdoor use for adults and kids. We carry many skates in stock for immediate purchase and we offer special and custom orders.
Where can I park?
If the rink lot is full park on Hawthorne St behind the rink on both sides of the street or park on Harvard St and San Fernando Rd.