Come on and boogie down to Unity Park for our 1st Annual Roller Disco Party!
About this event
Join us at Unity Park Sunday October17th, 3 pm-7pm for a far out Roller Disco evening celebrating our community. Please invite your family and friends -Everyone is welcome. Come dressed in your Grooviest threads to enter our costume contest. DJ Romii, Local venders and the Rich City Rollers will be on sight. There will be activities for children and fun for those who don't own skates.
Únase con nosotros en Unity Park el domingo 17 de octubre, de 3 pm a 7 pm para una velada de Roller Disco celebrando nuestra comunidad. Invite a su familia y amigos. Todos son bienvenidos. Ven vestido con tus traje más Groovy para participar en nuestro concurso de disfraces. DJ Romii, vendedores locales y Rich City Rollers estarán a la vista. Habrá actividades para niños y diversión para quienes no posean patines.
SCAN THE CODE WITH YOUR CELLPHONE CAMERA TO SIGN UP FOR THIS EVENT FOR FREE
ESCANEA EL CÓDIGO CON LA CÁMARA DE SU TELÉ FONO PARA REGISTRARSE GRATIS EN ESTE EVENTO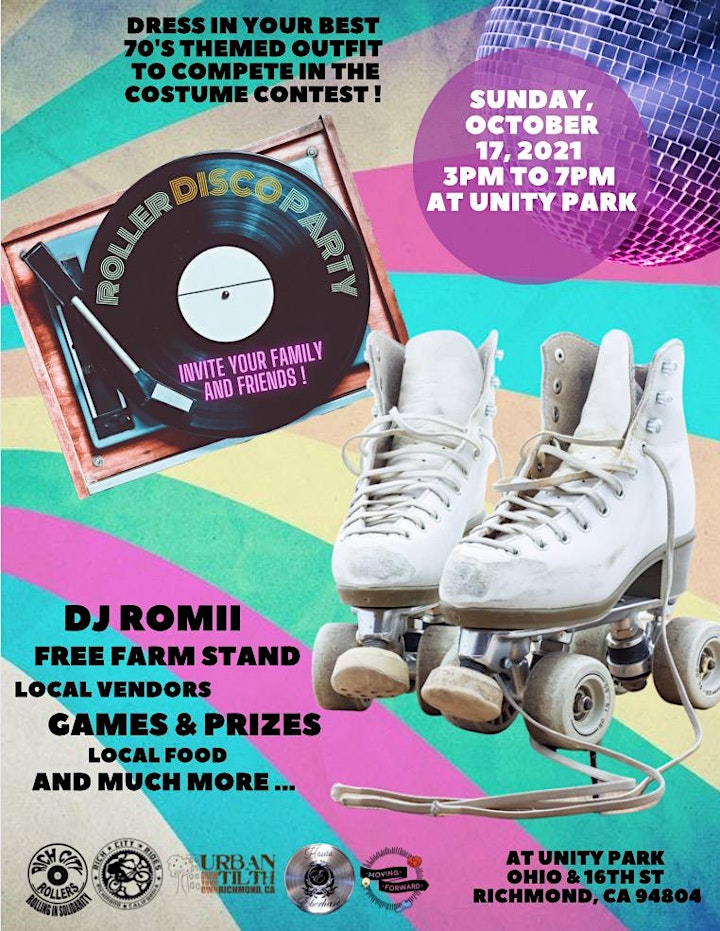 Organizer of Roller Disco Party
Urban Tilth cultivates agriculture in west Contra Costa County to help our community build a more sustainable, healthy, and just food system. We hire and train residents to work with schools, community-based organizations, government agencies, businesses, and individuals to develop the capacity to produce 5% of our own food supply.
Founded in 2005 to help build a more sustainable, healthy, and just local food system, Urban Tilth has emerged as a local leader, a catalyst drawing together a variety of individual, discrete initiatives into a web of integrated, food- and community-focused efforts. In sum, we farm, feed, forage, teach, train, build community, employ, and give back. We help our community grow our own food; train and employ our own young people as "home grown experts"; teach our local residents about the relationships among food, health, poverty, and justice; foster public foraging programs; and forge partnerships with local small farmers to increase demand for their produce.
We use our 7 school and community gardens and small urban farms to teach and employ community members to grow, distribute, cook, and consume thousands of pounds of local produce each year, to create a more equitable and just food system within a healthier and more self-sufficient community.