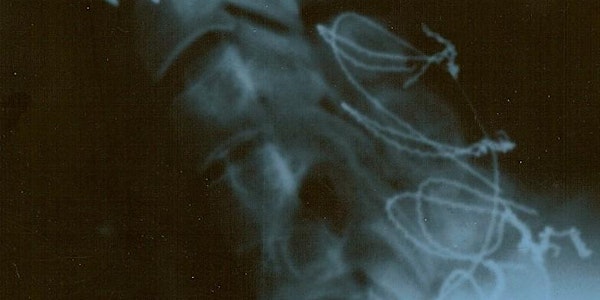 ROLL WITH IT! (film) disability, humor, hope and F-bombs. *Best New Play*
A true story! Disability is met with integrity, comedy, love, tears and perseverance. Katie shares her coping skills. (Profanity.)
About this event
57 days 23 hours

Mobile eTicket
View the film now through April 30th!
"Best New Play" nominee St. Louis Theater Circle
The life of a quadriplegic (paralyzed from the chest down.) Together the Katie "before" and "after" her injury laugh, cry, curse and grow. The past influences the present and legal pursuits judge everything and everyone. 
A true account of survival because life is a bitch! But there are positive and negative ways to react. Every day we have a choice. We can be positive and try to find inspiration or we can give up. Katie is no martyr, and she doesn't sugarcoat the difficulty of a spinal cord injury, paralysis, doctors, nurses, occupational therapy, physical therapy, dependency, caregivers, personal care attendants, insurance, dating, sexuality and intimacy, healthy coping mechanisms, depression, anxiety, medication, anger, psychotherapy, counseling, reaching out, parent and sibling relationships, guilt, a 10 year personal injury lawsuit, lawyers, judges, trials, money, healthcare, finding work, writing, sharing, creating and just fucking living!
Everything in this play is true and was said. People can be kind and they can be real assholes too.
But people - please, find healthy ways to hang in there. Don't give in or give up. Yes, get mad, cry, curse and go down but there is one thing that can bring us back up.......hope. That saves me every day. I do have hope, sometimes it's a struggle to find, but it is always there for the picking.
Katie, preinjury was mostly the same person I am today. (My high school friends say I haven't changed a bit.) This play will let you in on my journey and is a full self-disclosure of how I have changed. The life lessons are not easy, but I love the wisdom learned.
"Roll With It!" the play written by Katie R. Banister & Michelle Zielinski
Based on the memoire "On A Roll" by Katie Rodriguez Banister, Jo Lena Johnson, Andrew Szanton. Available on Amazon or my website www.Awomanonwheels.com
2022 ROLL WITH IT Play Reviews .......... apparently, I am an "influencer with a strong BS detector!"
https://poplifestl.com/roll-with-it-shares-a-challenging-path-with-warmth-and-humor/
https://hecmedia.org/posts/review-of-roll-with-it-at-black-mirror
https://kdhx.org/articles/theatre-reviews/2840-black-mirror-s-roll-with-it-rolls-through-a-range-of-emotions-in-compelling-autobiography
Discount available, please use the contact the organizer button to request a discount.
January 25 - February 28
The Shade
Life needs light to see so clear
Deprivation instills fear
You can't keep someone in the shade
They'll whither choke & die
How can they grow?
How will they know
What it's like to try?
Protection by prejudice Is not the way to teach
Try understanding and compassion
Extend beyond your reach
Cultivate your being
Don't put yourself above
Shed beams of light
Flee from fright
Because everyone needs love
- Katie Rodriguez Banister
Frequently asked questions
When can I watch the film?
About the organizer
Access-4-All is excited to share ROLL WITH IT! A personal account of a chick in a chair, rehab, relationships, litigation and love.