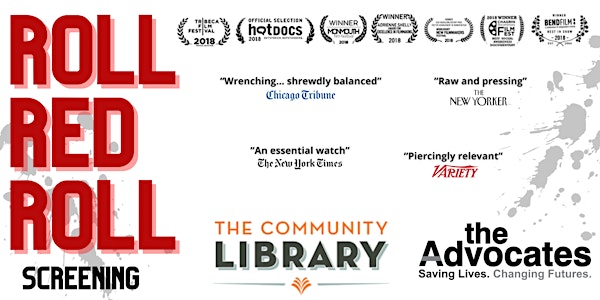 Roll Red Roll Virtual Screening
The Advocates ETCs invite you to our virtual screening of the documentary, Roll Red Roll via The Community Library Livestream
About this event
This documentary follows the story of an Ohio assault case, and the journey of the victim, perpetrators and the town's experience with culture change. April is Sexual Assault Awareness Month, and we hope to cultivate a space to discuss how we can empower, educate, and better our town's interaction with topics such as consent, rape culture, and perspective shifts. We believe this documentary displays the power of using our voice to uphold positive and healthy views on justice for survivors.
Roll Red Roll tells the story of an Ohio assault case that took place in 2012, where during a preseason football game party, a young woman was kidnapped and raped. This documentary exposes the denial, peer pressure, Steubenville football culture, and social media influence that play key parts in the tragedy. We hope that this story will show the reality of rape culture and the stigma surrounding it.
Join the event by going to https://livestream.com/comlib/roll-red-roll on April 21st at 6:30pm!