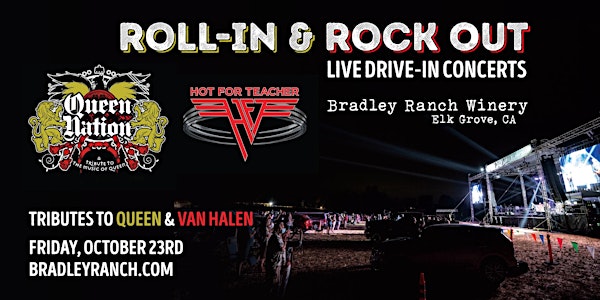 Roll-In and Rock Out - Tributes to Queen and Van Halen at Bradley Ranch
Bradley Ranch Winery brings you another Roll-In and Rock Out with Tributes to Queen (Queen Nation) and Van Halen (Hot For Teacher).
When and where
Location
Bradley Ranch Winery 11070 Bradley Ranch Road Elk Grove, CA 95624
About this event
Welcome to the return of the premier Drive-In Concert Experience at Bradley Ranch Winery. This unique concert experience will feature Festival Level Stage Production overlooking the beautiful Vineyards of Elk Grove.
Queen Nation (A Tribute to the Music of Queen)
Hot For Teacher (The Van Halen Experience)
LIVE Drive-In Concerts
3 Food Vendors Nightly from FOOD IN THE HOOD Food Trucks!
Wines by Bradley Ranch Winery (including Wine Slushees)
Beers by Local Craft Brewer
A portion of the proceeds will benefit Local Music Charities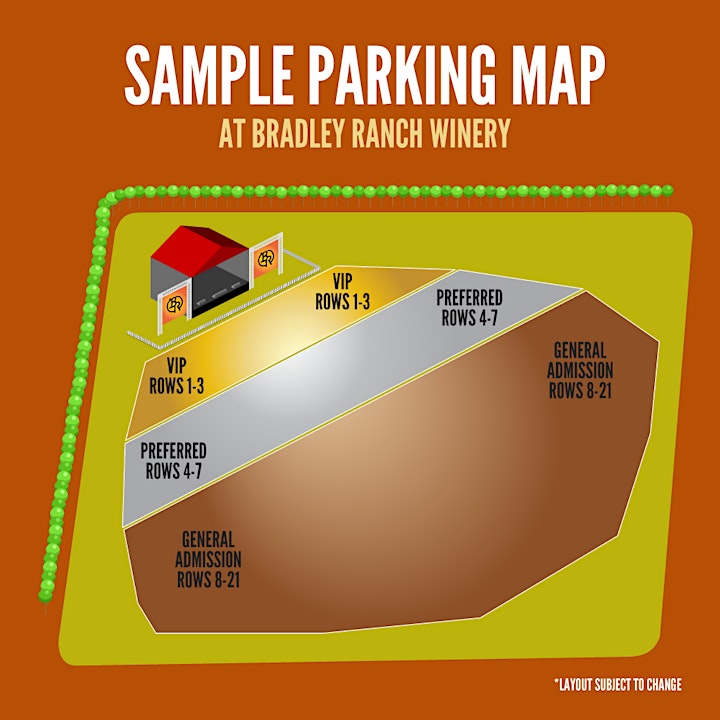 3 TICKET ZONES AVAILABLE FOR PURCHASE
*TICKET INCLUDES ENTRY FOR 5 PEOPLE IN YOUR VEHICLE
VIP Viewing Rows 1-3 - $ 150 (as low as $30/person)
Preferred Viewing Rows 4-7 -$100 (as low as $20/person)
General Admission Rows 8-21 - $60 (as low as $12.50/person)
Additional Entry (more than 5 people in your vehicle) - $20 (fees included)
ALL AGES WELCOME
All Tickets include 5 people in your Vehicle. If you have more people than 5 it is $20/extra person.
See map below for location of each ticket type in relation to the stage.
Placement in each ticket zone is First Come, First Serve.
You CAN NOT Arrive with an Uber/Lyft/Taxi, you must arrive with your vehicle. No Walk-Ins allowed.
Tall Vehicles (Trucks, SUVs) will be placed on the sides to not obstruct the views of guests behind you.
If you have a vehicle larger than a Truck or SUV, please contact us at info@brwconcerts.com before purchasing a ticket.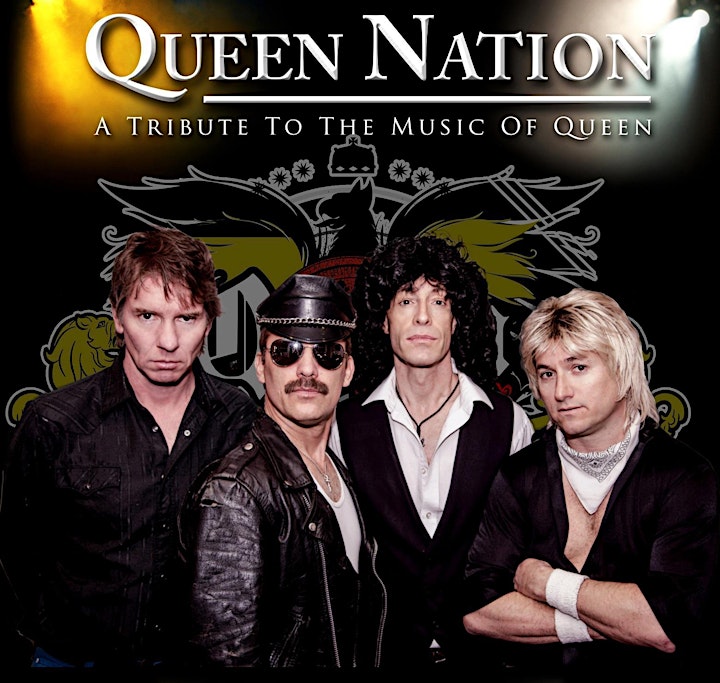 QUEEN NATION: A tribute to Queen, The show was formed in 2004 by LA based music agency DMHE . Queen Nation is the West Coast's longest running most authentic costumed re- creation of a Vintage Queen concert. The show consists of four musicians (not 5 or 6 artists as in a few other Queen Tributes) who all sing and perform in character and in period costumes while playing live note-for-note renditions of Classic Queen songs. Featured front man Vocalist Gregory Finsley is an amazing singer with an uncanny tone that matches the late great Freddy Mercury to a tee . Gregory also is an excellent concert pianist which allows him to accurately re- create what Freddy Mercury magically did live on stage in Queen's original four piece lineup. Queen Nation has been crowned by their loyal legion of fans as "The Peoples Choice Tribute To Queen Champions " arguably they are one of the hardest working tribute bands in the US .
Queen Nation consists of: Gregory Finsley on vocals & keyboards as Freddie Mercury, Mike McManus on guitar as Brian May, Pete Burke on drums as Roger Taylor and Parker Combs on bass as John Deacon. The mission of the show is to carry on the musical torch and pay homage to the golden age of vintage Queen concerts.
Queen Nation's live 90-minute production of Queen's greatest hits preserves the image, sound, and stage persona of vintage Queen. Audiences are amazed at the accuracy of Queen Nation's live retrospective journey through such Queen songs as We Will Rock You – Bohemian Rhapsody – We Are The Champions – Crazy Little Thing Called Love – You're My Best Friend – Another One Bites The Dust – Under Pressure and many more. They have performed in front of thousands of people at casinos, fairs, festivals and private affairs.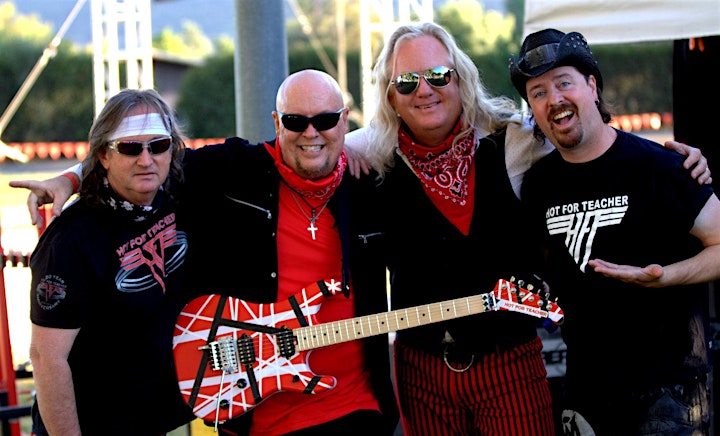 HOT FOR TEACHER: A collective resource for talented and professional rock bands, HFT Rocks Productions can help your entertainment experience be a seamless and enjoyable event. HFT Rocks Productions currently brings audiences classic and hard rock sounds in three distinct formulas: HOT FOR TEACHER – The Van Halen Experience featuring the sounds of both the David Lee Roth era Van Halen and the Sammy Van Hagar era, The Diamond Dave Experience – performs all the hits from the famous frontman and gigolo; encompassing classic Van Halen and the DLR Band. The Red Rocker Experience – bringing all the great and iconic Sammy Hagar tunes to life, and RockSkool, which unites a number of eras and rock styles to provide fun and exciting party and dance music for any event.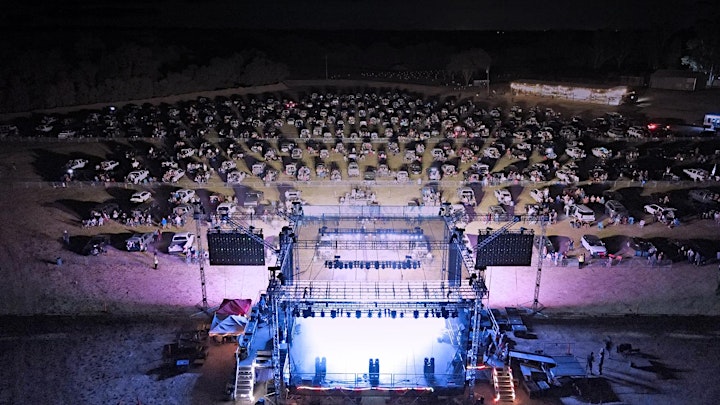 DISCOUNTED HOTEL RATES:
Holiday Inn Express & Suites – 9175 W. Stockton Blvd, Elk Grove, CA 95758 (only 8 MILES from Bradley Ranch!)
*Includes complimentary hot, plated breakfast!
Call 916-478-9000 and request the "Bradley Ranch Concert Series" group block, or use the link below:
http://bit.ly/BRWdiscounthotel
*After following the link, enter the dates for your stay, click "Search", and the discounted rates will appear on the next page.
FAQs
Everyone must wear a face mask outside of their vehicle at all times per the current county Health Orders
You must come in a vehicle that fits in one parking spot
Headlights must be turned off while parked
Hatches may not be lifted above the car roof line
No sitting on your roof
No sitting in empty car spots, if you are outside your vehicle, please stay within your paid parking spot
No Pets allowed
VIP Parking and Preferred Parking will be sectioned and marked off, first come first serve, if you have a large vehicle you will be placed on the sides of your section.
What time do the Gates to enter the concert parking lot open?
Gates to the Concert parking lot open at 6pm. Please follow the parking attendants instructions. Please DO NOT ARRIVE BEFORE 6pm.
May I buy a ticket when I arrive at the Gate?
No, only presale tickets are available for purchase.
Can I arrive in an Uber/Lyft/Taxi and Walk In?
NO, you must arrive in your vehicle. There is no off-site parking, and no walk-ins are allowed.
May I bring alcohol?
NO OUTSIDE ALCOHOL ALLOWED! Any found by our security team will be confiscated and disposed of.
May I bring food and drinks?
No Outside Food or Drinks Allowed.
There will also be 3 Food Vendors On-Site each day, as well as Bradley Ranch Wine (including Wine Slushees!) as well as local Beer for sale. We ask that you please pack any trash you may create with you to dispose at home, or at the dumpster at our exit.
May I bring my pets or animals?
No, you may not bring any pets. Sorry.
How do we listen to the concert? Is it radio like the movies?
This is a LIVE in person concert. There is a stage and Live Performers. You listen from your parking spot, no radio required.
May I leave my vehicle to tailgate or BBQ?
There is no BBQing or tailgating permitted per the County Health Order. Masks must be worn by anyone who is outside their vehicle and they must be in their space. A mask must be worn when walking to the restrooms.
May I sit in the bed of my truck?
Sitting in a truck bed is permitted – guests must stay in the bed of their own truck, no loitering around the vehicle. If you choose to sit in the bed of your truck, a mask must be worn for the entirety of the time spent outside the cab of the vehicle, per the current County Health Order. We will update these rules when the county makes changes.
Is there assigned parking?
Cars will be queued normally into the lot by our professional parking staff and you may park in spots marked open. There are empty spaces between each car. Spaces ensure physical distancing, therefore you must not sit in those empty spaces either. If you bring an oversized car, truck or RV, you will need to buy two parking spots if the vehicle does not fit in one marked spot. lf you purchased VIP parking, you will have a separate VIP Entrance.
Note, all parking is first come first serve by Parking Zone.
Are trucks or taller vehicles going to be parked further away?
Yes, any vehicle that may obstruct the vision of other vehicles may be parked closer to the back or to the sides to allow for the best viewing of all guests.
May I save car spots for friends / family to park next to me?
First come, first serve. Parking attendants will line up cars as they come in, you may pick a spot. You may try to line up for the concert together to ensure spots are close. There is no promise you will be next to each other; we may not take special requests. Vehicles will be physically distanced in adherence to the current County Health Order.
May I come sit with a group from another car?
Guests must sit with their car and within their car space. No more than six people fit sitting in a parking space at a time.
May I come in an RV, Camper, Bus, Limo, or Very Large Car/Truck?
Yes, however we will require you to purchase an additional ticket to fit your vehicle. Vehicles that are "Lower" may purchase for any zone. Vehicles that are "Taller" such as RVs, Campers, Large SUVs and Trucks that may block views can purchase in Preferred or General Admission Areas, but your placement may be to the rear or sides to not block the views of other guests.
Do I have to wear my mask in the car?
If you have your windows rolled up, you may take off your mask. If you would like to roll your windows down, you must have a mask on in adherence with the current County Health Order.
What is allowed / not permitted at the Drive-In Concerts?
For the safety of our customers, we do not allow firearms, weapons of any kind, drugs (including marijuana) or alcoholic beverages. All vehicles are subject to search. All garbage must stay inside the vehicle; we are not able to provide trash bags per the current County Health Order. See above for Prohibited Items.
May I leave in between concerts and come back?
No in and out privileges. There is a one-time entry; no re-entry is permitted for vehicle or by foot.
Where do I go to use the restroom during the concerts?
Ample restrooms will be open on the concert lot. You must wear a mask and keep a physical distance of 6 feet.
What happens if there is inclement weather?
We will communicate via email, text, and social media if weather threatens the drive-in concerts for that evening.
I am running late. May I arrive after the concerts have started?
Yes, please safely follow the instructions of the parking attendants.
If I don't make it to the concerts, may I have a refund or use that ticket for a different night?
No, concert tickets are purchased are non-refundable. However, you may give your ticket to a friend to use.
Will there be ADA parking?
There will be ADA parking spots closer to the restrooms, you must have a valid handicap sticker or license plate to park there. Please contact us if you require assistance at info@brwconcerts.com