Description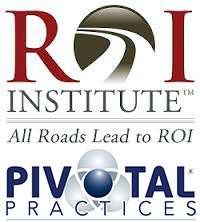 ROI Certification with co-creators Jack and Patti Phillips for the incredible price of $1,695 - that's almost 60% off the regular price - exclusively for Pivotal clients, partners, and friends
---
We are so thrilled about our partnership with the ROI Institute and the opportunity to bring ROI Certification to the Washington, DC metro area at a greatly reduced price with a more flexible schedule.
Accountability has changed in today's world. Government agencies, non-profits, NGOs, higher education institutions, and health care organizations are being encouraged or required to show the value of their programs, projects, and initiatives. For major programs competing for resources, it is becoming more and more critical that program managers be able to demonstrate to stakeholders (e.g., Congress, legislators, funders, supporters, and donors) tangible, quantifiable results.
ROI Certification will provide you with the competence, capability and confidence to connect your programs to the most important organizational impacts, capture a range of valuable data about your program's performance, convert your data to monetary impacts, isolate the effects of your program, identify intangible benefits of your program, calculate the impact and financial ROI, and report your results to key stakeholders, executives, and co-workers.
Based on feedback, there were two significant challenges to participating in the earlier offered certification workshop – it was impractical to be away from the office for an entire week and the $3,995 program cost. We've solved both of these challenges! The 5-day program has been divided into two 2 ½-day sessions (Part I: February 24 – 26 and Part II: March 30 – April 1). And, the price is reduced to only $1,695 – that's almost 60% off the standard rate of $3,995! One of the best parts is that workshop will be facilitated by Jack and Patti Phillips – the creators of the ROI Methodology.
The ROI Methodology is the most used and documented approach to measuring and evaluating all types of programs, projects, and initiatives. More than 75 books and case studies have been developed to support it. The ROI Methodology has been adopted and endorsed by federal governments in 26 countries and hundreds of non-profits and NGOs, including the United Nations, which adopted it in its 2008 General Assembly Resolution. Over 100 universities and educational systems are using it as well as many professional associations and health delivery organizations. In total, over 5,000 organizations have made the decision to go with the ROI Methodology.
This special opportunity is targeted to the public, non-profit, education, and health care sectors, and we encourage you to register early. If you have more detailed questions about the ROI Methodology, you can download the detailed certification brochure here.
Cost: $1,695 (includes all course materials and supplies, daily continental breakfast, and daily lunch first two days)

When: Part I: 2/24 - 26 Part II: 3/30 - 4/1 Class hours are 9 a.m. - 5 p.m. the first two days and 9 a.m. - noon the third day)

Where: Pivotal Practices Consulting, 6301 Ivy Lane Suite 800 Greenbelt, MD 20770

Hotel Accommodations : Pivotal is colocated with the Greenbelt Marriott in the Capital Office Park. The hotel offers complimentary shuttle service to the Greenbelt metro and within the office park. Click here for more information and reservations.

Contact: Debbie Golan for ROI Certification Questions 706-745-0014 debbie@roiinstitute.net
Alisha Noel for Logistics Questions Pivotal Practices Consulting 301-220-3179 Alisha@pivotalpractices.com
Please note that the program cost is $1,695. You may register directly with ROI by clicking this link below. However, if you choose to register through Eventbrite, you will incur additional processing fees.
Register: Please click here for registration.