About this Event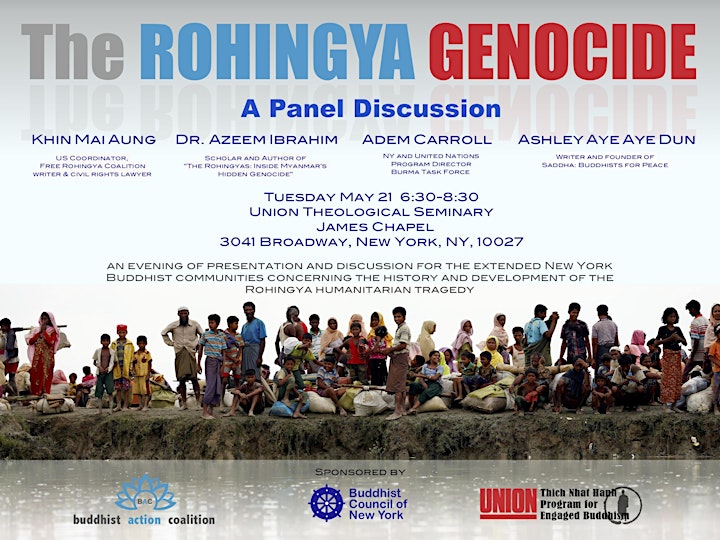 You are invited to an evening of presentation and discussion for the extended New York Buddhist communities concerning the history and development of the Rohingya humanitarian tragedy in Myanmar and the resulting refugee crisis.
The evening's conversation will focus on the causes and conditions of the crisis along with the role that Buddhist laity and monastic communities have played in the rhetoric and violence.
Led by an esteemed guest panel, this open discussion will hopefully bring a better understanding to the situation and identify compassionate ways of seeking justice and delivering relief to those suffering.
Sponsored by Buddhist Action Coalition, Buddhist Council of NY, Union Theological Seminary Thich Nhat Hanh Program for Engaged Buddhism.
Tuesday May 21 6:30-8:30
Union Theological Seminary
James Chapel
3041 Broadway, New York, NY, 10027
Distinguished speaker panel features:
Khin Mai Aung
US Coordinator, Free Rohingya Coalition
Writer & civil rights lawyer
Dr. Azeem Ibrahim
Scholar & Author of "The Rohingyas: Inside Myanmar's Hidden Genocide"
Adem Carroll
NY and United Nations
Program Director Burma Task Force
Ashley Aye Aye Dun
Writer and founder of Saddha: Buddhists for Peace