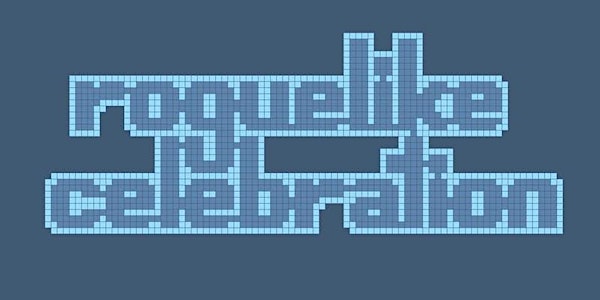 Roguelike Celebration 2020
Celebrate the rich history and inspiring future of roguelikes with streamed talks and more in our own custom-built roguelike social space!
Refund Policy
Contact the organizer to request a refund.
Eventbrite's fee is nonrefundable.
About this event
Roguelike games have been part of gaming culture for over 30 years and they have a deep and special place in our hearts. Over the last five years hundreds of roguelike fans got together to celebrate these games and their rich history and now we're ready to do it again virtually! We loved getting together and celebrating, so this year we're holding a two day conference to get as many roguelike fans as we can into one virtual place.
To make things feel particularly rogue-y, we're hosting this year's conference in our own custom game chat space. For the first time ever, all you'll need to attend Roguelike Celebration is a web browser!
The conference will take place on October 3 and 4 virtually. All talks will be live-streamed on Twitch and YouTube for free. A ticket gets you additional access to our custom social space and all of the other conference activities such as unconferencing, the arcade, and more.
Tickets are Pay-What-You-Can. We recommend $30 per ticket, but it is completely reasonable to pay less – or nothing! – if you can't afford it. We know things are tough right now. All ticket revenue goes towards providing live captions, paying speaker honorariums, and providing AV equipment for speakers who need it.
The schedule for talks is at https://roguelike.club/event2020.html
This year's speakers include:
Eli Delventhal - Help Me Steal the Mona Lisa
The Game Band - A Mysterious Blaseball Spectacular
Todd Furmanski - Mysty Roguelikes, or: Using First Person Point-and-Click Paradigms with Realtime Graphics and Simulation
Tyriq A Plummer - YASDery Loves Company: Multiplayer in Traditional Roguelikes
Julian Day - Poetry at the Edge of Roguelikes: Writing Around Iterative Media
Lee Tusman - One-Dimensional Dungeons (alternate title: Lower Dimensional Dungeons)
Caelyn Sandel - Teaching the Fun of Losing
Cat Manning - How To Build A Character System That Doesn't Fall Apart Two Turns Later (with apologies to PKD)
Andrea Roberts - Designing a Roguelike for People Who've Never Played Roguelikes
Lisa Brown - Why do I even like roguelikes? An exploration of player motivation
Herbert Wolverson - Procedural Map Generation Techniques
Darren Grey - What Is A *Rogue* Like?
Gabriel Koenig - Good Mutation/Bad Mutation: Player Agency in Procedural Generation
Aaron A. Reed - Cadences, Lacunae, and Subcutaneans: Ten Years of Procedural Novels
Ivy Melinda - A flower in the garden: cultivating a community for Caves of Qud
Andrew Aversa - The End of Permadeath
Phillip Daigle - Rogue's Gate: Feeling Around in the Dark
Kate Compton - Making Polite Programming Languages: How to Design a Generative Language without a Programming Language Degree
Duke Dougal - My 30 year quest to find a lost Roguelike
Xalavier Nelson Jr. - Procedural Generation for Dogs
Mark Gritter - Procedurally Generating Economies with Graph Grammars (and Math)
Tanya X. Short - A Procedure for Changing Culture
Nicholas Feinberg - ??learndb's silliest corners
Julian K. Jarboe - Procedural Audio/Sound Design for Roguelikes
Younès Rabii - There's A Skull In My Garden: How simple interactions can give new meanings to generated things
Adrian Herbez - Make a thing to make a thing: a primer on 3d-printable Procedural Content in the Browser
Clarissa Littler - (roughly) a hundred days of poetry in partnership
Max Kreminski - Synthesizing Story Sifters
Rosalind Miles Chapman - Hungry Rogues: The evolution of roguelike hunger mechanics
Albert Ford - Vision Visualized
Dustin Freeman - Procedurally Generating Technology Trees
Josh Grams - Turn-based Space Flight?
droqen - The roguelike spirit without procedural generation
bhauth - What makes *Dungeon Crawl: Stone Soup* a good game?
Besides the streamed talks, we'll have a number of interactive performances, a game showcase for people to play and share their favorite games, time for 'unconferences' for smaller presentations and workshops, and a bunch of fun creative content crafted just for the conference!
If you'd like to demo a game at the showcase or submit other custom content - sign up here!
All Roguelike Celebration participants need to follow our Code of Conduct.