About this Event
KOSU presents Rodrigo y Gabriela - Mettavolution Tour at The Jones Assembly // on sale now!
Doors at 6:30. Full bar and walk-up food window available.
Advance GA $39.50 | Mezzanine $59 (21+)
Day of Show GA $45
Booth tickets include entrance for entire group (up to 8 people for floor booths, up to 6 for mezzanine booths- $75 per person).
The mezzanine is accessible by stairs. For ADA accessibility, please see floor level ticketing or contact info@thejonesassembly.com with any questions.
Rain or shine event.
No re-entry. No refunds. No smoking. ALL AGES show.
Under 16 must be accompanied by parent or guardian.
Support acts are subject to change without notice.
More questions? Visit our website HERE
Rodrigo Y Gabriela
Website | Twitter | Instagram | Facebook
Metta - meditation focused on the development of unconditional love for all beings.
Meta - later or more highly organized or specialized form of.
Evolution - the process by which new species or populations of living things develop from preexisting forms through successive generations.
Five years since their last album, Mexican acoustic rock guitar duo Rodrigo y Gabriela are ready to embark on the next chapter of their remarkable story, with the release of the most ambitious music of their twenty year career together.
Entitled 'Mettavolution', the new album brings together Rod and Gab's passionate interest in Buddhism, the history of human evolution and the liberation of the potential we have as a species; all expressed through the medium of two acoustic guitars.
Three years in the making, the duo vowed to go back to the heart of their music, to feel the same way they did when they first moved from Mexico City to Ireland back in 1999, searching to reconnect with the original intention and (in their own words) "the reason of why we do what we do, to share something we do with all our hearts in order to inspire, even to heal people through music".
Rodrigo Sanchez and Gabriela Quintero have been playing together since the mid-nineties when they were members of Mexican thrash-metal band Terra Acida. Both were raised on a musical feast of classic rock, including The Beatles, Led Zeppelin and Black Sabbath, but the eureka moment came when they first heard Metallica's 'Master Of Puppets', which was their gateway to the fast and furious world of Megadeth, Slayer and Pantera.
When Terra Acida split, Rodrigo and Gabriela decided to go travelling, with just a suitcase and two acoustic guitars for company. They arrived in Ireland at the turn of the Millennium, having heard the country was "a good place for musicians". Speaking no English, they soon ran out of money, and took to busking on Dublin's Grafton Street to make ends meet. Here they met Damien Rice, himself embarking on his solo career, and he invited them to open at one of his key early headline shows.
From this beginning, their reputation as killer musicians - Rodrigo with the faster-than-lightning lead guitar and Gabriela with her unique, rhythmic, strumming-and-drumming style - started to spread across the country. Following a successful live album in 2004, their debut self-titled studio album, produced by John Leckie of Radiohead and Stone Roses fame, was released by Rubyworks in February 2006 and charted at # 1 on the Irish national charts, keeping the Arctic Monkeys off the top spot.
Having established themselves in their adopted home, the duo started to spread their magic across the rest of the world. They headlined the Jazz World stage at Glastonbury in 2007, which was broadcast live on BBC TV. The 'Rodrigo y Gabriela' album went on to sell over 100,000 records in the UK.
Through relentless touring and terrific word-of-mouth support, Rodrigo y Gabriela have established themselves as an in-demand live act, particularly in America, where they sold out the Hollywood Bowl (two nights) and the Red Rocks Amphitheatre as recently as summer 2018. They have also sold out multiple nights at the Royal Albert Hall in London, Le Zenith in Paris and Radio City Music Hall in New York, not to mention venues in Australia, Japan and Europe.
In 2010, Rodrigo and Gabriela were invited by President Obama to perform at a reception he hosted for the President and First Lady of Mexico. Rod and Gab have also contributed to the musical soundtracks of 'Puss In Boots' (2011) and 'Pirates Of The Caribbean: On Stranger Tides' (with Hans Zimmer) in the same year. With career album sales well in excess of 1.5 million worldwide, Rodrigo y Gabriela have established themselves as globally successful artists who are eager to write new chapters in their already illustrious story.
"'Mettavolution' means evolution through compassion and benevolence, is about a selfless understanding of reality, is about a transformation of all sentient beings into a new species." - Rodrigo y Gabriela, 2019
Conceived and composed in their studio in Ixtapa on the Mexican Pacific Coast, then road-tested in South America and the USA in 2017, before more fine tuning and further tweaks on their Australian tour of 2018, a long list of new material has been distilled down to six new Rodrigo y Gabriela compositions and one audacious, jaw-dropping cover version.
Deep-rooted fans who discovered Rod and Gab through their 2006 self-titled breakout album have long recognized the Mexicans' mastery of their instruments. And Rodrigo's shimmering, hummingbird flourishes hovering over Gabriela's extraordinary engine room rhythm section are present and correct on 'Mettavolution'; but what sets this new record apart is the laser-guided focus on melody, energy and beat. There is not an ounce of excess baggage on the fresh, dynamic tunes that Rod and Gab present here.
A white-hot side one that acknowledges the duo's thrash-metal roots back in Mexico City gives way to an incredible new arrangement of Pink Floyd's 'Echoes', inspiringly reimagined for two acoustic guitars, which takes up the whole of the second half of 'Mettavolution'. Long-time Floyd fans (the title track of 2009's '11:11' album was dedicated to the band) Rodrigo y Gabriela lovingly pay homage to the 'Meddle' era prog-classic, while at the same time weaving their own golden threads into its timeless textures, to create something exciting, contemporary and unforgettable.
Rodrigo and Gabriela: "We are big Pink Floyd fans. That track, specially the live in Pompeii version means a lot to us, we even made a huge visual reference in our video for 'Hanuman'. Besides that, the lyrics are even more relevant now than they were 45 years ago, the search for knowledge about ourselves, it's becoming a key element for survival these days, that's what evolution is all about at the end of the day."
On working with noted producer Dave Sardy, the guitarists add: "Everything was ready for it, all the circumstances around the idea of agreeing to work with a producer came together right at the time we talked to Sardy. And our intuition was right. We talked to a lot of great producers before him but the conditions just weren't there. When we talked to Dave it just felt we had arrived." Recorded in Los Angeles, Sardy, - best-known for his work with Oasis, LCD Soundsystem, A Perfect Circle and Fall Out Boy - has helped Rod and Gab to a new recording career pinnacle.
'Mettavolution' is Rodrigo y Gabriela reborn, reaching for a higher state of consciousness, pushing themselves as writers, interpreters and players, and challenging us the listener to absorb, engage and respond to them.
Studio discography
Rodrigo y Gabriela - 2006
11:11 - 2009
Area 52 (with C.U.B.A.) - 2012
9 Dead Alive - 2014
Mettavolution - 2019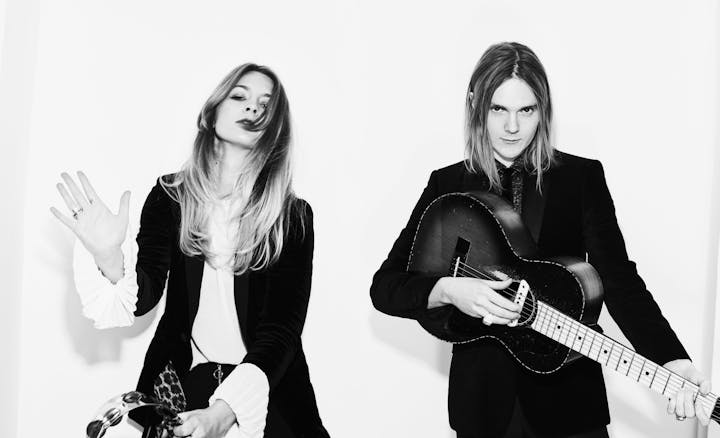 Ida Mae
Website | Facebook | Instagram | Twitter
"We wanted to make something simple and honest and raw," says Chris Turpin, one half of the breakout British duo Ida Mae. "We wanted to make a record our way, with no compromises."
That brand of fiercely unconditional commitment—to the songs, to the sound, to each other—has defined Ida Mae from the start, and it courses through the veins of the band's brilliant debut, 'Chasing Lights.' Blending elements of vintage Delta blues and gritty rock and roll with boldly modern arrangements and fearless punk swagger, the record captures Ida Mae in its purest form, with Turpin and his longtime musical partner Stephanie Jean performing nearly everything live in the studio under the guidance of legendary producer Ethan Johns (Ray LaMontagne, Laura Marling, Kings of Leon). It's an electrifying collection, the kind of record that feels both familiar and groundbreaking all at once, fueled by dazzling musicianship, breathtaking harmonies, and the sort of versatile, timeless songwriting that's earned the band tour dates with everyone from Greta Van Fleet and Blackberry Smoke to Marcus King and The Lone Bellow.
As long as Steph and I have known each other, this is what we've done," reflects Turpin, who recently relocated from London to Nashville with Jean. "'Chasing Lights' is a metaphor for everything we've been after, for tracing the footsteps of our heroes, for making a life and a living on our own terms."
CROWD NOTICE / RELEASE
PLEASE BE AWARE THAT BY ENTERING THE JONES ASSEMBLY, YOU CONSENT TO YOUR PHOTO, VOICE AND/OR LIKENESS BEING USED, WITHOUT COMPENSATION, IN PHOTOS AND VIDEOS FOR EXPLOITATION IN ANY AND ALL MEDIA, WHETHER NOW KNOWN OR HEREAFTER DEVISED, FOR ETERNITY, AND YOU RELEASE THE JONES ASSEMBLY, ITS SUCCESSORS, ASSIGNS AND LICENSEES FROM ANY LIABILITY WHATSOEVER OF ANY NATURE.
DO NOT ENTER THIS AREA IF YOU DO NOT WISH TO BE SUBJECT TO THE FOREGOING.
Performers
Date and Time
Location
Refund Policy