Roddy's "Investing in Texas" - Coaching Programs **Mentor**

Tuesday, April 5, 2016 at 5:30 PM

-

Saturday, December 31, 2016 at 11:30 PM (CDT)
Event Details
Would you invest $3000 if you were guaranteed of earning $50,000 in profits on an annual basis?  Our coaching program is real simple... we give you the tools, technology, systems and support to MAKE MONEY in Texas real estate investing.  We hold your hand, instead of giving your books and CD's.  If you are tired learning and would rather start DOING then we want YOU.  
What are coaching program offers: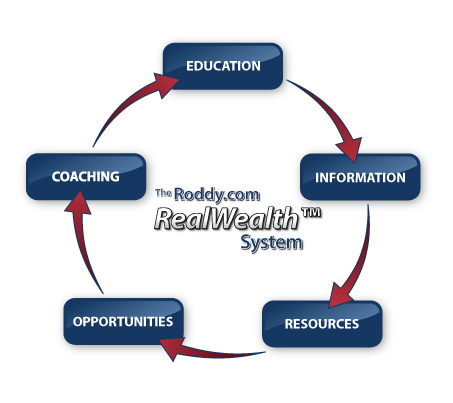 Step 1: Map out your real estate investment business based on your TALENTS (time, money, risk tolerance).
We need to understand where you want to be financially in the next 12 months in order to map out a plan.  It also helps to know what concerns you carry so we can overcome.  Plus, how much money are we working with?  Depending on the bank balance depends on what strategies we will suggest.


Step 2:  Master the Roddy FIVE fundamentals
Before we spend any effort and money on marketing yourself to motivated and distressed sellers, we need to know that you can do the following five things with ease:
Determine Market Values

Determine the Scope and Cost of rehabs

Determine what is the MAX amount you can pay for a property and still make a good return on your investment of time and money.

Write up a purchase offer four different ways in 10 minutes or less

Perform a title examination on any property


Step 3:  Pick a investment Strategy
What are you wanting to do?   Flip, Hold, Owner Finance, Lend? 



Step 4:  Educate you up on your picked strategy, set up your marketing campaign and make sure you know how to handle sellers.



We have over 50 hours of online training and all the documents you will need in order to own a real estate investing company.  Plus, we offer two other resources: Roddy Rolodex (list of trusted vendors that we personally use) and as a BONUS, access to our 10,000+ email cash investor buyers for those times when you want to promote a real estate deal.
Step 5:  Set up your real estate team and business systems
We believe the only way to achieve sustainable success is to have a quality team with the right business systems in place.
Overview
| | |
| --- | --- |
| Price | $2997 |
| Term | 365 days |
| 1 on 1 consulting sessions | 10 sessions:  3-4 hours in classroom / 6-7 hours "in the field" |
| Online Training | Over 50 hours of video training (see screen shot below). |
| Live Trainings | Yes, Once a month |
| Document Library | Over 50 real estate documents including: scripts, spreadsheets, contract/addendums and marketing pieces. |
| Vendor Rolodex | Yes |
| Flip Partnerships | Yes, Roddy will partner with you your first few deals. |
| Motivated Seller Leads | Yes, up to 3,000 address's of owners in your "investment area" |
Requirements to join our program
You must be able to spend a minimum of $600 a month on direct mail marketing.

You must have access to a MLS (comping) program.  We offer this program and it's called the Property Analyzer Pro system and it costs $80 mo.
We look forward to being a part of your success!

George Roddy, Jr. - Investor/Mentor/Trainer

Roddy Real Estate Investing Academy
214-593-0074

Coaching Program includes:
Attend all of Roddy's LIVE courses, Access to all Roddy's ONLINE courses, Access to Roddy's membership training site (which includes forms, scripts, contract etc) 1 on 1 coaching sessions and more..
Save
Save
When
Tuesday, April 5, 2016 at 5:30 PM

-

Saturday, December 31, 2016 at 11:30 PM (CDT)
Add to my calendar
Organizer
Roddy Real Estate Investing Academy
Roddy Real Estate Investing Academy is leader in supporting investors & real estate professionals in Texas real estate. We are a respected organization in Texas when it comes to providing education, data, and investment opportunities in distressed real estate.

Our speakers are experienced investors with a broad range of expertise in a variety of proven investing strategies in Texas real estate.

We are located at 1415 Legacy Dr, Suite 350, Frisco Tx 75034