Event Information
Refund policy
Contact the organizer to request a refund.
Eventbrite's fee is nonrefundable.
Join us for Rocky Mountain Special Libraries Association's 8th Annual (Virtual) Mini-Conference on Thursday, September 30th.
About this event
Discuss hot topics in the information profession, connect with your peers, and learn about new ideas. The mini-conference unites fellow library and information professionals for a day of exploration, collaboration, and inspiration. You'll have the unique opportunity to share your experiences and learn from your peers.
See the 8th Annual Mini-Conference schedule and session abstracts below!
Join as many of the sessions as you'd like for one great low price!
$10 +fees for SLA members and students
$15 +fees for non-members
Event details on how to attend virtually will be emailed to participants once registered.
Schedule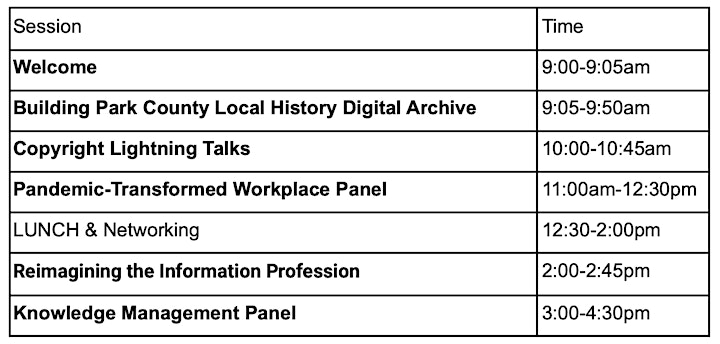 Abstracts and Speakers
Welcome
9:00-9:05am
RMSLA 2021 Executive Board
Maura McGrath, President
Baylee Suskin, President Elect
Chloe Campbell, Past President
Joanna Smith, Secretary
Session 1: Building Park County Local History Digital Archive
9:05-9:50am
Krystyna K. Matusiak, University of Denver
Sam Carlson, University of Denver
Ashley Love, University of Denver
Wendy Aro, University of Denver
Community archives and other community-based projects are vital for preserving and documenting the history and cultural heritage of a region. Local community archives are often organized by volunteers and represent grassroots activities. Collaboration with other cultural heritage organizations and information professionals help to expand efforts and build sustainable digital archives. This presentation illustrates a collaborative project digitizing physical materials from the Park County Local History Archive and building a digital archive. The Park County Local History Archive is a community archive established by a group of volunteers in 2001 to collect audio-visual materials and documents pertaining to the history of Park County, Colorado. The Archive, with a collection of over 4,000 photographs, manuscripts, and oral histories, provides unique primary source materials for researchers and community members interested in the history of mining, railroads, and settlements in rural mountain communities. The two-year project was undertaken by a team of the University of Denver Library and Information Science (LIS) faculty and students in collaboration with community members, the Park County local government, and the Colorado State Library. Funding was provided by the University of Denver Public Good Fund. The project team has digitized over 1,200 photographs, converted 57 oral histories, assessed copyright status of all digitized objects and assigned rights statements from RightsStatments.org, and built a collection with the Omeka software, available at: https://pclha.cvlcollections.org/. The digital archive also includes four exhibits telling stories of people, mining, settlements, railroads, and ranches. The metadata records have been harvested to the DPLA through a Plains to Peaks Collective, a Colorado service hub. This presentation focuses on the processes of building the digital archive, metadata harvesting, the collaboration with the community members and the Colorado State Library, and our continued efforts.
Session 2: Copyright Lightning Talks
10:00-10:45am
Copyright Education in a Post COVID World
David Hansen, JD, Associate University Librarian and Lead Copyright & Information Policy Officer, Duke University Libraries
Understanding copyright law has always been important to librarians. But now, in a post-COVID environment, the demand to virtualize practically every aspect of library service--and the accompanying copyright issues it creates--has dramatically heightened the need for librarians to become experts in copyright. This session is about understanding how we as a profession can best grapple with these new demands, and how several emerging copyright education options can help meet that demand. In particular, our presenter will talk about the Library Copyright Institute, an IMLS-funded effort to expand copyright education to librarians at historically underfunded institutions, as well as the Virtual Copyright Education Center, an effort to create sustainable online learning options.
Progress Report: Adding Standardized Rights Statements to an Institutional Repository
Helen Baer, Archivist and Digital Collections Manager, Colorado State University
In conjunction with a platform migration from DSpace to CONTENTdm, staff in Digital and Archives Services at the Colorado State University Libraries began applying standardized rights statements to 85,000 repository records for digitized archives and special collections material in the spring of 2021. Prior to 2021, the CSU Libraries did not use standardized rights statements in its institutional repository, and most of its DPLA rights statements were "Copyright Not Evaluated." CSU's Office of General Counsel approved a set of new standardized rights statements in February 2021, and remediation work began in March. This lightning talk will present the results of the project.
Implementing Standardized Rights Statements in the Park County Local History Digital Archive
Sarah Werling, University of Colorado Boulder
Lisa (Dot) Donovan, Regis University
Copyright status of cultural heritage materials in community archives is difficult to evaluate because of limited documentation on authorship and creation date. This lightning talk will provide an overview of the process of implementing standardized rights statements in the Park County Local History Digital Archive. The workflows involved evaluating copyright status of published and unpublished materials and assigning standardized rights statements from RightsStatements.org. The project team has chosen six rights statements that correlate best with the archive's unique metadata and keep copyright evaluation consistent and simple. The assessment of copyright and assigning standardized right statements on item-level enabled the Archive to meet the requirements of the Digital Public Library of America for metadata harvesting. The presenters will demonstrate examples of the assigned statements and will discuss the challenges encounter in the project and the need to update the statements as more items enter the public domain due to copyright expiration.
Session 3: Pandemic-Transformed Workplace Panel
11:00am-12:30pm
Richard Hulser, President, Richard P. Hulser Consulting
Brittany Brannon, Research Support Specialist, OCLC
Anne Lucke, Library Director, National Indian Law Library (NILL)
Samantha Harper, Archivist, Buffalo Bill Center of the West
Leslie Reynolds, Senior Associate Dean of Libraries, University of Colorado
Last year we checked in with various information professionals to see how they were dealing with the pandemic. What changes were made so they could work from home? How were they doing in this new telework or minimal in person norm? Now it's almost a year later and workplaces have started to change again. Some are reentering to in-person service, others a hybrid model, and many are still working from home. In this panel we will continue our conversation on how the pandemic has changed how we work. We'll hear about challenges, new norms, lessons learned, and the various states of the new pandemic-transformed workplace.
Lunch & Networking
12:30-2:00pm
Session 4: Reimagining the Information Profession
2:00-2:45pm
Mary Ellen Bates, Bates Information Services
If we have learned nothing else during the last year and a half, we have recognized the importance of resilience—in both our professional and personal lives. How do we best leverage our skills and expertise while addressing the often radically changed needs and expectations of our organizations? Mary Ellen Bates will look at how info pros and librarians can approach their roles today and continue to offer the highest-value information services possible in an uncertain environment.
Session 5: Knowledge Management Panel
3:00-4:30pm
Guillermo Galdamez, Senior Consultant, Enterprise Knowledge (EK)
Camille E. Mathieu, Knowledge Manager, Lawrence Livermore National Laboratory (LLNL)
Jaime Honaker, Knowledge Management Specialist, ServiceNow
Jill Strand, Director of Research and Knowledge Services, Fish & Richardson
Organizations use knowledge management (KM) to improve organizational efficiencies, but approaches to knowledge management vary widely. Some focus on knowledge bases or repositories, while others use organizational learning and communities. Learn from a panel of knowledge management professionals about their current work, how they use knowledge management, and what they see as the future of KM.
Date and time
Location
Refund policy
Contact the organizer to request a refund.
Eventbrite's fee is nonrefundable.