Sales Have Ended
Ticket sales have ended
Thank you for your interest in the 2018 National Park Photography Workshop Series. While registration for the Rocky Mountain Workshop has closed, please check out all of our other available options here: http://nationalparktripsmedia.eventbrite.com
Sales Have Ended
Ticket sales have ended
Thank you for your interest in the 2018 National Park Photography Workshop Series. While registration for the Rocky Mountain Workshop has closed, please check out all of our other available options here: http://nationalparktripsmedia.eventbrite.com
Description
--SOLD OUT--


Overview:
With high alpine peaks towering thousands of feet above verdant valleys and crisp mountain skies, Rocky Mountain National Park is a spectacular destination for photographers. This photo workshop will immerse you and a small group of participants into the art and science of night skies photography with an emphasis on capturing the Milky Way. As an added bonus, Tamron USA will have their full complement of lenses available to loan out to you for the entire program, including their award-winning 15-30 (FX and DX in Canon, Nikon, and Sony mounts).
The workshop begins the evening of Aug. 9 with a two-hour seminar at the host lodging property and will cover techniques for capturing your best sunset, night skies and sunrise images. We'll also cover light painting and lens selection.
After the seminar, we'll head into the park for the first shoot (sunset) followed by two to three night skies stops at three different locations within the park. We'll be in the field until approximately 1:30 a.m. and after a rest break at the hotel, we will head back out the morning of the 10th to capture the sunrise. After the sunrise shoot, we'll return to the hotel for a post-shoot session which includes post-processing instruction of the images we took during the workshop.
National Park Trips Media (an Authorized Permittee of the National Park Service), Tamron USA and YMCA of the Rockies have teamed up to offer the 2nd National Park Night Skies Photography Workshop in Rocky Mountain National Park
What's Included:
Expert instruction by Tamron photographers
In-the-field personalized instruction at up to five locations within Rocky Mountain National Park
Full line of Tamron lenses available for all participants to use throughout the workshop
2-hour pre-shoot seminar (sunset, night skies, sunrise techniques + light painting)
1.5-hour post-shoot seminar (post processing)
Transportation to and from the host lodging property to all shoot locations (participants are required to travel with us in our vans)
Dinner and snacks on the 18th, breakfast on the 19th
Itinerary:
Thursday, August 9th, 2018
4:00 pm - 6:00 pm Pre shoot seminar; lens loaner; dinner served during seminar
6:15pm Leave for sunset shoot
6:45 pm – 8:30pm Sunset shoot
8:30pm -1:00am Night Skies Shootam Night skies shoots
1 am – 1:30 am Transportation back to host lodging property
Friday, August 10th, 2018
4:30 am Leave hotel for sunrise shoot
5:00– 6:45 am Sunrise shoot
7:30 am – 10:00 am Post-shoot seminar with breakfast at host lodging property
Workshop Headquarters and Host Lodging Partner
YMCA of the Rockies
2515 Tunnel Road
Estes Park, CO 80511
https://ymcarockies.org/

You are responsible for booking your own lodging. If you want to reserve a room through our host property, YMCA of the Rockies, call 888-613-9622 and mention you are with National Park Trips Media. If they have rooms avaliable, you will receive a discounted rate.
Transportation:
All participants must arrange transportation to the host lodging property. We will provide transportation from this location to all shoot locations within Rocky Mountain National Park.
Meals:
August 9 - Dinner will be provided during the pre-shoot seminar
August 10 - Breakfast will be provided during the post-shoot seminar
**Please email Mikaela Ruland at MRuland@aimmedia.com if you have special dietary needs
Weather:
Because of Rocky Mountain National Park's high altitude (8000 ft+) weather can be volatile. Expect highs in the mid-70s around Estes Park and mid-60s along the upper reaches of Trail Ridge Road. Lows should average in the mid-40s. We will be outside for great lengths of time, so dress warmly and bring a winter hat and gloves to keep your hands warm. There will almost certainly be some kind of afternoon storm that will clear out for sunset and night skies.
Inclement Weather:
In the event weather prevents photographing the night's skies, we will have several contingencies.
What to Pack:
DSLR, tripod, wide angle and zoom lenses (Tamron will have their full complement of lenses available for all participants to use, in both full-frame and crop-sensor models, including their new 15-30mm), extra memory cards, headlamp, laptop for post processing instruction, light hiking shoes, warm clothes, rain jacket or shell, hat, sun glasses.
Fee:
$349 + processing fees. Includes workshop, transportation to and from shoot locations, and some meals. Airfare and lodging not included.
Your Instructors:

Ken Hubbard
Ken is the field services manager for Tamron who is responsible for Tamron's popular Tailgate Tour and consumer workshop series. His portrait and landscape work has appeared in galleries nationwide, and he teaches enthusiasts how to take better photos at workshops across the country.

Erica Robinson
Erica Robinson has always had a strong passion for both photography and travel, but once merging the two together is where she found her true calling. After studying photography in college, her first adventure was working as a photographer for a cruise line. Trying to pursue a different genre she then worked with talented Boston wedding photographers while learning the technical side working for a local camera store. Photography is an incredible tool that allows us to stop a moment and relive it every time we look at that image. She genuinely enjoys teaching others how to capture that moment in the way it makes them feel, to relive it over and over again.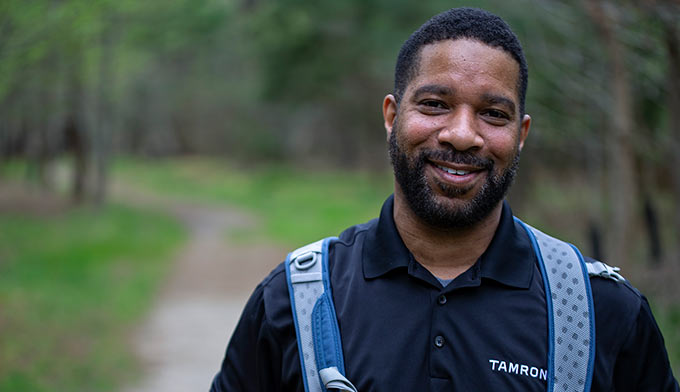 Damion Fearron
Damion Fearron has always been an avid admirer of the visual arts. His photography has been published in both solo and collaborative projects. As a Tamron technical representative, Damion's combined real-world experience and extensive product knowledge will help inspire others to expand their interest in photography. With a strong in-depth understanding of the technology used in Tamron lenses, Damion is able to educate customers around the country. He enjoys the opportunities to travel on assignment, collaborating with his tech team members and engage with photographers from beginner to professional.
Questions:
Please email Mikaela Ruland at MRuland@aimmedia.com.