Rocky Mountain Dialogues on Mindfulness in Higher Education
Description
As the epidemic of anxiety and depression among college students spreads, contemplative practices (e.g., mindfulness meditation) are becoming increasingly prominent on campuses around the nation to promote stress reduction, improve concentration, and integrate with research, creative work, and education. With the arrival of such practices and initiatives comes important questions about their relations to broader issues pertaining to cultural responsiveness (are they a good fit with all students' needs, cultural heritages, and faith traditions?); cultural appropriation (have they been appropriated and mis-adapted from other religious and cultural traditions?); colonialism (are they just another example of Euro-American hegemony?); and mission (are they tools for compliance or agency?).
The time has come in the mindfulness movement to address these issues head on. To meet this call, UNC will be hosting the 2020 Rocky Mountain Regional Dialogues on Mindfulness in Higher Education (RMDs) on February 29, 2020. This is a full-day conference in which higher education professionals, faculty, staff and students come together from a wide range of campuses across the Mountain West region to share and learn ideas, insights, and practices. Breakout sessions will include topics such as Contemplative Art (Spanish language only), Mindfulness & Gender, Mindfulness in the Public Schools, Environmental Justice, and Contemplative/Mindfulness Centers. Join us for a day of dialogue and fellowship!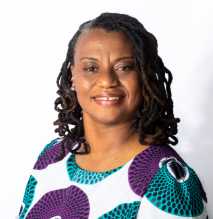 This year's RMDs will feature Schulze Speaker and workshop leader, Dr. Michelle Chatman. Dr. Chatman is a TEDx presenter, youth justice scholar, contemplative teacher, and Assistant Professor in the Crime, Justice, and Security Studies program at the University of the District of Columbia. Dr. Chatman's keynote speech, "With Liberty and Justice for All: Critical Contemplative Approaches for Advancing Youth Justice," will be delivered at UNC on Friday evening, from 7:00-8:30. For those who can't attend, her speech will be livestreamed via UNC's YouTube channel.
Compliments of UNC's Schulze Speaker Series, lunch will be provided free of charge for registrants as part of a Saturday luncheon workshop with Dr. Chatman, entitled "Ori, emi, and àṣẹ : Decolonizing Mindfulness with Yoruba Philosophical Concepts." Please register for the luncheon to guarantee your lunch. No guarantee of food can be made to those who do not register for the luncheon.
This event is sponsored by and was created through a collaboration between UNC Schulze Speaker Series, UNC Office of Research & Sponsored Programs, UNC Center for Applied Contemplative Studies, CSU, CU-Boulder, Naropa University, and Campus Compact of the Mountain West.