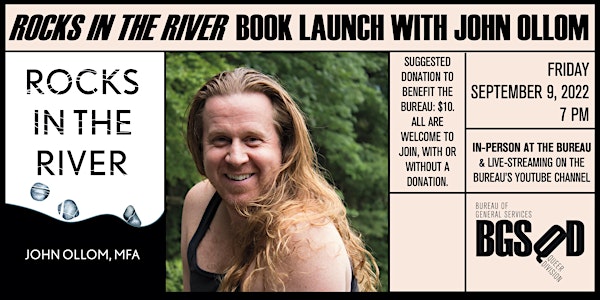 Rocks in the River Book Launch with John Ollom (in person & live-streaming)
Ollom offers us a place of respite, an artistic vision of insight and revelation in this turbulent river journey.
When and where
Location
Bureau of General Services—Queer Division 208 West 13th Street Room 210 New York, NY 10011
Refund Policy
Contact the organizer to request a refund.
About this event
Rocks in the River is the third book by author and art journeyman John Ollom, MFA. Founded on 22 years of movement, artistic teaching, and guidance, Ollom has expanded his methodology to bring in new embodied ways to find peace and vision in times of fear or change. This book is divided into three currents in the river so we can navigate this metaphor together. It is a place where people are processing change and turmoil in their lives. Do they stay on the same rock they have known all their life? Do they give up and surrender to the overpowering currents? What complex is pulling them under? What current excites us? Ollom offers us a place of respite, an artistic vision of insight and revelation in this turbulent river journey.
"A true original and visionary."
—Charles Busch, Award-Winning Actor, Playwright, Cabaret Performer, Drag Legend
"This is art therapy on steroids."
—Brendan Rowe, Sexual Abuse Activist and Counselor
This event will take place in person at the Bureau of General Services—Queer Division, on the second floor (room 210) of The LGBT Community Center, 208 W. 13th St., NYC, 10011.
Registration is not required. Seating is first come, first served.
Also live-streaming on the Bureau's YouTube channel: https://tinyurl.com/mrkzwtam
Rocks in the River ($25) will be available for purchase at the event, as well as t-shirts ($20). John will be happy to sign copies!
John Ollom's previous book, Internal Landscapes ($30), will also be available for purchase.
Thank you for supporting the Bureau by purchasing books from us!
Safety protocol
In an effort to prevent the spread of COVID-19:
If you have any symptoms associated with COVID-19 in the days leading up to the event, we ask you to please stay home.
Please note that masks are required at all times inside The LGBT Community Center, where the Bureau is located.
Suggested donation $10 to benefit the Bureau's work.
All are welcome to attend, with or without donation.
We will pass a bag for donations at the start of the event, but we can also take credit card donations at the register.
ABOUT THE AUTHOR
John Ollom is an art journeyman, author and art director. His book Internal Landscapes reveals the evolution of his Internal Landscapes© method and provides an extensive reference that combines movement art with Jungian Depth Psychology. His book of poetry Dark Matter is shown on video at ollomart.com . John received his MFA from Goddard College and his BFA in Ballet from Texas Christian University.
John's work has been the subject of numerous articles and documentary films including: Late Bloomers by Annette Cyr, Professor of Art at the National University in San Diego; The Making of M.U.D.: An Exploration of the Work of John Ollom and Ollom Movement Art by Robert Kazmayer, MA; There's Something About John by Emma McCagg, "About, or in, the Liminal Space: John Ollom at 954 Dance Movement Collective", in Phindie, and an ArtAsAir.com featured artist. He can also be heard in the Goddard in the World podcast.
He has been teaching in New York City and around the country since 2000. His methodology has been taught at the Eastern Michigan University, Kalani Retreat Center in Hawaii, Atmananda Yoga Sequence, Baruch College, CUNY Hostos, CUNY in the Heights, Easton Mountain Retreat Center, and Smith College. During the pandemic, he has been working with clients through Zoom and in Inwood Hill Park in Manhattan.
In 2010–2011, John Ollom was chosen as the Artist in Residence at the Eastern Michigan University Dance Department. In 2022, John was asked to be an art journeyman presenter at the Rutgers University Queer Health Colloquium Part 2: Spectrums.
John has served as the Artistic Director of Prismatic Productions, Inc./Ollom Art since 2002, where he has choreographed such works as The Catalyst, Love and Longing, The Journey, John Ollom's The Journey, Anatomy of Woman, Dido and Aeneas, The Other Species, Love Stories, Internal Landscapes, Man of War, M.U.D. (Men Under Dirt), Kuan Yin's Compassion, Nemetona, The Portal, and Prisoner of My Projection. His choreography and direction can also be seen in the film Karpos and Kalamos.
For more information, please visit www.johnollom.com. For more information about the nonprofit Prismatic Productions, Inc. or Ollom Art, please visit www.ollomart.com.