Description
The anticipated date and time has arrived! Registration for the 2019 Rocks Digital Marketing Conference is OPEN!
Register NOW for the 8

th

annual conference on June 30, 2019.
Bernadette Coleman and Lissa Duty, the conference organizers, are excited to invite you to this year's Dallas based annual Local Search and Social Media Day celebration. The fun starts on the morning of June 30 and last through to the annual after-event celebrating Social Media Day)!
Attendees will learn from local search, social media and digital marketing influencers from around the world!
On Sunday, June 30 this year – the 2019 Rocks Digital Marketing Conference – we'll be celebrating Local Search and Social Media Day. And since the conference is on a Sunday this year, you don't have to ask the boss for the day off from work to attend.
Register now! The earlier you register the more you save.
What to Expect at Rocks Digital 2019
17+ Speakers

2 Keynote Addresses
14 Merged-Room Presentations
Back by Popular Demand
Rocks Talks - High-Energy High-Impact Digital Strategy featuring 3 Experts
Local Search Day Expert Panel, with moderator, Bernadette Coleman
Special After-Event includes:
June 30 – Onsite Happy Hour (includes light appetizers, alcohol and plenty of fun)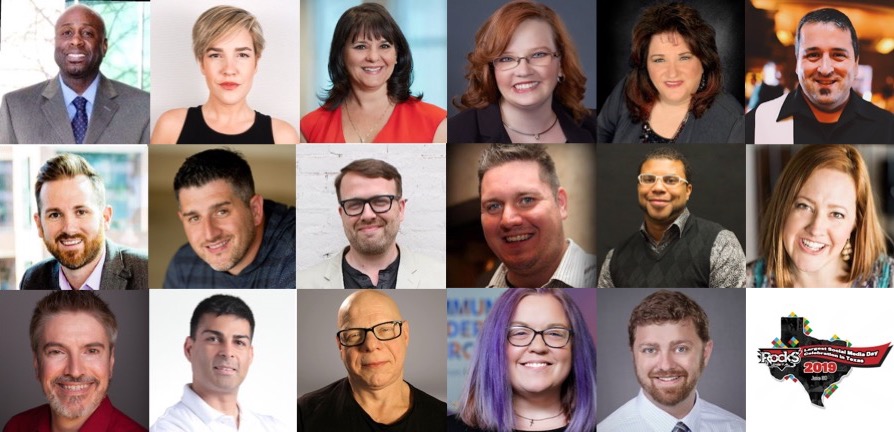 Rocks Digital Marketing Conference Speakers
Jerry Campbell | Rachel Chang | Bernadette Coleman | Lissa Duty | Patty Farmer | Giovanni Gallucci | Cameron Gawley | Jason Hennessey | David Hunter | Ryan Jones | Justin Liles | Heather Nichols | Chris Silver Smith | Abhi Vyas | Marty Weintraub | Nicole Wight | Joe Youngblood
Business owners, brand mangers and digital marketers from agencies and enterprise corporations around the United States will converge on Dallas, Texas for this national digital marketing conference on June 30. Register NOW!
We ROCK Content, Search, Social, Local and Business Development!
Conference, Location, Date & Times
Reflections Venue & Gardens, 1901 E. Spring Creek Parkway, Plano, Texas, TX 75074. (972) 633-9595 (Located off US 75 & Spring Creek Parkway)
Sunday, June 30 (Local Search / Social Media Day)
Registration Opens 8:30 am | Welcome 9:30 am | Ends 5:30 pm
After-Event Immediately Following Onsite June 30
*Lunch included with your ticket price. Afternoon snacks will be provided. Cash bar available for after-event.
Questions? Email Lissa@RocksDigital.com.
Register Now | Read Reviews | Become a Sponsor
---
Ticket Policy: Tickets are non-refundable and non-transferable. Contact the organizer for questions or concerns prior to registering for the event. Speakers, presentation descriptions and session times are subject to change.
By purchasing this ticket you agree to the following: In the event that Rocks Digital Marketing Conference cancellation occurs, you will be eligible for a refund of the price paid for your ticket. The ticket price refund represents your sole remedy for any losses you might incur as a result of cancellation. You agree that your likeness can be used in event promotion, at future events and shared on the Internet.