Description
1st Annual ATV/UTV event
Saturday there will be a trail ride up to Battlement Reservoirs, a poker run, a soccer game (the players will be on UTV's, the goalies will be mini excavators with a 5ft soccer ball), and barrel racing. Saturday night 6 Million Dollar Band will be playing in the park. All events are free to watch, if you want to participate in the events you will need to register and pay for each event, for the trail ride it is free to participate BUT YOU STILL MUST REGISTER FOR IT. Sunday there will be a scavenger hunt and a mud drag.
FAQs
What are my transportation/parking options for getting to and from the event?
Located on I-70, exit 75. The closest airport is 45 miles away in Grand Junction, CO.
If you are dry camping, you will check into your campsite and be able to park and unload there. If you are not camping we will direct you to a parking lot to park and unload your machine.
What should I bring into the event?
Please bring your cameras and share all your wonderful pictures on social media with #Rockmageddon. Remember your sunscreen, folding chairs and sunglasses.
How can I contact the organizer with any questions?
You can call (970) 285-7630 M-TH 7am-6pm, message on the Facebook Rockmageddon page, e-mail lpatton@parachutecolorado.com or dwingfield@parachutecolorado.com
What's the refund policy?
There is a no refund policy. Registrations are transferrable upon reasonable request.
Where can I get a Colorado OHV sticker?
You MUST have a Colroado OHV registration sticker to participate in the OHV events. Colorado does not reciprocate OHV registration with any other state. Colorado OHV stickers are available in advance ONLINE, CLICK HERE.
If I don't own an OHV can I still participate in Rockmageddon?
YES!!! You can register for the HIKE up to the Battlement Reservoirs. This is FREE but you need to register for this and take the shuttle to the trailhead. There is NOT room for parking at the trail head. For the Poker Run you can use any mode of transportation. Watching the Soccer Game and Barrel Racing will be entertaining. Then stay in the park for the FREE concert in the park. On Sunday you can watch the Mud Drag.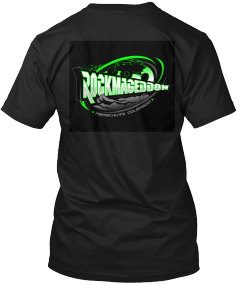 Rockmageddon Apparel
$15.99
We partnered with Teespring to create some awesome merchandise for this event. Show your support and look good wearing it. Check it out!