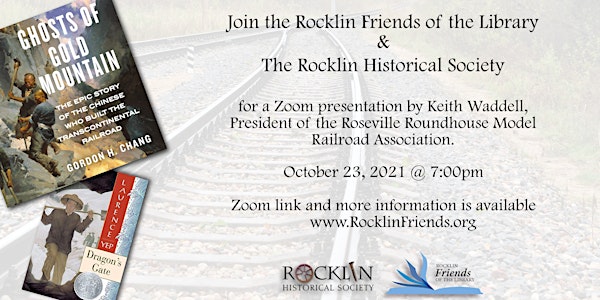 Rocklin Reads 2021
We are recommending an adult and youth book this year as we read about and discuss the contributions of the Chinese who built our railroads.
About this event
Rocklin Reads returns in 2021 for our 4th annual event! This year we are pleased to offer an adult book, Ghosts of Gold Mountain by Gordon H. Chang, and a youth title, Dragon's Gate by Laurence Yep.
We suggest you pick up your copy from the Placer County Library today so you have time to finish it before our Zoom event on October 23rd featuring Keith Waddell, President of the Roseville Roundhouse Model Train Association. Keith will discuss the Transcontinental Railroad and the contributions of the Chinese.
We've teamed up with the Rocklin Historical Society to offer a family friendly scavenger hunt as well. Be sure to turn yours in at the Historical Society or the Rocklin Library.