Description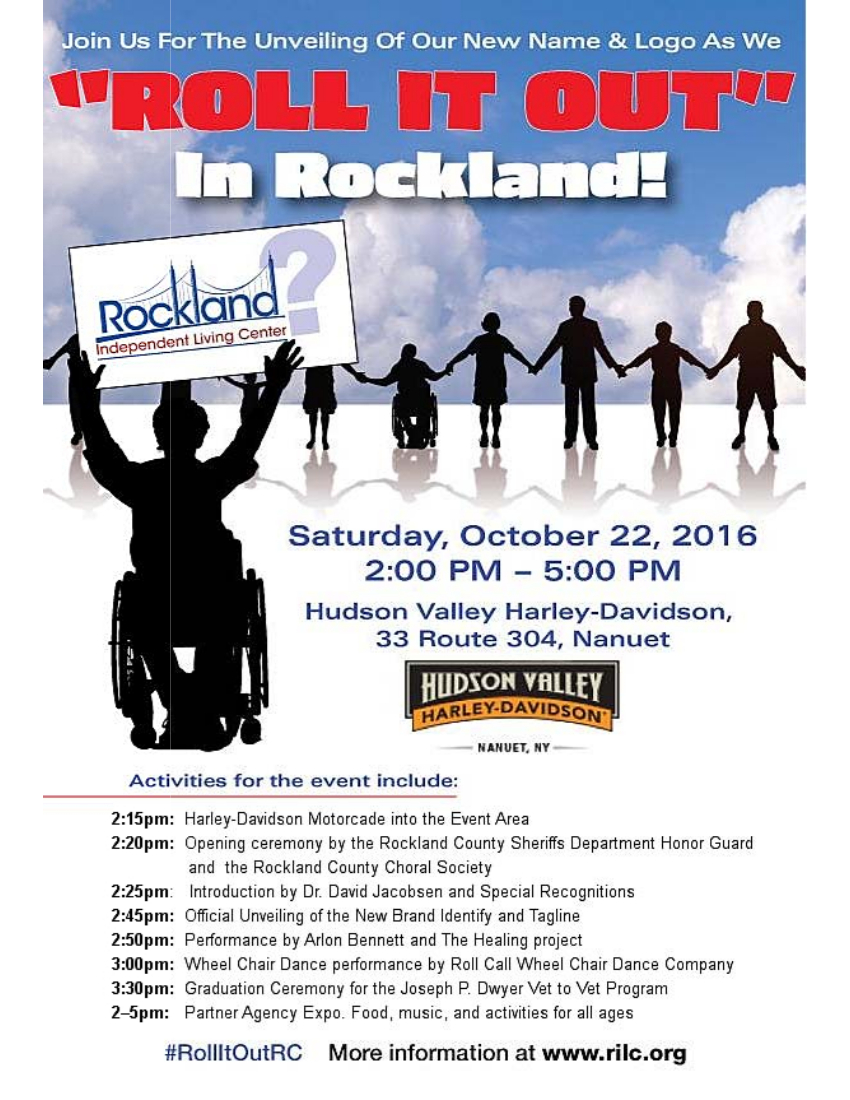 Join Us For The Unveiling Of Our New Name & Logo as we
ROLL IT OUT in Rockland!

FREE Event!

On October 22, 2016 from 2 PM- 5 PM

Activities for the event include:
2:15pm: Harley-Davidson Motorcade into the Event Area
2:20pm: Opening ceremony by the Rockland County Sheriffs Department Honor Guard and the Rockland County Choral Society
2:25pm: Introduction by Dr. David Jacobsen and special recognitions
2:45pm: Official Unveiling of the new Brand Identify and Tagline
2:50pm: Performance by Arlon Bennett and The Healing project
3:00pm: Wheel Chair Dance performance by Roll Call Wheel Chair Dance Company
3:30pm: Graduation Ceremony for the PFC Joseph P. Dwyer Vet to Vet Program
2 – 5pm: Partner Agency Expo. Food, music, Harleys and activities for all ages
Empowerment Sponsor
Hudson Valley Harley-Davidson

Advocate Sponsors
Active International
Cintas
Connections Contact Center
PDI/Nice-Pak
Orange & Rockland
Peer Sponsors
All Bright Electric
Birbrower & Beldock
ClearCaptions
GMG Public Relations
Goldkap Consulting
KLS Transportation
Temple Beth Shalom
Berard & Associates

The event will be held rain or shine thanks to the enormous showroom at Harley-Davidson.
There is no fee to attend.