Sales Have Ended
Ticket sales have ended
We are sorry, but this event is sold out. Click here for VIP tickets to the July 29th concert: https://www.eventbrite.com/e/rockin-on-the-river-vip-dinner-concert-tickets-158629869209 Our next and second concert of the summer series will be on July 29th featuring the Let's Ride Brass Band and Taylor Roberts. Our third concert of the summer series will be on August 26th featuring Swell Acoustics and Philip Pan. Tickets are on sale now! VIP Tickets include Dinner at Azaleana Manor - VIP Concert Seating (chair provided) - VIP Parking and Check-in and two adult beverages. For more info or tickets go to: https://www.eventbrite.com/e/rockin-on-the-river-vip-dinner-concert-tickets-158629869209
Sales Have Ended
Ticket sales have ended
We are sorry, but this event is sold out. Click here for VIP tickets to the July 29th concert: https://www.eventbrite.com/e/rockin-on-the-river-vip-dinner-concert-tickets-158629869209 Our next and second concert of the summer series will be on July 29th featuring the Let's Ride Brass Band and Taylor Roberts. Our third concert of the summer series will be on August 26th featuring Swell Acoustics and Philip Pan. Tickets are on sale now! VIP Tickets include Dinner at Azaleana Manor - VIP Concert Seating (chair provided) - VIP Parking and Check-in and two adult beverages. For more info or tickets go to: https://www.eventbrite.com/e/rockin-on-the-river-vip-dinner-concert-tickets-158629869209
VIP Tickets include: Azaleana Manor Private Dinner Party | VIP Parking & Event Seating | VIP Early Check-in | 2 Complimentary Beer or Wine.
About this event
This event is being sponsored by the Town of Orange Park & Concert on the Green. Join us along the bank of the lovely St. Johns River for a VIP dinner at Azaleana Manor & Street Concert on Thursday June 24th, 2021, from 5:30 pm - 9 pm! Experience all the excitement that Orange Park has to offer as it comes alive with your favorite sounds and songs of the Chris Thomas Band and the 77ds. All profits go to support local schools with grant and scholarship funding. 100% of our staff are volunteers! We greatly appreciate your support!!!!
This year's VIP Ticket Holder experience promises to be the best year yet!! The evening starts with an invitation to dinner at the stunning and luxurious Azaleana Manor on the bank of the beautiful St. Johns River, catered by Club Continental's renowned Chef Sheldon. Sit down to one of Chef Sheldon's marvelous meals. Dinner is served between 5:30 pm to 6:30 pm inside the Manor. Relax, unwind, and listen to live acoustic music played during dinner and sip on a glass of beer or wine as you look out over the beautiful St. Johns River. (Al fresco dinning available upon request)
The music on the street starts at 6:30 pm and goes until 9 pm and is located 200 feet away from Azaleana Manor. Enjoy an ice-cold beer, wine, Martini, or Old Fashion, from our beverage station located next to the VIP area. Jam to the bands as you take in the breeze and view of the St. Johns River just feet from the stage. Listen to the band front and center as you relax in your chair in the VIP seating area! VIP parking at Azaleana Manor is just steps away from the stage. VIP tickets are on sale now for $50 per ticket! Make sure to join us this year for a one-of-a-kind private dining experience at the beautiful Azaleana Manor, followed by a fun filled outdoor music concert. Don't wait, purchase your tickets today!
VIP TICKETS INCLUDE THE FOLLOWING PERKS:
• VIP Dinner at Azaleana Manor, on the St. Johns River
This year is the launch of our VIP Dinner party at Azaleana Manor, one of the area's finest and most exclusive luxury wedding venues, hotel, and event venue! Feeling a bit special? Well, you should, and we intend to make sure that you do! You won't want to wander far when you're inside the Manor's dining room. The 10,000 square foot mansion has been completely renovated with careful attention to historic charm and details, while adding every modern convenience to transform the property into a beautiful event destination. Azaleana Manor sits on four acres of beautiful and carefully maintained property, with more than 325 feet on the bluff of the impressive St. Johns River. Sit down to one of Chef Sheldon's marvelous meals and a glass of beer or wine! Dinner is served between 5:30pm to 6:30pm. (Al fresco dinning available upon request: Julie@concertonthegreen.com)
• VIP Exclusive Seating
Kick up your feet and enjoy the show (all the shows!) front and center with plenty of legroom and an ice-cold beer, glass of wine, Martini, or Old Fashion in your hand from one of our beverage stations! CHAIRS will be provided for you in the VIP preferred seating area.
• VIP Early Check-In
VIP's check-in at the Azaleana Manor entrance which means no waiting in long lines! VIP's are given a separate easily identifiable Wristband which means instant recognition by event staff and volunteers of their VIP status.
• Reserved VIP Parking at Azaleana Manor (next door to the stage)
We reserve the best parking spaces for our VIP Ticket Holders!! Why hunt for a parking space or walk any further than you have to? Park at Azaleana Manor just steps away from the concert stage. Park for the duration of the concert.
• Everything right at your fingertips
You're a VIP, you don't wait for drinks or for your food! You walk up to the bar and you get yourself a cold beer or wine, Martini or Old Fashion, same goes with dinner. Who knew life could be so good? Enough said!
Additional Information:
For more information on Concert on the Green go to: www.concertonthegreen.com
Or email: Julie@concertonthegreen.com
THURDSAY June 24, 2021 - Diner at Azaleana Manor starts at 5:30 pm until 6:30pm. LIVE ENTERTAINMENT STARTS AT 6:30PM UNTIL 9PM:
$50 per Person
VIP packages are on sale now! Limited seating so don't wait and miss out on the best seat in the house!
If you have any questions please
Email
Julie@concertonthegreen.com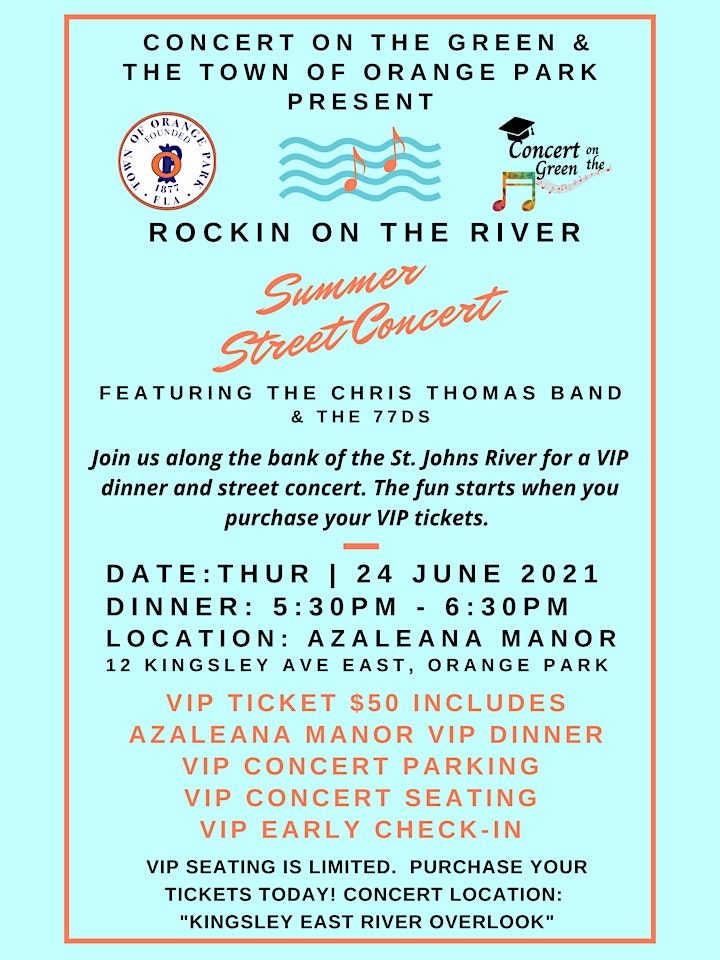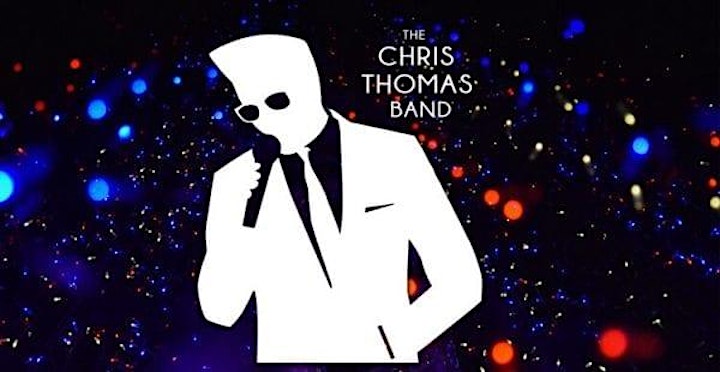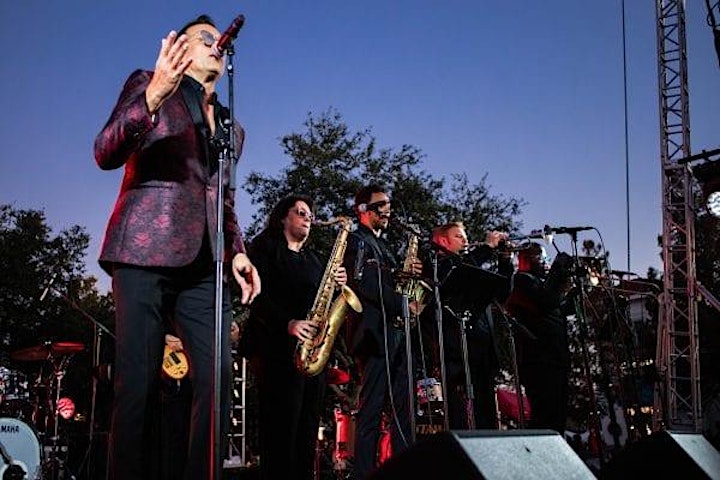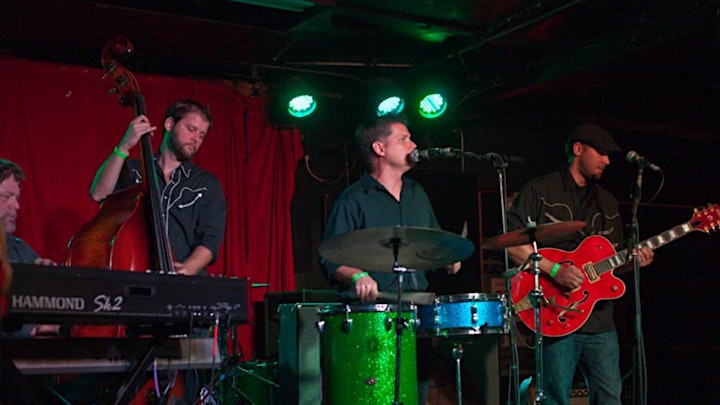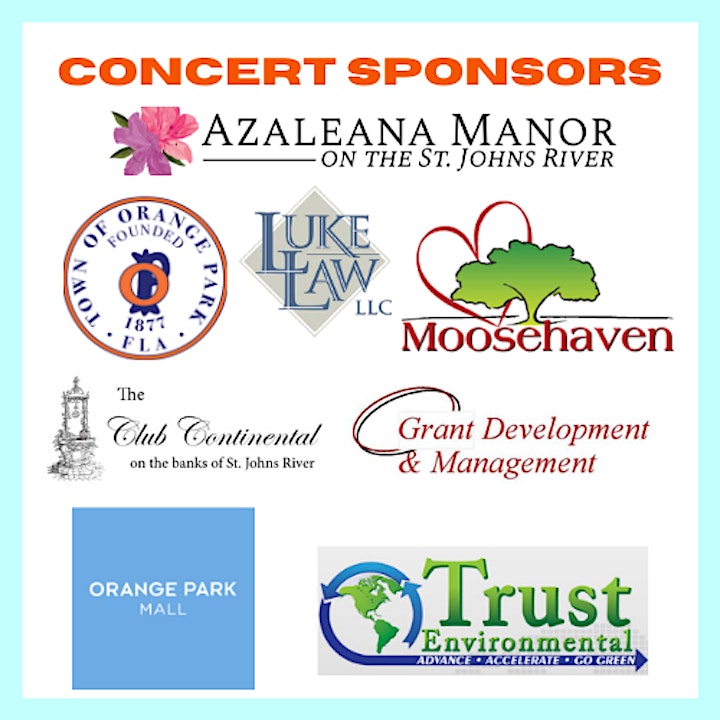 Organizer of "Rockin on the River" VIP Dinner At Azaleana Manor & Concert Tickets
Concert on the Green was established in 1986. Our non-profit all volunteer staff and board raise funds through concert ticket sales and sponsorships to provide grants to local schools and scholarships for students pursuing an education in art or music. These talented up and coming young artists and musicians compete in our art and music contests each year. The winners of these contests receive a scholarship. Local schools may apply for grants for supplies, instruments, equipment, or various other needs. To date, over $385,000 in school grants and student scholarships have been awarded! Help us keep the arts alive in our community! Help us continue to provide free concerts! Sponsor us, buy a VIP Ticket, or donate! Thank you for your support!