About this Event
Tired of the same boring old Holiday Parties? Mr. Hat Presents a Rock 'n Roll party to soothe your soul with the Bay's own rising star Matt Jaffe, swamp rockers Fog Swamp and touring funk duo phenoms And Then Came Humans.
MATT JAFFE is the Bay's own rising young superstar. Matt has played stages across the country, including The Fillmore, The Troubadour, and Irving Plaza. Jaffe has drawn comparisons from music writers to Joe Strummer, Elvis, Johnny Cash, Sinatra, Bob Dylan and both Davids Bowie and Byrne. His poise and style bely his youthful appearance, and he is developing a songwriting style all his own, with three albums to his credit.
FOG SWAMP performs original "Swamp Rock". Steeped in genres ranging from rock, New Orleans funk and blues to bluegrass and jazz, Fog Swamp's members have toured the world, having shared stages with The Meters, Wilco, Dave Brubeck, Yes, Phil Lesh, Ben Harper and others. Featuring Mr. Hat's old pal Ted Silverman (Tedtoob).
AND THEN CAME HUMANS is an indie/ jazz-rock/ funk/experimental duo featuring long time friends Mike Sopko (guitar/vocals) & Ryan Scott Long (drums/synth keys/vocals). Chances are, you haven't heard of them yet. They fucking shred and Mr. Hat highly recommends checking this band out.
There will be a pop-up dinner, and as always, cheap drinks, a big bear, and kind Peeps at Toot's Sugartown. Come and discover the wonders of Sugartown for the Holidaze.
Thank you for supporting Live Music in The East Bay!
PLEASE FOLLOW MR. HAT PRESENTS ON FACEBOOK & INSTA
OTHER UPCOMING MR. HAT PRESENTS SHOWS
BLACK FRIDAY 11/29: Shakey Zimmerman plays Neil Young's Harvest Moon - 6 piece electric band. $12/15 21+ at Toot's Tavern, 8:30
FRI 12/6 MAGIC IN THE OTHER - EP Release Party with Avi Vincour (Goodnight, Texas) at Ivy Room, 21+, $12/15.
WEDS 12/18 Grateful Weds. at Ashkenaz with The Left-Handed Monkeywrench Gang (members of JGB, Phil & Friends, Stu Allen & Mars Hotel) with Embodied Groove warmup. $12/15 ALL AGES
SAT 12/21 Acoustically Speaking (members of The Garcia Project) Sugartown Shakedown $12/15 21+ at Toot's Tavern, 8:30 pm.
FRI 1/3 Lefthanded Monkeywrench Gang Sugartown Shakedown, $12/15 21+ at Toot's Tavern, 8:30 pm.
SAT 1/11 MR. HAT'S 3rd Annual Ivy Room Birthday Bash w/ NAIVE MELODIES PLAY TALKING HEADS and DANS OF STEEL. 21+, $15/20 at The Ivy Room, 8:30
SAT 1/11 DAN BERN at Toot's Tavern, Crockett. $15/20 GA $30 reserved On Sale 11/23 9 am
SAT 1/25: FEATPRINTS Little Feat Tribute with Flynn Martin + Mike Meagher and Neil Hampton. $12/15 21+ at Toot's Tavern, 8:30 pm.
SAT 2/8: DUSTY GREEN BONES BAND + KATIE & ANDREA at Toot's Tavern, 8:30 pm.
SAT May 9: JERRY'S MIDDLE FINGER AT ASHKENAZ $17/$20 8:30 pm.
SUMMER/FALL 2020: MORE CONCERT CRUISES INCLUDING DEAD SET ON THE BAY, DARK SIDE OF THE MOON CRUISE, AND MORE!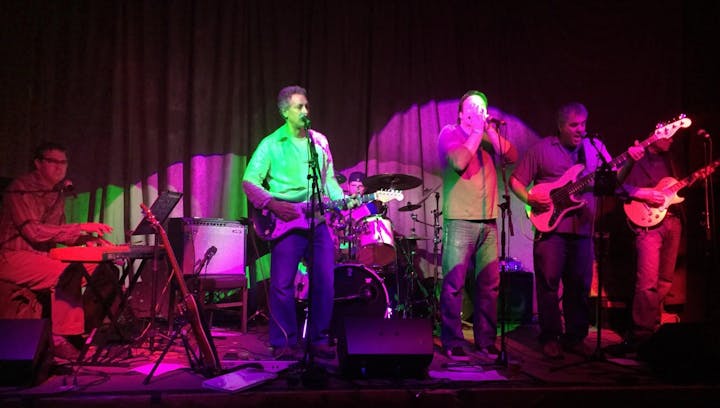 Prepare to have your mind BLOWN- AND THEN CAME HUMANS:
Ladies and Gentlemen, FOG SWAMP!
Performers
Date and Time
Location
Refund Policy