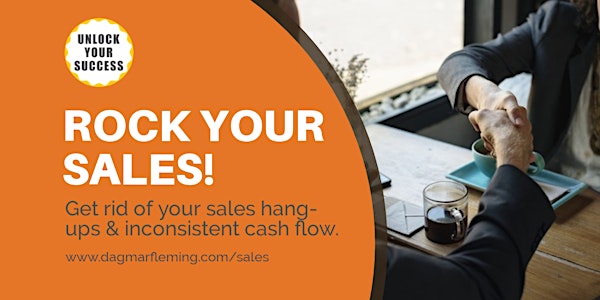 Rock Your Sales Workshop
When and where
Location
Warfare Marketing 16901 N. Dallas Parkway Suite 103 Addison, TX 75001
Refund Policy
Refunds up to 7 days before event
Eventbrite's fee is nonrefundable.
Description
Need more sales?
If you suffer from a lack of sales, not enough prospects, inconsistent revenue … if you have a great product or service that you're passionate about but can't seem to sell … if you know you need better sales skills but you lack confidence… you dread making calls because you fear to be perceived as "pushy" or "salesy" … then this workshop is just for you. Here's why…
There's a way to consistently follow up with your prospects and ask for the sale in such way that leaves you and your clients feeling better than ever before.
You can work with me at a live event where I will help you identify and overcome your sales hang-ups and dissolve your unconscious emotional and mental blocks to sales!
You'll walk away energized, confident and enthusiastic about expanding your sales and business.
And you need to realize, there is a cost to not dealing with this…
If You Ignore Your Sales Problem, It Just Gets Worse
What most people do when facing low or no sales is trying new tactics, like new ad campaigns, reducing their prices, or giving away their services for free hoping for a miracle.
But for most people, none of that works.
They don

'

t really understand their customers.

They don

'

t really know what their customers want.

They don

'

t know how to articulate how their product or service meets the customer

'

s need

…

in a way that motivates people to buy.

And most entrepreneurs can't afford to hire full-time sales team to do the sales for them!
Let
'
s face it: Most people don
't want to do sales!
They become masters of call avoidance … or blame their clients who "don't have money"…
They lower their prices in a desperate attempt to get some cash, then get depressed as they stare at their dwindling funds … wondering why nobody is buying their service.
They spend numerous hours at networking events trying to build relationships in hopes that somebody someday will ask for their product or service.
But the phone isn't ringing. There are no sales orders coming in. The calendar is empty and there aren't enough appointments with prospects to generate sales.
Here's the bottom line:
Most entrepreneurs operate below their income potential because they're too anxious to follow up with prospects or ask for the sales!
And what happens if you just do nothing? If you just keep doing what you've been doing?
Nothing happens, and you go broke. You get into debt. You go out of business. And when people ask, you mutter something about a "bad economy."
I can help you be at ease with sales so you can grow your business!
What most people do about their struggles is trying to fix them on their own. They work more and longer hours hoping for different results. That is a huge mistake. We simply can't see our own blind spots - our own blocks and issues.
I know you're not like those people. You're someone who invests in your growth. That's why this workshop is perfect for you!
I've got a solution that works. Here's why:
I understand your problem. I've been helping people break through their sales blocks for years.
I'm a genuine business hybrid – a blend of traditional, straight-forward business woman, entrepreneur, and emotional and energy healer. Having remarkable healing gifts since birth, over the years I have developed my intuitive empathic abilities to help others identify and release their hidden negative beliefs and emotions that sabotage their potential. Think of me like a human MRI machine. With a laser precision, I can instantly see and diagnose the root cause of the people's biggest blocks and deliver powerful, fast and permanent shifts.
Over the years, I've had so many clients who were passionate about their product or service but felt too anxious about making phone calls … worried about irritating prospects … struggling to convert their free samples into sales… And the list goes on and on.
Then I had an idea: "What if I worked with a small group of people, no more than a dozen… and I helped them identify and release their sales blocks?"
"What if I could help them understand why they've been unconsciously sabotaging their success and how to overcome these negative behaviors?
"And what if they walked out of the workshop with CONFIDENCE AND EXCITEMENT to reach out to their prospects with EASE and make an IMPACT in the world through their solutions?
And that's exactly why I created ROCK YOUR SALES workshop.


It Worked For These People,
And It Will Work For You
Here's what overcoming my sales hang-ups did for me… I started my business at six figures… let me work with dream clients… and helped me build a business that gives me the life of my dreams. And it's not just me. Here's what my workshops have done for others:
"Your workshop has somehow completely re-wired my brain and positively impacted many different areas of my life. The questions that we were forced to ask ourselves really did reset my thinking about money and my own value in general, and I am seeing the effects of it now, even months later. I have had all kinds of ideas, and am even considering starting my own law firm with some partners. Thank you for the amazing workshop!" Maryam Safari
"Before I wasn't fully motivated or paying attention to my goals. Now my thoughts are clear and new ideas are popping up that help me grow my business. I've learned tools to develop business leads and new opportunities. I'm confident, I focus more, think bigger and act bigger." Jitender Sharma
"Dagmar helped me to clear the blocks that were holding me back. As an entrepreneur, we're so busy working in our business that we don't take enough time to work on ourselves. Dagmar helped me realize that working on myself is the answer to my success. I highly recommend Dagmar to anyone who is ready to reach their next level of success." Kimberly Harper
"With Dagmar's help, I'm challenging my limiting beliefs. As I challenge the old belief system and start to expect better outcomes, the better outcomes are happening. Miracles are happening!" Anna Gallagher Brindley
Finally, It
'
s Your Turn
When you sign up for ROCK YOUR SALES workshop you'll work with me personally, with just a handful of other students, so each of you gets my full attention!
We will examine your inner mindset and

shift your beliefs around sales.
We will identify and help you release negative experiences in your past that are unconsciously sabotaging your income potential.
We will change how you communicate about your product or service so your clients are motivated to buy it.
We will you tools, strategies and tactics necessary to rocket your sales mindset and achieve income levels you've never hit before.
Are you ready to increase your sales, revenue, and most importantly, satisfaction with your business?
It
'
s Decision Time
You have a choice to make: Do what you've been doing (or worse, do nothing at all). You know where that will lead - No sales. No money. No business.
Is that really where you want to go?
Take a new action, and get a new result. Come to Rock Your Sales Workshop and ….
Imagine becoming fully confident in asking for the sale.
Imagine your prospecting starts to outperform all of your previous lead generation efforts.
Imagine being unaffected by your past experiences, and not letting the fears keep you down or from doing what you need to do to create the business ad life of your dreams.
Imagine waking up with passion and excitement and eagerness to grow your revenue.
Does that sound like a fantasy? Well it isn't.
Which of those options do you really want for yourself?
Choose the right road and let
'
s walk it together!
You're at the crossroads. You've got two roads to choose from. The road on your left is the road you've been traveling down. It's rocky and bumpy. You're continue to struggle, trying the same old tactics to get some sales. They're less and less effective. Your life is full of stress, anxiety and money struggles.
Or you can go down the road to the right, which is paved and smooth. Only a few people are on this road, but their lives are changing. They step into who they are and what they offer with confidence. This road is the one that you travel when you join ROCK YOUR SALES workshop, so choose the right road.
I'll help you uncover the deep emotional reasons why you've been blocking yourself from sales.
I'll teach you how to create new sales mindset that will change your business and life. Let's do it!