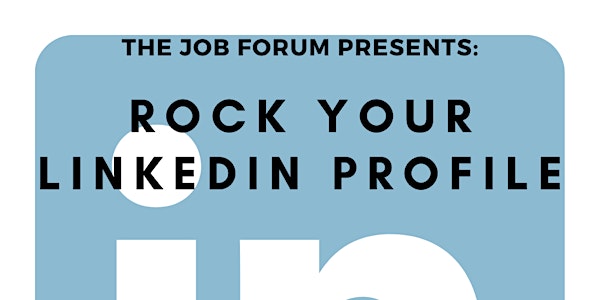 Rock Your LinkedIn Profile from The Job Forum & LinkedIn
Rock Your LinkedIn Profile from The Job Forum & LinkedIn
About this event
Join this special Job Forum session to learn the critical few things you should incorporate in your LinkedIn profile to create a favorable impression with your target audience.
Thursday, October 20 @ 6 pm on Zoom
If you are a job hunter looking for the next great career move or you are making a "career transition," or you are a middle management professional looking to gain some more traction in your job search, this special event from The Job Forum is designed to help you optimize your use of LinkedIn. The presenter is one of the LinkedIn key managers who regularly helps companies and individuals optimize their use of LinkedIn.
There will be a The Job Forum presentation, with discussion and opportunities from Q&A by Job Hunters by a LinkedIn expert who will cover:
• Strategies for boosting your visibility
• Suggestions for how to communicate value to potential employers
• Thoughts on how to look more professional and" job ready" for the role you are targeting
• The top 3 relationship building features for your profile
• How to highlight transferrable and soft skills to make you attractive to a broader audience
• Ideas for demonstrating "thought leadership"
• Clues you can use to be more prepared for interviews
• How to rework your LinkedIn profile to better align with where you want your career to go next, not only where you have been
Job hunters if you are looking for your next job in fields such as accounting, financial services, the law, data analytics, technology, banking and online payments, sales, healthcare, marketing, HR and more, you can expect to find this Job Forum event valuable and actionable for you.
Please have your LinkedIn profile readily available with you so you can proactively think about the tips you will hear.
Please make a donation of $15-25.
We need your support to continue our efforts to help job hunters.
The Job Forum is San Francisco Bay Area's longest running job search career service. The Job Forum has been providing career and job advice for 70 years. Please sign up on Eventbrite and you will be sent the Zoom link on the day of the event.
By signing up you agree to receive future emails from The Job Forum.