Rock the World with Writing: 7 Crucial Steps to take Writing Beyond the Cla...
Description


NEW Seminar Presented by Joanna Van Raden
Outstanding Educator and National Presenter on Blending the Writer's Workshop Model
Today, most students find writing more than one complete sentence PAINFUL!


Are you working harder during the writing process than your students?

Do your students DREAD the revision and editing stages?

Are you still killing your weekends grading stacks of boring student work?

Are you looking for ideas to inspire, create, and showcase amazing student writing?


Empower your students to extend their voices beyond the written paper and discover the true power of their words.


In this hands-on workshop session, I'll share a plethora of strategies, resources, and tools that will move writing to the top of students' to-do lists and have them begging for more writing opportunities.


This full day event is designed for educators who are seeking ways to offer creative choices and develop student voice throughout all stages of the writing process or workshop.


Highlights of this session:


Learn new strategies to quickly and seamlessly differentiate instruction and address all learners throughout the writing process.

Learn to use technology tools effectively and offer choices to students in cross curricular writing experiences.

Create an efficient writer's workshop learning environment using tools that enhance the role of the teacher.

Use writing tools in new and practical ways to foster peer collaboration and create deeply connected learning communities.

Receive an extensive handbook full of ideas, resources, and examples.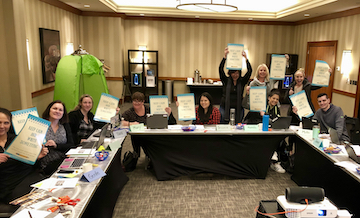 What you Will Learn
Writing is an important skill but is often put to the bottom of the to do list for teachers due to time constraints, lack of confidence, or difficulty motivating and reaching reluctant students. Let me share how you can then use technology tools to engage, enhance, and extend the learning during your writer's workshop or your writing instruction in any grade level. Together, we will ignite student engagement and motivate reluctant or resistant writers.


You will discover how valuable the integration of technology can be when used with purpose. I'll expose you to a plethora of tools and you will experience practical ways to quickly and seamlessly differentiate instruction to provide authentic, exciting learning experiences for all learners.


You will learn ways to engage, enhance, and extend learning by using videos, storyboards, blogging, eBooks, web based revision and scoring tools, and more throughout the writing process. Examples you'll explore include the creation of digital books, use of green screen, multimedia projects, blogging, video newscasts, and more!


Expect to leave the session with an abundance of strategies that you can use immediately to engage students in the writing process, enhance the learning materials currently being used, and extend writing beyond the classroom for authentic audiences.


You will spend the day transforming a piece of your own writing into an authentic, engaging, 21st century presentation that you are proud to share!


Sincerely,
Joanna Van Raden, Presenter


P.S. I know how valuable your teaching time is to you, so I have planned an active day, packed with lessons, and resources that if you choose, can be immediately implemented with your own grade K-12 students. Please come prepared with a basic one page (3 paragraphs) narrative introducing yourself, what you teach, your favorite hobbies, and something unique that you would like to share!


You will need a tablet or laptop and a set of earbuds with a microphone.


Ten Key Benefits of Attending
Receive a bonanza of resources, including tutorials and online examples

Create valuable projects to share with your students

Receive a Technology Tools Handbook full of valuable low/no cost resources

Learn the latest digital tools and some fabulous "oldies but goodies"

Appeal to students' love of technology and multimedia experiences

View examples of work created by students using various online tools

Practice using multimedia tools so that you will be ready to utilize them in your classroom immediately

Offer students opportunities to collaborate with students in other classes, schools, or even globally

Spend more time offering small group and individual instruction

Learn to motivate even the most reluctant writers
Session Agenda
Program will run from 8:30am-3:00pm
Check-in will begin at 8:00am (A continental breakfast will be awaiting you with coffee and pastries)
Our Plan for the Day


Coffee/Snacks
• Welcome Presentation
• Thinking/Idea Generating
• Drafting
• Collaborative Revising/Editing
Lunch


• Green Screen, Augmented Reality, App Smashing
• Finishing Touches
• Publishing
• Authentic Group Sharing
Session Agenda
Check-in will begin at 8:00am (A continental breakfast will be awaiting you with coffee, tea and pastries)

Program will run from 8:30am-3:00pm

Lunch will be on your own


Payment & Refund Policies
https://www.icecollaborate.org/payment-policies
Purchase orders are accepted by email to events@icecollaborate.org. Please include the names, titles and emails for the attendees in the email or on the purchase order.
The International Center for Education is a New York State Education Department (NYSED) approved sponsor of Continuing Teacher and Leader Education (CTLE) workshops. A certificate of attendance will be issued to all attendees with our CTLE Sponsor Number listed. CTLE provider #23594