CraftHaus Brewery's 6th anniversary party, Rock The Haus with new beers, featuring live music from The Dirty Hooks sponsored by X 107.5.
About this event
Are you ready to rock? Rock! Celebrate CraftHaus Brewery's 6th anniversary with a head banging, virtual beer fest complete with new beers, live music, killer swag and hosts, Dave and Mahoney from X 107.5. Our friends, The Dirty Hooks will be rocking the brewery for you to jam out to in your own livingroom mosh pit. Guided tastings with rock star brewers and owners.
Show Link
Show will be broadcast via Facebook Live https://www.facebook.com/CraftHausBrewery
and www.daveandmahoney.com
Your Rock The Haus Virtual Tasting Kit includes:
BEERS
NEW HausFest 16oz | Festbier aged on Cedar | ABV 5.9% IBU 24
Cuckoo 16oz | Munich Dunkel Lager | ABV 5.4% IBU 24
Electro-Lite 12oz | Low Calorie IPA with electrolytes | ABV 4% IBU 45
NEW All The Grapefruit 16oz | Paloma Inspired Sour | ABV 5.7% IBU 8
NEW Hop Shredder 16oz | Double West Cost IPA | ABV 9% IBU 85
*Want to amp up your tasting to an eleven? Imbibe along with us and score our 6th Anniversary Barrel Aged beast of an American Strong Ale. Two versions: Bardstown and Basil Hayden Rye Bourbon Barrel Aged. Go to link https://6thanniversaryBA.eventbrite.com to purchase these limited edition, special releases. These barrel aged bottles are not included in the Rock The Haus tasting kit.
SWAG
Custom designed black CraftHaus bandana to rock it like a boss
16 oz CraftHaus Logo glass for proper glassware you heathens!
Collectors Rock The Haus logo button to put on your torn, jean jacket
CraftHaus logo sticker to slap on your beer fridge
SHOW
Exclusive link to join in on the Rock The Haus show
Hosts: X 107.5 Dave and Mahoney
Tasting notes and witty banter from brewers: Cameron and Bryson
Party hosts: CraftHaus Brewery owners, Wyndee and Dave Forrest
Show will be broadcast via Facebook Live https://www.facebook.com/CraftHausBrewery
and www.daveandmahoney.com
PICK UP LOCATIONS
TWO locations for pick Up
CraftHaus Brewery- 7350 Eastgate Rd Suite 110 Henderson NV 89011
CraftHaus Arts District-197 E California Street #130 Las Vegas NV 89101
PICK UP DATES AND TIMES
Tuesday, September 15th through Thursday, September 17th 4pm-10pm
Friday, September 18th Noon-11pm
Saturday, September 19th Noon-3pm
Need more cow bell? We got you covered-
Add Ons:
Spent grain pretzel rolls with beer cheese and mustard to sop up our stellar beers
Additional Swag collection: Custom CraftHaus Bandana, 16 oz logo glass, Rock The Haus button and sticker
Valid 21 + ID required for purchase and pick up.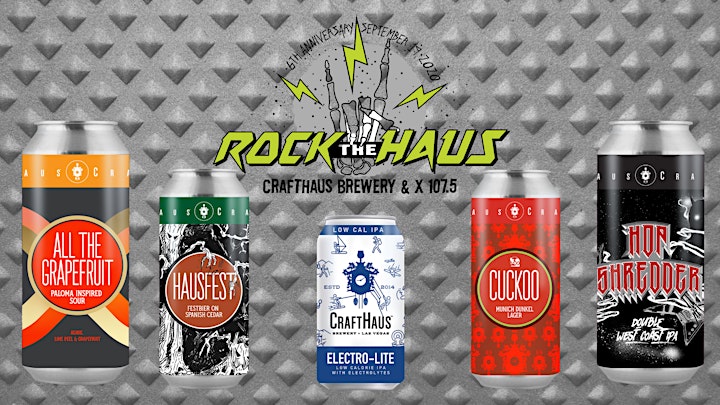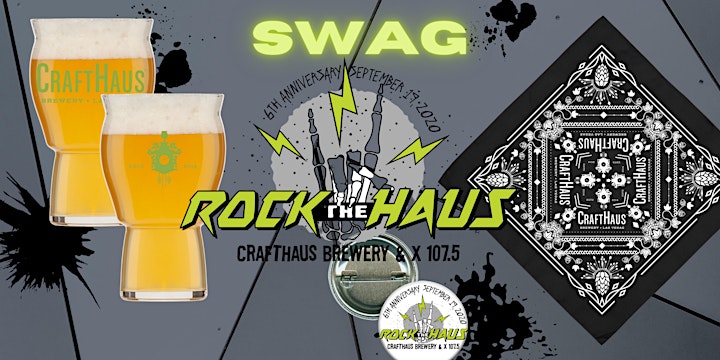 Organizer of Rock The Haus CraftHaus Brewery's 6th Anniversary Party