Description
Enjoy a variety of live music, demonstrating artists, creative hands-on opportunities, food and extended shopping hours. People of all ages are invited to stroll historic Wheeling Avenue (Old National Road/Route 40) to enjoy a lively social atmosphere. Artists and vendors set up along the sidewalk demonstrate their craft, as acoustic entertainment fills the air with a delightful soundscape. Whimsically painted chairs mark the entrances to participating merchants! Many offer refreshments and specials. This is a FREE event. No reservations are required.
Each month celebrates a different theme...
June- "Give me That Old Time Rock n Roll" with a Jam Session, Millennium Street Rods, Sidewalk Chalk Art and more.
July- "The Dog Days of Summer" with music by Matt Frampton and pet friendly activities and vendors
August- "Kids Rule!" with Superhero Saturday activities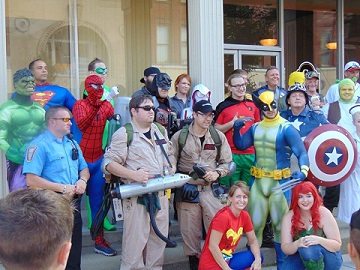 Make plans to arrive early and take part in the Forgotten Places & Spaces Tour featuring "Underground Cambridge". Learn more at www.OhioMadeGetaways.com