Location
Coligny Plaza Shopping Center
1 North Forest Beach Drive
Hilton Head Island, SC 29928
Refund policy
Contact the organizer to request a refund.
Eventbrite's fee is nonrefundable.
A CLASSIC ROCK 'N ROLL WEEKEND CELEBRATING BBQ, THE PEOPLE WHO MAKE IT, AND THE PEOPLE WHO EAT IT.
About this event
ABOUT THIS EVENT
Join us on October 14th and 15th for two days of World-class BBQ and Rock 'n Roll in Coligny on Hilton Head Island. The party begins on Friday with the RNR Pitmaster Beach-Bum Triathalon, a Celebrity Chef dinner, and a private concert from Grammy award-winning Angie Aparo. Saturday we feature the main tasting, Cranford Hollow, and our 6x platinum and Grammy award-winning headliners, Blues Traveler. This event in its inaugural year has something for every level of BBQ connoisseur.
THE FOOD
What side of the BBQ fence do you stand on?
Dry Rubbed vs. Sauced
Pork vs. Chicken vs. Beef
White Sauce vs. Red vs. Vinegar
Charcoal vs. Wood
Devour BBQ from world-renowned pitmasters, local chefs, and restaurants. Each chef will be presenting their own style of BBQ with enough varieties to satisfy everyone. Come with an empty stomach and leave with a full belly. If BBQ is your jam, VIP ticket holders will have an extra hour at the main tasting to talk with the Pitmasters and to discover their new favorite flavors!
ABOUT US
We're a people-first festival. No nickel and diming here. The BBQ is all-you-can-eat for every attendee. The beer and booze are free for VIP ticket holders. You'll get some free swag and we won't oversell tickets. Each ticket type is capped to ensure maximum enjoyment for our guests. Have personal interactions with all of our award-winning pitmasters and every attendee will have a great view of our awesome bands.
SIGN UP HERE FOR UPDATES! 1-Day VIP Tickets Coming Soon!
COLIGNY BBQ SOCIETY 2-DAY VIP PASS
SOLD OUT!!
Friday, October 14, 2022 (4pm-10pm) and Saturday, October 15, 2022 (12pm-4pm)
Access to and participation in Friday's Pitmaster Ocean Olympics, Celebrity Chef Dinner with Kevin Gillespie ($150 value), and private concert with Grammy award-winning Angie Aparo ($45 value)
Saturday early event admission and food from 12-4 pm including music by Cranford Hollow and Blues Traveler! ($150 value)
Front stage VIP lounge and dining area, inclusive VIP Bar & Libations ($55 value)
Branded swag
Private Restroom
PITMASTER 1-DAY VIP PASS
SOLD OUT!!
INCLUDES:
SATURDAY, OCTOBER 15, 2022 (12PM-4PM)
Saturday early event admission and food from 12-4 pm, Unlimited tastings from 14 nationally recognized pitmasters. Includes headlining act Blues Traveler! ($150 value)
including music by Cranford Hollow and Blues Traveler! ($150 value)
Front stage VIP lounge and dining area, inclusive VIP Bar ($55 value)
Branded swag
CONNOISSEUR- GENERAL ADMISSION
$149
INCLUDES:
SATURDAY, OCTOBER 15, 2022 (1PM-4PM)
Event admission and food from 1-4 pm including music by Cranford Hollow and Blues Traveler!
Soft Drinks & Water
Branded swag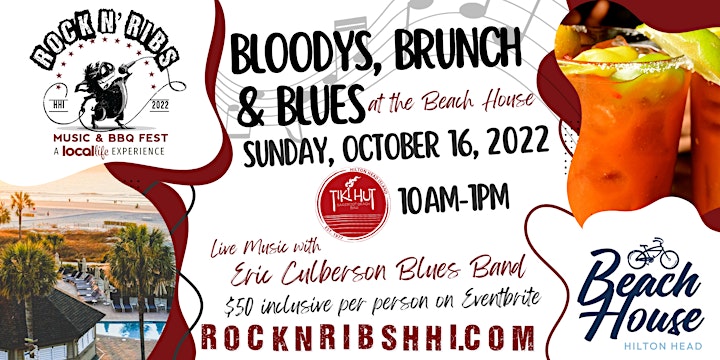 BLOODY'S, BRUNCH, & BLUES AT THE BEACH HOUSE
$50
Sunday, October 16, 2022 (10am-1pm) at the Tiki Hut
Keep the party going on Sunday at our Official Hotel, The Beach House, for a BBQ-inspired brunch, including a choice of either our specialty Bloody Mary or an Island Time-inspired cocktail.
Live Music from Eric Cluberson Blues Band
$50.00 inclusive per person.
Tickets are refundable up to 72 hours before the event (10/16). Tickets must be purchased on Eventbrite. You do not need to have a ticket to Rock 'N Ribs to attend "Bloody's, Brunch & Blues"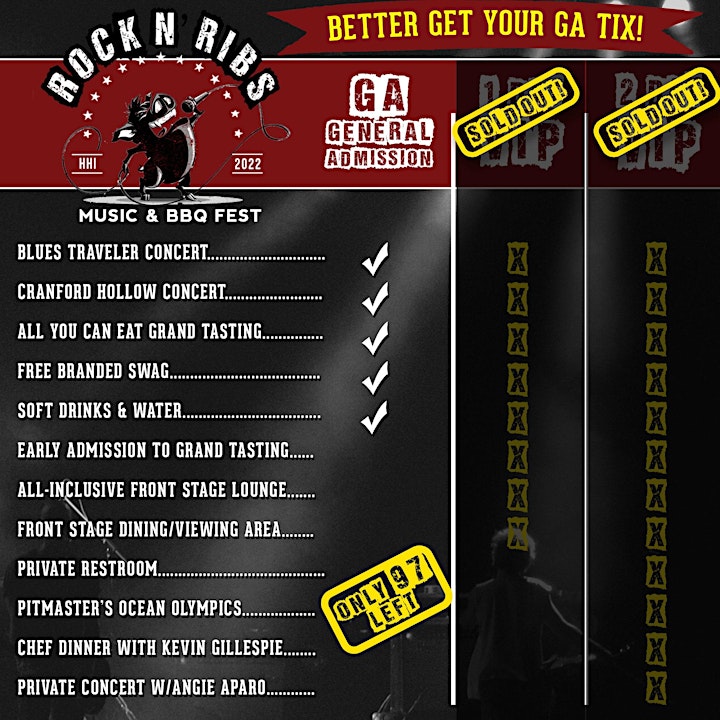 FAQs
I can't come, how do I get a refund?
Rock 'N Ribs is a "rain or shine" event. Attendees may request a refund within 48 hours of purchase by emailing info@rocknribshhi.com. Tickets purchased within 14 days of the event (October 14th, 2022) are not eligible for refund but can be transferred to another party. In the event that "Rock 'N Ribs" is forced to cancel the event due to extreme weather conditions or another "Act of God" a rain date will be scheduled. Entertainment acts "Angie Aparo", "Cranford Hollow, and "Blues Traveler," "Celebrity Chef," and Pitmasters appearances are not guaranteed. Rock 'N Ribs" will make a good faith effort to ensure that these acts are present at the event. No refunds will be issued if an act is canceled or postponed.
Where should I stay?
Our hotel partner is the Beach House, just a 5-minute walk from Coligny and the festival area. You can book your hotel through this link here.
Activities on HHI?
If you're golfing, be sure to visit our official golf partner Palmetto Dunes! If you'd like to get out on the water, check out the offerings at Outside Hilton Head for everything from Dolphin Tours to Private Charters. Check out https://www.hiltonheadisland.org/ for everything else!
Is there assigned seating?
Nope! Every ticket holder has a chance to get to the front of the stage baby! VIP Ticket holders will have a designated tented lounge area and bathroom.
Where is it at Coligny?
The festival grounds will in our rear parking area between Skillets and FISH.
Where do I park?
We highly suggest that you consider taking a cab or rideshare to the event! If you need to drive you can park at Coligny Plaza.
What do I need to bring?
We're making this as easy as possible for you! Just bring your Government Issued ID and an empty stomach!
What should I leave at home?
No bottles, glass, cans, coolers, or baskets.
No folding, camp or beach chairs. If you have a disability or mobility challenge and need a chair please email info@rocknribs.com and we will be happy to accommodate you.
No outside beverages, except one empty or factory-sealed water bottle allowed per customer. Non-alcoholic beverages are included in your ticket.
No professional cameras (with a removable lens), or recording devices.
No laser pointers, weapons, or selfie sticks.
No lighttable tobacco products, vapes, or electronic cigarettes.
No pets.
Accommodations & Accessibility
We will have a designated accessible bathroom. If you have additional accommodation needs, please email info@rocknribs.com.
What is your bag policy?
All bags are subject to a thorough search upon entry. Guests have the right to refuse a bag search, and the venue has a right to refuse entry. If you have any items that are not allowed into the venue, please return them to your vehicle. Bags cannot be larger than 13"x15″. No backpacks of any size.
Is there re-entry?
Why would you want to leave??? You will be issued a wristband upon your arrival at Rick 'N Ribs. As long as you leave it on, you'll be allowed to come and go from the festival grounds.
Can I buy a ticket just for Blues Traveler?
Sorry Dude, this is a full-service experience! We might be biased, but our General Admission ticket is a fantastic value for an afternoon of all you care to eat BBQ, Cranford Hollow, and Blues Traveler!
Can my kids come?
Rock 'N Ribs is an adult-oriented event; every person entering the festival requires one of our three ticket options. We suggest that all attendees are 18 and up.
How Much Can I Eat?
A question after our mascot, Squeally Dan's heart! Each Ptimaster will have a delicious offering for you to enjoy, but friends, don't count drinks or BBQ samples!
Can I buy a ticket to Sunday's Brunch event at The Beach House without buying a ticket to the festival?
Well, we're not sure why you wouldn't buy both...but if that's what you want to do, go for it!