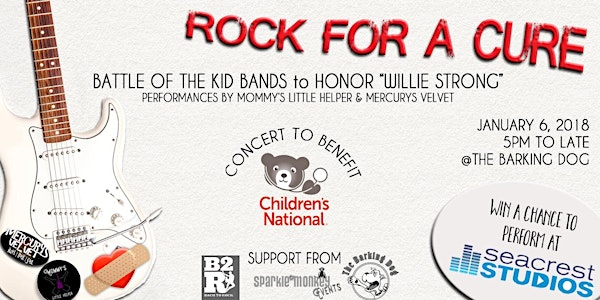 Rock For A Cure: Support Children's National
When and where
Location
The Barking Dog 4723 Elm Street Bethesda, MD 20814
Refund Policy
Refunds up to 7 days before event
Description
On January 6th, 2018 please join us for
"Rock for A Cure" to support Children's National Hospital and honor "Willie Strong"
Eat, Drink and Bring your Friends to Barking Dog to watch and cheer on the young Rockers in their "Battle of the Bands" . Afterwards, catch Mommy's Little Helper and Mercury's Velvet.
Sign up to perform as a Soloist or Band in our Battle of the Bands* and win a chance to perform at Seacrest Studios at Children's Health System! Seacrest Studios builds broadcast media centers in pediatric hospitals for patients to explore the creative realms of Radio, Television and New Media, that will aid in the healing process for children and their families during their hospital stay. Seacrest Studios are used to provide a variety of programming to the patients in the hospitals, whether they are physically in studio or watching through a closed-circuit network from their in-room TV screen. For more information about the Ryan Seacrest Foundation and Seacrest Studios: www.ryanseacrestfoundation.org .
5:00 pm – 7:30 pm Kid Rock "Battle of the Bands"
8:00 pm – 9:00 pm Mommy's Little Helper
9:30 pm – late Mercury's Velvet
How to Support:
Purchase Tickets:
$20 per individual
$35 per family (immediate members)
1) https://rockforacuretosupportchildrenshospital.eventbrite.com
2) PayPal.Me/SparkleMonkey/22 or PayPal.Me/SparkleMonkey/37
3) Pay at the Door (entry based on attendance. guaranteed entry for pre-paid tickets)
Donate to Children's Health System https://childrensnational.donordrive.com/campaign/Rock-For-A-Cure
How to Participate:
Soloists or Bands will perform 2 songs and their performances will be judged by a panel of music professionals and DC Celebrities.
Register via email to info@sparklemonkey.com and submit the following information:
Name of Band
Band Member Names and Ages
Main Parent/Guardian Contact email and mobile
Parent/Guardian Contact Name (for each band member)
Parent/Guardian Contact Address (for each band member)
Parent/Guardian Contact Email (for each band member)
Parent/Guardian Contact Mobile (text) (for each band member)
Song 1 Title
Song2 Title
Instruments (bringing/need) for each band (we will provide a basic band set-up)
Special requests
Kid Rockers earn a chance to perform at Seacrest Studios at Children's Health System (must be 17 years or younger as of December 31, 2018)
1 – Best Band
2 – Best Soloist
3 – Lottery (door entry ticket chosen at random)
4 – Fundraising
1) Set-up your own Donation page : www.childrensnational.donordrive.com/index.cfm?fuseaction=donorDrive.event&eventID=526
2) Collect your own and bring a check/cash/or PayPal transfer to info@sparklemonkey.com with your Individual/Band name noted. Deadline Submission is 12:00 pm EST on January 7th, 2018.
Door Proceeds and 10% of Venue sales at Barking Dog will be donated to Children's National.
Thank you for your participation in this incredible opportunity to support Children's National Hospital while honoring "Willie Strong" and promoting music and arts in our community. We look forward to seeing you on January 6th!
Questions? Contact Elizabeth Kaufman (elizabethkblalack@gmail.com) or Catherine Zimmermann (catherzimmermann@gmail.com)
Sincerely, Elizabeth Kaufman and Catherine Zimmermann