Rock Creek Park Field Trip

Saturday, December 5, 2015 from 9:30 AM to 1:30 PM
Event Details
The Potowmack Chapter of the Virginia Native Plant Society invites you to our December walk:
Rock Creek Park Field Trip
With Melanie Choukas-Bradley and Susan Austin Roth,
Author and Photographer
A Year in Rock Creek Park—the Wild, Wooded Heart of Washington, DC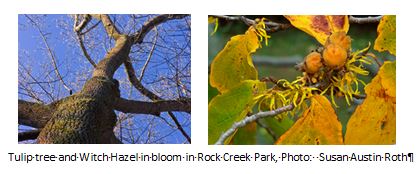 Saturday, December 5, 2015
9:30 am to 1:30 pm
                                 VNPS programs are free and open to the public, but                                                  registration for field trips is required due to limited space.
 We'll walk along a scenic stretch of Rock Creek beginning at Boundary Bridge on the Maryland-DC line.  Sycamores, white and green ashes, several maple species, American elms, cottonwoods, ironwoods, river birches, tulip trees, pawpaws and bladdernuts are among the woody plants we'll encounter.  We'll pass a skunk cabbage swamp and switch back into an upland forest where extremely old oaks and beeches grow.
 If weather permits, we'll picnic on a dramatic rocky ledge crowned with American beech, witch-hazel, pinxterflower and mountain laurel.  We'll also see black walnuts and butternuts, three hickory species, and hop-hornbeam as we mosey along the creek, through the upland woods and back to Boundary Bridge.
Melanie Choukas-Bradley is a writer, naturalist and teacher in the DC area and author of numerous books on natural history, most notable of which is City of Trees:  The Complete Field Guide to the Trees of Washington, D.C.  She is a longtime contributor to The Washington Post and other publications and has appeared as an author and guest expert on All Things Considered, The Diane Rehm Show and the Kojo Nnamdi Show.  In 2014 she was awarded one of four inaugural "Canopy Awards" by the non-profit organization Casey Trees, established in 2001 to restore and protect Washington's tree canopy, for her efforts to educate people about the trees of Washington, DC.
Susan Austin Roth is a writer and photographer residing in Virginia.  She is the author and photographer of numerous popular gardening books and has been honored with three awards from the Garden Writers Association.  She worked as a field editor and assignment photographer for Better Homes and Gardens magazine, and her photographs appear regularly in books, national magazines and calendars.  Recently, she became a Virginia Master Naturalist and volunteers in local and national parks.
Come Prepared
This event will take place rain or shine but will be postponed if weather is hazardous or miserable (such as heavy snow or heavy cold rain).  Please dress in warm layers and bring rain gear if precipitation is possible.  Wear sturdy, comfortable shoes or boots that can get muddy.  Bring water, snacks, lunch and (optional) binoculars (very good for looking at twigs and fruit on tall trees).  A small hand lens is also helpful for examining trees up close.
Site Information
This walk is along a loop trail that covers a distance of about 2.5 miles.  There are no restrooms available on site.
 For questions, please email:  vnps.pot@gmail.com
Potowmack Chapter of the Virginia Native Plant Society
 PO Box 5311
 Arlington, VA  22205
 www.vnps.org/potomac
 __._,_.___
When & Where

Rock Creek Park
Wyndale Road & Beach Drive
Washington, DC 20008


Saturday, December 5, 2015 from 9:30 AM to 1:30 PM
Add to my calendar
Organizer
Virginia Native Plant Society, Potowmack Chapter
The Virginia Native Plant Society (VNPS) was founded in 1982 as The Virginia Wildflower Preservation Society. It is a statewide organization with approximately 2000 members supported primarily by dues and contributions. Membership is open to anyone, amateur or professional. Its purpose is to further appreciation and conservation of Virginia's native plants and habitats. Incorporated in Virginia as a not-for-profit, publicly supported organization, it is tax-exempt under the U.S. Internal Revenue Code. The Society's work and activities are carried out by volunteers.
The Society's programs emphasize public education, protection of endangered species, habitat preservation, and encouragement of appropriate landscape use of native plants.
The Potowmack chapter is the largest VNPS chapter, representing over 400 members in the counties of Arlington and Fairfax; cities of Alexandria, Fairfax, and Falls Church.
Rock Creek Park Field Trip