Robotic Process Automation and AI: Upgrade your skills for a post-corona virus time. Learn end-to-end automation. Join this free webinar
About this event
Please Don't forget to add it in your Calender
If you're looking for an extra edge in landing a new job or promotion, post-pandemic, RPA certification can be a great option. According to Gartner, Robotic Process Automation is the fastest-growing segment in the worldwide enterprise software market. By the end of 2020, Gartner predicts that RPA services will be valued at £5.98 billion. A lot of opportunities will open up post the epidemic: you can pursue career paths like RPA Developer, RPA solution architect, Project Lead- RPA, Robotic Process Automation Consultant, Process Automation Lead, Robotic Process Automation Discovery Consultant among others. UiPath RPA training will help you grab this opportunity and accelerate your career.
Why UiPath?
UiPath makes Robotic Process Automation (RPA) tools designed for businesses and enterprises to carry out their tasks efficiently and effectively on a daily basis. It helps in the execution of processes that need to be done repetitively, like data entry or content migration. It is fast, affordable, efficient, and easy to use.
UiPath robots are very effective for both large and small businesses as they help them complete their tasks and workload quickly. Moreover, they also minimize human effort as the workload like input processing can be managed by the UiPath robot.
Why Infobiz.ai?
No matter the stage of your RPA initiative, Infobiz can help every step of the way. UiPath Certification Training from Infobiz is designed to provide in-depth knowledge about RPA architectural principles and its services. We offer structured RPA training with an updated curriculum as per current industry requirements and best practices. We have passionate Certified Instructors who not only have real-world experience but also go through a rigorous process to validate their teaching expertise. We are official partners of UiPath.
Are you ready to Jump-Start Your Career and Increase Your Salary?
If you would like to learn more about the program- Sign up for a free Event hosted by experienced instructors, where you can learn a lot about the program. This session is MANDATORY if you are planning to sign up for our course.
Time : 11 am London/ 3.30pm IST
Webinar Joining Link : https://teams.microsoft.com/l/meetup-join/19%3ameeting_NGI2MmY5YzMtYTY5Zi00YzZmLWFiNWMtNzM5ZTBiN2QyMmFl%40thread.v2/0?context=%7b%22Tid%22%3a%22432c6410-049a-40f6-96df-0e52d77cfa29%22%2c%22Oid%22%3a%22ce724976-7255-46bf-a628-1d6ff024186c%22%7d
Email reminder : Join link will be sent to your email once you register for this event.
Contact Details: sales@infobiz.ai
Visit us on www.infobizai.com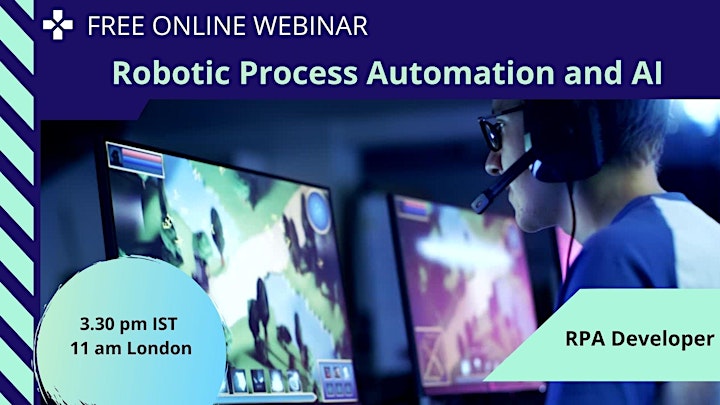 Organizer of Robotic Process Automation & Uipath Info : Online Session - London